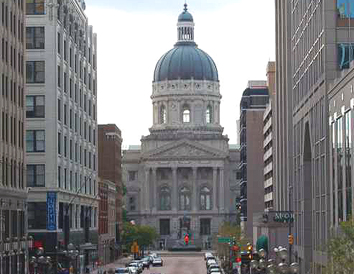 For five years, Sen. James Merritt chaired the Senate Utilities Committee while serving as an executive of a small railroad that hauled millions of tons of coal to Indiana power plants, raising cries about a potential conflict of interest from consumer and watchdog groups.
Now, as the General Assembly gets under way with its new session, Merritt will no longer face those questions. He confirmed this week that the Indiana Rail Road Co. terminated him and eliminated his position as vice president for corporate affairs. He said he is searching for a new full-time job.
He said he left the company on Sept. 9, shortly after the Indianapolis-based company was purchased by rail giant CSX Transportation.
"New CEO comes from CSX, eliminates my job," Merritt told the IBJ in an email. "To my knowledge, no other employee was let go."
A spokesman for Indiana Rail Road confirmed Merritt was no longer with the company, but declined to comment further.
Merritt, 56, an Indianapolis Republican, had been one of the public faces of the railroad, hosting community events, organizing town meetings and identifying business opportunities. The company specializes in shuttling coal and other goods on 500 miles of track in Indiana and Illinois.
One of its biggest customers is Indianapolis Power & Light, which uses the railroad to haul more than 1 million tons of coal a year to its Harding Street power plant. The plant is about to convert from coal to natural gas to power its turbines as a way to help it meet clean-air regulations. The conversion could represent a big loss of business for the railroad.
The hauler's other customers include Duke Energy, Hoosier Energy, Peabody Energy, Marathon Petroleum and General Electric. The company has said in recent years that hauling coal is its primary business.
Some critics said Merritt should never have held the railroad job while he chaired the Senate Utilities Committee, which considers a wide array of legislation that affects big utilities. As chairman, he has supported numerous bills supported by utilities, such as redefining "renewable energy" to include coal and allowing utilities that transport carbon dioxide by pipeline to acquire land through eminent domain.
"I would say his leaving the railroad was overdue," said Grant Smith, board president of Citizens Action Coalition of Indiana and senior policy adviser to Civil Society Institute, a left-leaning energy think tank based in Boston. "It was a complete conflict of interest."
Merritt had been hired in 2010 by Tom Hoback, who founded the Indiana Rail Road in 1986 and ran it for three decades before retiring last summer. Hoback was succeeded as president and CEO by Peter Mills, former vice president of finance operations for CSX.
The Senate Ethics Committee cleared Merritt to take the railroad job in 2010, saying it found "no inherent conflict" between his two roles.
Merritt previously worked as vice president of Circle Financial Corp., an Indianapolis real estate investment and management firm.
 
Please enable JavaScript to view this content.