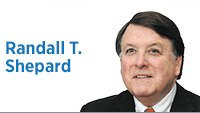 Civic milestones are sometimes just straightforward celebrations, and sometimes they are occasions when the observance boosts our future fortunes.

Indiana's bicentennial of statehood shows every sign of being both.

It's hard to imagine that people in other nations exhibit the same level of interest in anniversaries as Americans. We are a society that makes much ado about milestones of one sort or another—birthdays, wedding anniversaries, years in a job, and the like.

The cards and cakes can be enjoyed for their own sake, of course. But at their best, these celebratory moments can also serve as occasions to ponder the direction of our lives. Turning 21 or 60 can prompt us to think through how we want to spend the years ahead. An employment milestone can lead us to evaluate our existing situation and make new plans for our career.

The same might be said about the public anniversaries. Indiana's centennial of 1916 cemented the socially progressive era in which that observance occurred, not to mention giving launch to the state park system. The national bicentennial in 1976 led to a higher level of public support for historic preservation.

The 2016 Indiana bicentennial can serve both as party and as a springboard for thinking about our future.

The state's bicentennial commission, co-chaired by former Lt. Gov. Becky Skillman and former congressman Lee Hamilton, with first lady Karen Pence as the commission's ambassador, has laid plans that both bolster Indiana's statewide opportunities and promote local initiatives.

Echoing the environmental achievements of 1916, the Bicentennial Nature Trust has committed $20 million in state dollars and $10 million from Lilly Endowment, with similar pledges in local dollars, for the most expansive initiative in conservation and recreation during our lifetimes. This campaign has already launched more than 160 projects around the state, such as the Children of Indiana Nature Park and the Bicentennial Legacy Conservation Area in eastern Indiana.

There are also hundreds of designated "legacy projects" initiated by county bicentennial coordinators, local governments, libraries, and not-for-profit organizations.

Two projects that are under way have the potential to build Indiana's long-term economic health and civic development.

The Regional Cities project is a bold step forward that should produce benefits for decades to come. The Pence administration is asking the Legislature to expand the commitment for three monumental jump-starts proposed by regional leaders around South Bend, Fort Wayne and Evansville. The three proposals have been forged through regional collaboration, focusing especially on quality of place as central to economic development and attraction of talent.

Originally designed to launch two projects with $42 million each in state money, plus more local commitments than that, the question now on the table is whether to use the unexpectedly large tax amnesty revenue to finance three such projects. It's a major commitment, one that merits bicentennial excitement.

Another key to our future is the Bicentennial Visioning Project, conceived by Hamilton, and led with energy and creativity by Lt. Gov. Sue Ellspermann.

The goal is to envision where Indiana should be in the next 50 years. Ellspermann has recruited scores of thought leaders in fields ranging from education to homeland security, prompting discussions that will lead to a public road map. She has facilitated these discussions in person, and the report will be drafted by Norm Heikens, formerly of IBJ, all made possible by a commitment from Old National Bank.

BE a part of all the bicentennial, won't you? We'll spend plenty of time in Indiana's future.•

__________

Shepard, formerly Indiana chief justice, now serves as senior judge and teaches law. Send comments on this column to ibjedit@ibj.com.