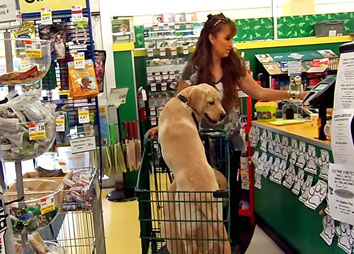 Pet Supplies Plus wants to tangle with the big dogs—Petco and PetSmart—in its industry by aggressively expanding its national footprint and has hired an Indianapolis-based advertising agency to help it take a bite out of the competition.
This month, the privately held Livonia, Michigan-based pet supplies chain signed a multiyear deal with Young & Laramore, one of Indianapolis' largest ad firms, to handle its creative ad work and media placement. The media placement will be done by Young & Laramore's EchoPoint Media subsidiary.
The deal was signed after Pet Supplies Plus reviewed proposals from several agencies. In recent years, Pet Supplies Plus had used Doner, an ad agency with offices in Cleveland, Detroit, Los Angeles and London. Media buying had been done by Ann Arbor-based Re:Group.
Doner and Re:Group did bid to retain the work.
Though terms of the deal were not released, Young & Laramore officials said Pet Supplies Plus has become one of the firm's five biggest clients.
Young & Laramore's mission is straightforward: "develop long-term positioning for the brand, which is growing to compete with larger and more recognizable pet chains," said Tom Denari, the agency's president.
Pet Supplies Plus officials said they were impressed not only by Young & Laramore's proposal, but work the firm has done for other national brands such as Kraftmaid, Brizo and Schlage.
"We're thrilled to be working alongside a growth-oriented brand like Pet Supplies Plus that already has a solid base of core Neighbors," Denari said in an email. "We're eager to help them continue to introduce the Pet Supplies Plus brand among an even larger audience."
Pet Supplies Plus has more than 330 stores in 26 states, including five stores in the Indianapolis area. But if the industry's growth is any indication, there's potential for the chain to get a lot bigger.
Pet supplies retail sales grew from $36.3 billion in 2005 to $60.6 billion last year, according to the American Pet Products Association.
Privately held PetCo. operates about 1,400 locations nationwide and has annual revenue estimated at $4 billion. PetSmart, which left the public markets in 2015, has about 1,300 stores but annual revenue close to $7 billion. The two retailers discussed a merger last year but could not come to terms.  
Pet Supplies Plus' annual ad spending has been about $1.5 million in recent years, but company officials said the chain plans to beef up its advertising in 2016.
Young & Laramore will launch its first ad campaign for Pet Supplies Plus this spring, with an onslaught of traditional ads such as print, television, radio and billboards as well as digital campaigns.
 
Please enable JavaScript to view this content.