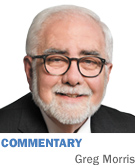 I've always been a gadget guy. I enjoy being an early adopter of new and cool items. As such, it makes sense that I've been trying for a year or more to justify purchasing a drone. And yet, I haven't been able to pull the trigger on a purchase.
I'm a photography hobbyist. Could there possibly be a more legitimate reason to pick up a drone than to extend the reaches of my photo opportunities? Have you seen the amazing pictures and movies drone photography can provide? Some of the examples online are breathtaking.
So, I read with interest a recent front-page story in IBJ's sister publication, Indiana Lawyer, written by Managing Editor Dave Stafford: "Up in the air." The secondary headline reads, "As drone sales soar, legal and regulatory atmosphere remains turbulent." You can find that story online by going to www.theIndianaLawyer.com.
Stafford's article reinforced a voice in my head that keeps whispering words and phrases like liability, privacy rights, safety and legality. When I mention the possible purchase of a drone to others, I get a lot of questions. Where would you fly it? Do you have to get permission from somebody to fly it over their house? Isn't that dangerous? What if you crash into somebody's property or worse—into someone? How does a person know you're not spying on them?
What a buzz-kill these people are! Don't they know I'm just trying to have some fun with a new gadget?
But the questions are good ones. The Indiana Lawyer article covers issues relevant to the questions people have asked me. Here's an abridged part of the article under the "Can you shoot them?" section:
Now, attorneys are at the horizon of what could be a new body of law, some of which may be rooted in the well-publicized Kentucky incident. William Merideth shot down a drone owned by David Boggs as he flew it about 200 feet in the air over Merideth's property. Merideth was criminally charged, but a judge ruled he had a right to shoot a drone over his land. Boggs has sued in federal court, seeking a judgment in his favor, including a ruling that someone can't shoot a drone out of the sky when flying it as he did, and perhaps clarity for the burgeoning industry. "This is an important enough issue we're hoping the court will give us a little more guidance," said James Mackler, who represents Boggs and leads Frost Brown Todd LLP's unmanned aircraft systems practice in Nashville, Tennessee. The lawsuit recognizes the tension between the need for national airspace and private property rights and asks the court to draw lines.
Further into the article…
"Your property rights end where navigable airspace begins," Mackler said. In the Boggs case, "We're asking the court to help us determine what is the navigable airspace as it applies to unmanned aircraft. … A foot off the ground is probably trespassing, and 1,000 feet off the ground is not, and interestingly, the court has never set a number. They leave it to the FAA to determine the navigable airspace."
So far, I've been talking about the private/hobbyist use of drones. When you use a drone for commercial purposes, the rules expand exponentially. For commercial use, you need to be a pilot in good standing with the FAA and operate the drone within a set of strict regulations. Unfortunately, today most companies have little knowledge of the requirements for using a drone for commercial purposes.
Since December, all drones weighing over half a pound must be registered with the FAA, and later this year comprehensive regulations are expected. Noted in Stafford's article, while the FAA is writing rules for drones, some states and municipalities aren't waiting. They're writing their own. For example, Los Angeles limits drone flights to 200 feet above ground.
The drone industry is in its infancy. Issues mentioned here and those we don't even know about yet will have to work their way through regulatory agencies and the courts.
As a private citizen, I've decided I can wait for some of these issues to be resolved before I jump into this exciting new industry. But a drone is definitely on my wish list, and I hope to get one in the not-too-distant future!•
__________
Morris is publisher of IBJ. His column appears every other week. To comment on this column, send e-mail to [email protected]
Please enable JavaScript to view this content.