Les Vann is a glass-half-full kind of guy.

The WISH-TV Channel 8 general manager says the station is "doing just fine," despite losing considerable chunks of its audience after CBS ended its affiliation in January 2015.

"For us to maintain the rank we've had without the network as a tent pole to me is a tremendous accomplishment," Vann said.

Still, the last year has been a tumultuous one for WISH and for other local television broadcasters. One local media buyer called the current picture "utter chaos."

When CBS jumped from WISH to WTTV-TV Channel 4, the latter added another 24.5 hours of local TV news to the market mix.

Vann
And to fill the CBS hole, WISH increased its local news offering 42 percent, to 64.5 hours per week. WRTV-TV Channel 6 also added newscasts, upping its weekly amount to 40 hours.

Those additional newscasts were crammed into an already-crowded market.

WXIN-TV Channel 59 had already become a local TV news heavyweight, broadcasting a whopping 66 hours per week while local ratings king WTHR-TV Channel 13 airs 38.5.

And all the increased competition has only served to divide the audience into smaller chunks, meaning most of the legacy stations have seen ratings decline in several time slots over the last year, while WTTV is trying to gain traction to be competitive.

"Adding TV news to the market doesn't mean you automatically grow the appetite for the product," said Bruce Bryant, president of locally based Promotus Advertising.

"In fact, research shows that is absolutely not the case," he said. "It makes you wonder if all these newscasts can survive long term, and that's giving ad buyers cause for concern."

Meanwhile, a new and confusing ratings system introduced by New York-based Nielsen Media Research has station operators and ad buyers alike sweating bullets.

The new system—called Viewer Assignment—was rolled out last year. But it wasn't until January that the numbers were used to set ad prices.

Several ad agency executives and media buyers interviewed by IBJ said the new system—which kills the pen-and-paper diary in favor of a digital system—is so confusing that it's led to major battles between ad buyers and stations over pricing.

Delia
It's complicated. For example, it calculates ratings at least in part by importing some data from other markets. But the result, say local TV executives and ad buyers, is the system compresses the field.

While WTHR and WXIN remain atop the heap in local news ratings under the new system, the ratings gaps between them and the other stations is now often smaller. In a few time slots, stations have also swapped places.

That's important. Ads purchased on local TV news account for 40 percent to 65 percent of a station's total revenue—and news is the programming over which station operators can exert the most control.

The good news for local TV is that advertising revenue is projected to be up overall about 5 percent this year—fueled by local and national political elections, the Summer Olympics and 100thrunning of the Indianapolis 500—according to BIA Financial Network. That would bring local TV advertising spending to more than $200 million.

Optimism

Still, media buyers said, there is tremendous pressure on TV stations because the market is much more fragmented than it was just 10 years ago and because digital advertising continues taking a bite out of TV. Some ad experts think the amounts spent on digital advertising will surpass that spent on TV by early 2018.

Vann said he's not overly concerned by the market tumult.

"We're focused on what we can control—our product—and making it better," he said.

Blackerby
WISH has increased its staff to accommodate its bigger news enterprise, Vann said, and conducted five viewer research projects last year as opposed to the one or two the station normally does annually.

"Our research indicates viewers think WISH is getting better," Vann said.

WISH continues "spending money at a rapid pace" on its news operations and became the first and only local station to buy a drone for news gathering, Vann said. WISH has also hired several on- and off-camera news-gathering staffers.

Vann said WTTV's local news entrance "has taken a little bit from all stations," and has not been overly impactful on WISH.

He isn't alone in his optimism. WTHR General Manager Larry Delia said his station in 2015 "had an outstanding year."

"Amid all the turmoil and all the change, we set out to reinforce our brand position and build from there," Delia said.

WTHR increased its marketing budget last year "to protect against the unknown," he said, noting massive marketing campaigns the station had late last year and this year at Keystone at the Crossing, Castleton Square Mall and Greenwood Park Mall. WTHR also acquired several new programs—including the Indianapolis 500 Parade and Mini-Marathon—to bolster its local following, Delia added.

Paul Rennie, general manager of Tribune Broadcasting's WXIN and WTTV, and WRTV General Manager Larry Blackerby said they were also pleased with 2015 results and shared optimism for 2016.

"While the market has been shaken up a great deal, we had some pretty good successes," Blackerby said.

Rennie
Rennie said "right out of the gate, [WTTV] has delivered strong numbers," and noted, too, that WXIN was up in several time slots where other local newscasts saw ratings declines.

Numbers don't lie

But the numbers—as confusing as they can be to digest at times—are difficult to ignore.

An analysis of several months of Nielsen ratings over last year and January of this year show that WXIN has taken the fewest bullets in this ratings war, seeing consistent increases in its morning and early-evening newscasts—even those at unconventional times such as 4 p.m. and 7 p.m.—and holding steady at 10 p.m. and 11 p.m.

But even WXIN has its challenges. Its 11 p.m. newscast, for instance, was fifth—or last—in the market in November, a month many advertisers use to set ad rates for the coming year.

In comparison, WTHR, WISH and WRTV all saw double-digit-percentage decreases from November 2014 to November 2015 in multiple morning news slots in total household viewership and the number of viewers ages 25 to 54—a key demographic for advertisers.

And a look at the WTTV ratings for January 2015 (its first month as a CBS affiliate) and January 2016 shows that, while the station's morning newscast audience is growing, it still lags its competitors—in some cases by considerable margins.

Meanwhile, the now-network-less WISH lost two-thirds of its noon news audience, dropping from a household rating of 5.4 in November 2014 to 1.8 one year later, according to Nielsen.

Each rating point equals 10,730 households.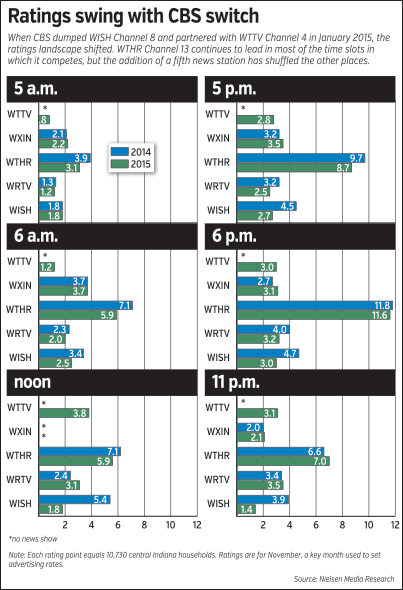 Capitalizing on CBS' popular "Let's Make a Deal" and "The Price is Right" lead-in shows, WTTV earned a 3.8 noon news rating in November 2015, according to Nielsen. WTHR and WRTV were stable in that time slot.

In the early evening news, WTHR, WISH and WRTV all had losses. WTHR still remained the market leader in the 5 p.m. and 6 p.m. slots. But by November 2015, the upstart WTTV was competitive with the other local newscasts.

Delia said most of WTHR's losses were normal market fluctuations, and he anticipated the station would bounce back quickly where there was a drop-off.

Late news dealt another blow to WISH, which dropped at 11 p.m. from a 3.9 rating in November 2014 to 1.4 in November 2015. WISH did pick up some local news viewers from its new 10 p.m. newscast, but the 2.0 rating was a sharp decline in November from the previous November when it aired CBS prime-time programming.

Viewers tend to stick around for local news after they watch their favorite shows, making the network lineups crucial for local news ratings. That's bad news for WISH but good for WTTV, which suddenly had CBS programming to rely on.

By November 2015, WTTV scored a 3.1 rating for its 11 p.m. news, a 342 percent increase from the time slot a year ago, when the station was running reruns of "How I Met Your Mother." While WTTV's rating during the late news is less than half of WTHR's, it's competitive with other stations in the market.

Advertiser angst

One media buyer told IBJ that the ever-changing landscape makes it difficult to choose on which TV stations to advertise. Each station, the buyer said, has a big and unique enough audience to consider. But stations many buyers choose are WTHR for the 25-to-64 audience and WXIN because it often has a top-two TV news rating and skews younger than WTHR.

"When you get the kind of market disturbance Indianapolis has had, you're going to get a lot of [program] sampling and a lot of [advertising] shifting," Promotus' Bryant said. "It's a kind of guessing game to say where viewers are going to land. We'll have a better idea of that later this year."

Bryant questions WISH's decision to expand its newscasts.

"Producing TV news is labor-intensive. It's a lot more expensive to air than syndicated content," he said.

He suggested WISH look at the model WTTV used before it got the CBS affiliation. At that time, WTTV produced no local news.

"They made money by offering kid-oriented, family-friendly programming," Bryant said. "And they did it on the cheap, not by spending a bunch of money on locally generated content that brought in a modest audience."

Vann, who joined WISH in August 2014—shortly after it was announced the station would lose its CBS affiliation—makes no apologies for his decisions.

"Expanding our news was the right decision because it gave us the opportunity to put the best local footprint forward," he said.

Vann declined to disclose details about his station's revenue or profitability, but said WISH has "over-indexed" in terms of its revenue.

"We have a higher percentage of market revenue than we do percentage of the audience," he said, adding that, while "buying patterns have changed, it'snothing we didn't expect."

Still more questions swirl around WISH. In January, Media General, the Richmond, Virginia-based company that owns the station, completed negotiations to be acquired by Irving, Texas-based Nexstar Broadcasting Group after Nexstar raised its offer price to $2.3 billion.

One WISH news staffer told IBJ, "There's a lot of anxiety about what Nexstar might do here. They're known for cutting costs—things like personnel, travel and news helicopters."

Vann seems less concerned, stressing that WISH will "definitely continue on the localism theme."•