Each year children spend growing up in the Indianapolis area causes them to fall further and further behind their peers nationally in future earnings potential.

A Harvard University study that compiled two generations of income tax returns ranks the Indianapolis area No. 72 among the 100 largest metro areas for boosting the incomes of low-income, hometown kids.

And Indy was one of 62 large metros that actually had a negative effect, compared with the national average.

Hendren
The lagging incomes in Indianapolis are likely caused by outsized levels of single-parent homes, violent crime, and segregation by race and income, according to an IBJ analysis of the data published by economists Raj Chetty and Nathaniel Hendren.

Those social problems are depressing the incomes of Indianapolis-area natives across all income levels when compared to other large metropolitan areas. And the impact of growing up in Indianapolis was worse than growing up in any of the state's other metro areas, except Muncie.

The effect is so significant that if residents of central Indiana were advancing their incomes as fast as the nation's top 25 metro areas, overall incomes would be producing an extra $22.3 million annually—the same economic impact as a new 350-person employer moving to the region every single year.
Indianapolis' poor performance is not explained by the usual issues debated by state and local political leaders, the study finds. Tax rates, government spending and shifts in manufacturing all had little impact in Chetty's and Hendren's research. Quality of schools did matter, but the Indianapolis area scored as well or slightly better on that measure than other large metros.

Instead, the economic problems facing Indianapolis natives are tied to social issues—problems that are concentrated in Marion County but have implications in suburban counties and even around the state.

Kids who grew up in six out of the eight counties surrounding Marion—including Hamilton and Hendricks counties—saw their incomes grow slower as adults than their peers nationally.

"These issues are regional, period. If Indianapolis needs help in a particular area and doesn't get the help it needs, those issues are eventually going to affect everyone," said Jim Brainard, the mayor of Carmel, one of the most prosperous suburbs in the Indianapolis area. "I think most people in Carmel understand that."

Brainard said for Carmel to continue to be successful, it must be attractive to people and companies from around the world. The region's economic effect on kids is part of that.

He also understands that boosting the incomes of all Indianapolis-area residents, even the poor, would boost the entire region.

"The economy would be better, everyone would be better, if the lower 25 percent were earning more," Brainard said.

Paycheck-to-paycheck

Earning more could certainly change Amanda Duffer's life—and the lives of her family.

She moved to Indianapolis at age 13 with her mom, an Indianapolis native who had recently divorced Duffer's dad.

Now 31, Duffer is herself a single mother with two daughters. She still lives with her mom and her adult sister—both of whom receive disability payments—in a rough east-side neighborhood.

Her $29,000 in annual earnings covers about half their household bills. And she's only able to pay $20 a month toward the more than $45,000 in student loans she racked up earning an associate's degree.

At 7:55 in the morning, Duffer and her daughter Alex dash out the door of their home, buckle into their silver Chevy Equinox, and pull away from the curb.

Their destination is the school bus stop—two blocks away.

But with murder, muggings, drugs and gangs a fact of life in their neighborhood, Duffer knows they'll be in danger if they walk. Her younger daughter, Melody, rides to her church-run school in a church van.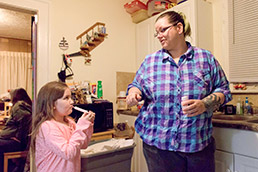 Amanda Duffer is a single mom in Indianapolis with two daughters, including Melody, left, and is struggling to live paycheck-to-paycheck, even though she has an associate's degree and a stable job.
(IBJ photo/ Eric Learned)
Duffer won't see her daughters till nearly 9 that night, after she returns from her work shift at Stericycle, which processes medical and pharmaceutical waste near the Indianapolis airport. Duffer relies on her sister and mother to watch the girls after school while she works.

She now earns $15.50 as a prescription drug waste auditor at Stericycle, up from $8 when she started at the company six years ago.

"I'm living paycheck-to-paycheck, despite my income," said Duffer.

Holding back kids

The economists Chetty and Hendren studied people like Duffer to understand how the future earnings of kids are affected by the communities in which they are raised.

Their groundbreaking research has received national attention since their first study was published two years ago. Even presidential candidate Hillary Clinton has discussed the research with Chetty, who has since moved from Harvard to Stanford University.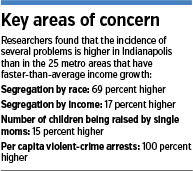 Chetty and Hendren looked at the income tax returns of families that moved from one community to another in the 1980s or 1990s. That allowed them to compare how the adult incomes of kids that started in one community ended up, based on where they moved to.

They found that the effect of a community grew larger, for either good or bad, at a consistent rate for each additional year a child spent there. Chetty and Hendren then multiplied that yearly effect by 20 years to determine the income impact for kids who did not move, but instead spent their entire childhood in one community.

Since the kids in their study were born in the early 1980s, the economists examined their incomes when they turned 26, which occurred in the past decade.

To analyze poor families, Chetty and Hendren focused on kids whose parents had incomes in the 25th percentile nationally. To understand affluent families, the economists studied kids whose parents had incomes in the 75th percentile nationally.

Growth occurred when kids grew up to earn incomes ranked at a higher percentile than where their parents' incomes ranked. If kids grew up to earn incomes that ranked lower than their parents' incomes, that counted as negative growth.

The results were not good for the Indianapolis area.

At age 26, Indianapolis natives who grew up poor were earning 6.6 percent less—or $1,716—than the average American 26-year-old who also grew up poor.

Compared with the 25 large metros where income mobility is greatest, the Indianapolis earnings gap was even larger: 12 percent, or $3,120, for the average 26-year-old.

That much money could help every 20-something household in Indianapolis finance a new car or pay for two classes at Ivy Tech Community College or buy dinner for two at a restaurant every Saturday night for a year.

It's not just low-income children who are affected. Across all income levels, the average 20-something household would be earning $5,000 more per year if Indianapolis had seen income growth from one generation to the next on the same level as the top 25 metro areas.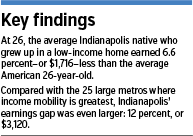 Tough teenage years

As a teenager, Duffer attended Broad Ripple High School during the day and spent her evenings burning through romance novels. She earned money working as a cashier at a cigarette shop where she was once held up at gunpoint.

Duffer got pregnant during her senior year of high school and walked through commencement four months pregnant. When the baby arrived via an emergency C-section—which she almost didn't survive—Duffer had to drop out of college just one month into her first semester.

She sued the baby's father, her former high school boyfriend, for child support. At the time of the court hearing, he was in jail for petty theft. She says his support payments have been sporadic, at best, over the years. When they do arrive, Duffer tells her mom, Ruth Duffer, to buy meat at the grocery.

Still, Duffer views herself as doing better than her mom in some respects, particularly because she went back to college and eventually earned a degree as a medical assistant. Ruth Duffer has only a high school diploma.

But economically, things were better for Duffer as a young child. Her mom and dad were still married then, both earning incomes to support their four kids in rural Tennessee.

"We might have lacked a few things," Duffer said, "but we never lacked any necessities."

Single parenthood, crime

Chetty and Hendren cross-checked their findings with measures of 48 factors that might explain the differences in income growth.

Out of those 48 measures, five key factors were most closely linked with slow income growth: large numbers of children raised by single mothers, violent crime, segregation by race and income, school quality and income inequality.

The Indianapolis area scored as good or better than other large metros on the last two factors. But on the first three, it lagged markedly.
What Chetty's and Hendren's research suggests is that crime, family breakdown, and segregation based on race and income have harmful effects on everyone who lives in cities with those dynamics—whether or not they personally are participating in those phenomena.

"The neighborhood environment during childhood is a key determinant of a child's long-term success," wrote Chetty and Hendren in a 2015 summary of their research. "This suggests that policy makers seeking to improve [income] mobility should focus on improving childhood environments and not just on the strength of the local labor market or availability of jobs."
Indiana's government and economic leaders are beginning to heed that advice—and for good reason.

Growing income for Hoosiers is especially important now, since recently instituted property tax caps make income growth the best way for local governments to keep growing their tax bases.

Since 2011, the Indy Chamber and the Central Indiana Corporate Partnership have put their weight behind expanding mass transit in Indianapolis to connect poor residents with the city's jobs and amenities. That could help compensate for the city's segregation by income.

In 2014, as crime was spiking in Indianapolis, then-Mayor Greg Ballard rolled out a plan not just to strengthen policing, but also to provide preschool to low-income kids.

"The institutions that support the family have not kept up with changes in family structure and the culture," Ballard said when unveiling his proposal. "And the crime that cities across America are experiencing today is a direct result of it."

More recently, new Mayor Joe Hogsett has vowed to get crime under control, in part by addressing social issues and lifting up forgotten neighborhoods.

Statewide, the Indiana University Public Policy Institute has convened city leaders to develop strategies for communities to improve themselves. The team examining urban issues is focused squarely on creating early interventions, from birth to preschool, to help kids compensate for the family support they commonly don't receive.

Klacik
"The goal is to really focus on early-intervention strategies for kids that grow up in many struggling neighborhoods in order to help them achieve their full potential," said Drew Klacik, a senior policy analyst at the IU Public Policy Institute.

Help from others

Duffer and her mom have not looked to government or economic leaders for help; they've turned to church.

Ruth Duffer takes her two granddaughters each Sunday to Neighborhood Fellowship Church, where Melody also goes to school during the week. The church's leaders helped secure a grant to replace the roof on Ruth Duffer's house, which she inherited from her grandparents, when it was leaking badly.

"Alex and Melody are thriving, but we've got them in a church, a community," said Ruth Duffer, 57. "If you really need help, everybody pulls together and helps you."•