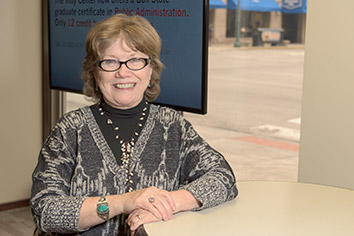 One of the best-known public relations and crisis communications professionals in Indianapolis is back in business.
After a one-year hiatus, Myra Borshoff is taking on high-profile clients again—but this time not for the agency she founded in 1984 that still bears her name.
"I'm working independently," Borshoff told IBJ. "I'm not sure what I'll call my firm. I don't even have business cards yet."
Borshoff sold off her interest in the Borshoff agency in 2010, but continued to work for the firm through 2014, she said. She had a non-compete clause that expired Dec. 31 and she decided to jump back in the game.
"I was getting bored," said Borshoff, 68. "It's been fun to get back in the mix."
Borshoff isn't sure she wants to leap back into 40-hour weeks, but those who know her say she won't have trouble finding work.
"She's one of the giants of the industry. She's one of the best-known communications professionals in this city and state," said David Sease, vice chairman of public relations firm Sease Gerig & Associates. "I noticed earlier this year that she was taking on clients, and so have a lot of other people in this market."

Dzwonar
That fact hasn't escaped people at her former firm, either. But Borshoff Managing Partner Jennifer Dzwonar said Myra Borshoff's re-emergence in the market has not caused confusion in the marketplace nor been a problem for the firm.
"It's wonderful that Myra is back working," Dzwonar said. "We would and do gladly work on anything together with her."
Dzwonar said it's clear that the Borshoff firm is much bigger than one person and Myra "has made it clear with clients she's now working on her own."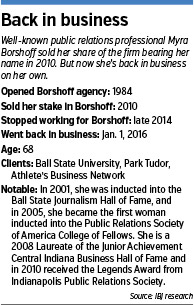 Also, Myra Borshoff, who is recently divorced, isn't sure just how much work she'll be taking on. "I don't know how many lawyers have me on speed dial," she quipped.
She added that she's done no advertising and doesn't plan to. "It's all word of mouth."
She has hired a former employee to help get her endeavor off the ground, but said she has no plans to start anything near the scale of her former firm. "I'm too old to start another agency," Borshoff said. "Besides, I have to have some time for myself."
But that hasn't stopped her from snagging big-name clients Already, she's done work for Ball State University when its president resigned; Park Tudor School in the wake of a recent scandal; and Athlete's Business Network, which has proposed a controversial development at the former airport terminal.
Of course, Borshoff is not unfamiliar with high-profile clients. She's done work for the Indiana Pacers; the Indianapolis Colts and team owner, Jim Irsay; Eli Lilly and Co. Inc.; and Mid-America Sound Corp., the Greenfield company that provided the stage equipment that collapsed during a 2011 Indiana State Fair concert.
"I like working with interesting projects and good people," Borshoff said. "It has to be something I believe in."
Borshoff, who now lives in Morgan County, said she is considering taking on work in the Bloomington area as well as Indianapolis. And while she jokes about charging the agency she founded a royalty for the use of her name, it has legal rights to the name and no thought of giving it up.
"It's the name everybody knows us by," said Dzwonar, a 22-year Borshoff veteran. "There's a lot of equity in it. It's never been a question of changing that name. Ever."
With 58 employees and a client list that includes Lilly, CNO Financial Group, Kiwanis International, NIPSCO and the Indianapolis Indians, among others, Borshoff has built itself into the city's biggest public relations firm and second-largest full-service advertising agency, according to IBJ's 2016 Book of Lists.
The Borshoff firm has continued its path of "slow, steady growth" since Borshoff sold her interest, Dzwonar said. In addition to Borshoff, Erik Johnson retired in 2012 and Managing Principal Susan Matthews departed at the end of 2015.
The current principals are Dzwonar, Karen Alter, Jennifer Berry and Katherine Coble. "We're proud of what Myra started, and we're proud of the succession plan that was put into place and what this [firm] has become," Dzwonar said. "What Myra started, we continue today."
Still, there are places where Borshoff and her former firm could compete. While the firm has expanded since it was founded, crisis communications is still 20 percent of business, Dzwonar said. "Crisis work remains a core of what we do, which is a lot of what Myra has done and is doing," Dzwonar said.
Myra Borshoff pledged to try to eliminate any confusion. She appears happy to be on her own. "I like my freedom. I like calling my own shots. One of the best parts of being on my own is, I don't have to take everything that walks through the door."•
Please enable JavaScript to view this content.