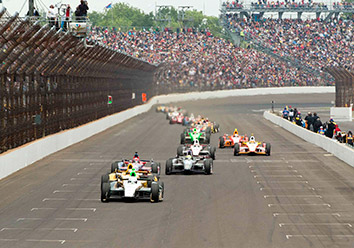 Tickets for the 100th running of the Indianapolis 500 are selling so well, Indianapolis Motor Speedway officials are projecting the first sellout of the event since the IndyCar Series split with CART in 1996.
Suite and premium seat sales are so strong, Speedway officials are discussing adding more inventory for this year's race on May 29.
Speedway officials said the Snake Pit in Turn 3 attracted 20,000 people last year and has even more demand this year.
"Ticket sales are tremendous," Speedway President Doug Boles told IBJ Friday. "If we held the Indy 500 today, we'd have more people in the venue than we had on race day last year. And with 65 more selling days, we're confident reserved tickets will sell out. Race day this year is going to feel like a late '80's or early '90s mega-crowd."
Hulman & Co. CEO Mark Miles said tickets are selling fast. "You might be surprised at how soon it happens," Miles said of a potential sellout.
"All of the suites are already sold out and we're looking at building 12 temporary ones to accommodate the demand," Miles told Racer magazine on Thursday. "And we're already way ahead of total ticket sales a year ago."
Local ticket brokers said they haven't seen demand this high for Indy 500 tickets in more than 20 years.
"The demand for these tickets started to pick up right after last year's race and they picked up even more around [Christmas]," Renny Harrison, owner of Carmel-based Fanfare Tickets, told IBJ. "Right now, it's a tough ticket. It's definitely a sellers' market."
Tickets on the secondary market for the race are selling for at least double what they have been the last four years, Harrison said.
"A seat that sold for $200 last year [on the secondary market] is selling for at least $400 this year," Harrison said. "We're getting five times as many calls for Indianapolis 500 tickets than we did a year ago. No one anticipated it would be this good."
Mike Peduto, president of locally based Circle City Tickets, said ticket sales for the race were soft as recently as last year, but not this year.
"Demand is really good, the best it's been since the split [with rival open-wheel series CART]," Peduto said.
In addition to getting more calls, Harrison said many callers are seeking more tickets.
"Instead of getting people wanting a couple of tickets like we have in past years, we're getting lots of calls from people who want six, 10 or 12 tickets," Harrison said. "Everyone who went as a kid wants to take their kids to the 100th running of the race."
Tickets in the penthouse as well as those high up in prime locations in Turn 1 and Turn 4 are going for more than twice face value, ticket brokers said. Harrison said he's even sold a handful of tickets with a face value of $350 for between $1,250 and $1,500.
The Speedway has recently reduced the number of seats in the massive venue, which is likely escalating demand.
That number was cut back to 257,325 by 2004, according to The Indianapolis Star, followed by another reduction in 2012 to about 235,000. An estimated crowd of 300,000 attended the 1996 race.
In addition to the 100th running of the race this year, Boles said closer, more competitive racing in the IndyCar Series is also driving demand, noting that ticket sales for the Indy 500 have increased every year since 2012.
 
Please enable JavaScript to view this content.