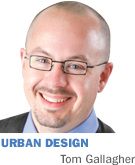 In last month's column, after being critical of certain defining elements of the original 1821 plat for Indianapolis, I mentioned that some of those elements could be turned to our advantage. Indeed, our wide streets, diagonal avenues and the White River all can be instrumental in a resilient, future version of our city.
For an example of resilience on a small scale, consider the historic Century Building at Pennsylvania and Maryland streets. This distinguished and approachable beauty has activated the street for more than 160 years. It has remained stable while the uses inside it (a warehouse, a showroom, commercial offices, retail) have changed with the needs of the time. Compare this to a single-purpose, big-box store that remains vacant or abandoned after its first occupant moves on.
Like the Century Building, the following defining elements of our downtown can also adapt to changing times.
■ Downtown streets. Streets can enable multiple modes of transportation, but they can also be outdoor living rooms and linear parks and support business opportunities and green infrastructure. Given the width and excess vehicular capacity in most of our downtown streets, we have a better opportunity than most cities to treat this public space with intention. Imagine the transformation if we were to simply add 10 feet to the pedestrian realm and plant a few trees. Beyond human comfort, this layer of green could also provide free "ecological services," reducing urban temperatures, absorbing rainwater and fixing carbon dioxide, to name a few.
The Cultural Trail along Massachusetts Avenue is part of what keeps the surrounding neighborhood vibrant. (IBJ file photo)
Changing attitudes and advancing technology are likely to have a profound effect on streets and will call for more dramatic shifts in their design. Consider the impact alone of driverless cars dropping us at our destinations and parking themselves. In downtown Indy, we might be able to set streets on their ear, reversing the current ratio and giving 70 percent of the right-of-way over to human experiences other than driving.
■ White River. We ask much of our waterways, wanting them to be transportation routes, vehicles for waste removal, and sources of drinking water and recreation. In the case of the White River, we have mostly just ignored it, which is why we need an initiative like Reconnecting to Our Waterways. Resilient solutions can help us take advantage of the White River's potential. That might mean doing away with such things as the dams, walls and levees that divide us from the river.
New methods of flood protection might allow us to let the river be the river. This means restoring riparian wetlands that can absorb water and clean it along the way. Columbus, Ohio, is trying this along the Olentangy River, which borders the Ohio State University campus. The university has adjusted its master plan, placing some of its most valuable future development along new terraced wetlands that replace a parking lot and a lawn-covered levee. Perhaps the redevelopment of the former General Motors site or a new look at the original Riverside Park could provide similar opportunities here while providing new anchoring public spaces that add value for their neighborhoods.
■ Diagonal streets/districts. Two of our original diagonals, Massachusetts and Virginia avenues, have retained their identities and are flourishing. Mass Ave and Fountain Square are the new local, where residents are proud to be from—a prideful swagger that extends to food names and locally made products. Such pride of place is, in itself, resilient. Activity around the former GM site and Riverside Park could bring vitality to what remains of the other two diagonals, Kentucky and Indiana avenues. The interest in micro apartments, shared living, tiny houses and pocket neighborhoods could be the ingredients for a new neighborhood model in the districts along these diagonals, one that integrates parks, a reclaimed river corridor, and their own brands of local retail, food production and the making of things.
Given the opportunities ahead, along with its solid foundation and a scale that lends itself to a certain nimbleness, Indianapolis could be a model of resiliency. Next-generation urban living—full of vitality socially, physically, economically and ecologically—means embracing the deepest meaning of the word. 
An Indianapolis that is not just surviving but thriving means not bracing for change but embracing it.•
__________
Gallagher is an urban designer with Ratio.
Please enable JavaScript to view this content.