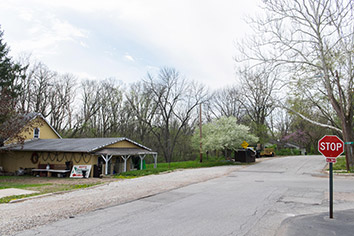 A proposed Zionsville development could bring more single-family homes, apartments and retail to the community's quaint downtown, but the proposal is still wading through the town's sometimes challenging rezoning process.
The mixed-use project, dubbed 200 West, would be on a 4.32-acre property just west of the prominent intersection of Sycamore and Main streets.
Proposed by 200 West Partners LLC, the development would include a 28,500-square-foot, three-story retail and office building with a 5,000-square-foot restaurant; 15 single-family homes with garages; and a four-story multifamily housing building with 50 units.
The project's cost has not been disclosed. Randy Green, principal of 200 West Partners LLC, did not return requests made through his attorney for comment.
So far, some in the adjacent neighborhood, known as The Village, aren't pleased. A community group has already collected 350 signatures on a petition to kill the proposal, citing concerns about increased traffic, flooding and higher density.
The developer also needs the backing of the Zionsville Plan Commission, which makes recommendations to the Zionsville Town Council on whether to approve proposals. That support is not easy to get in a community known for being particular about development.

Haak
"I think we're a little picky," Mayor Tim Haak acknowledged. "We want to get the right kind of developments on certain parcels and [in] certain parts of town."
Zionsville hasn't had much experience with the kind of custom zoning the developer is requesting, called a planned unit development. A PUD allows a developer to combine several uses—like residential, commercial and recreational—in one area or even in the same building.
The zoning is as important as the plan itself because it would allow the developer more flexibility in design or, if the project falls through, would provide guidelines for future development on that site.
The first private Zionsville development approved under PUD zoning came from Carmel-based Pittman Partners in 2013 for The Farm, a $90 million mixed-use proposal for the southwest corner of Sycamore Street and Michigan Road.
"It was slow. Fortunately for us, we owned the land and we could afford to go slow," said Steve Pittman, principal of Pittman Partners. "I think if we had tried to speed it along, they probably would have turned it down."

Pittman
Since then, only a handful of similar rezoning requests have come before the town.
Town officials are "still getting their feet wet with" custom zoning, Pittman said. "I think it's going to be a little bit slower and arduous."
"I don't think Zionsville feels any pressure to approve development they don't like," he said.
In February 2015, Bloomington-based CarDon & Associates Inc. wanted to construct a senior-living campus under a custom zoning plan but received a negative recommendation from the Plan Commission and was ultimately rejected by the Town Council.
Residents near the 25-acre site on the south side of West Oak Street near Cooper Road argued the campus would cause traffic problems and was too large for the area.
But the council did approve custom zoning for the 6.85-acre town hall property late last year that will allow construction of a new municipal building and clear the front of the property for private development.
In July, Pittman also had success getting specialized zoning approved for a 17-acre residential development with 48 cottages known as Inglenook of Zionsville.
Wiggle room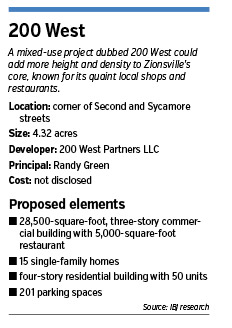 The zoning proposal submitted for 200 West sets general guidelines for the development, but provides wiggle room for changes.
While listed in project documents as a four-story, 50-unit building, the zoning guidelines the developer proposed would allow multifamily residential anywhere from two to four stories with a maximum height of 55 feet and up to 75 units.
Tim Ochs, partner with law firm Ice Miller who is representing Green, said at a recent Plan Commission meeting that, even if the building is 55 feet tall, it won't appear that high from Sycamore Street because the property slopes.
Gary Angstadt, a real estate agent who lives nearby, called the multifamily building "massive" for Zionsville.
"We don't have anything like that in Zionsville right now," Angstadt said. "Yes, the ground does slope … but it will be something very unusual for The Village."
The single-family homes could be one to three stories, with a maximum height of 35 feet and a size of at least 900 square feet, according to the guidelines. The houses would cover 50 percent of the lot. Plans call for up to 15 homes along the west side of the development.
The commercial building, which would face Sycamore Street near the Second Street intersection, could be two to four stories with a maximum height of 50 feet. No single retail tenant could occupy more than 5,000 square feet. Drive-throughs and outdoor seating would be permitted, with some restrictions.
A variety of retail and commercial uses would be allowed, including coffee shops, professional or medical offices, banks, fitness centers, clothing stores, food markets, liquor stores, salons and day cares.
"All of the uses we're proposing are already permitted on the site," Ochs said, adding that some uses currently allowed under the business zoning regulation like a tennis club, self-storage unit or boat sales business, would be prohibited under the proposed zoning.
The planning documents say the timeline for construction would be dictated by demand.
Primary access to the site would be from Sycamore Street, which is a two-way road until it is west of Second Street and curves north to become Third Street, a narrow one-way street that allows only southbound traffic.
Opposition
The Zionsville Village Residents' Association has not taken a position on the proposal, but a group of more than 50 residents known as the Zionsville Neighborhood Action Group has been actively opposing it.
The main concerns raised by the neighborhood group include adding high-density housing to a low-density area, the potential traffic impact and the regular flooding that occurs on the site.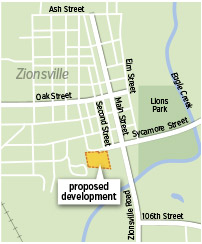 Bob Royalty, whose home is across from the proposed site on the corner of Third and Sycamore, said it seems as if the developer has no interest in being proactive about the potential problems.
"Nothing is in the plan about roads," Royalty said. "All the things you do for a major project—none of this is part of the" custom zoning proposal.
Pittman said developers who don't think they need community support in Zionsville will have a tough time getting the necessary approvals to move forward.
Before The Farm received zoning approval, Pittman provided comprehensive fiscal, economic development and traffic impact studies in addition to discussing project details with residents and town officials.
"I think you should have that information about your development," Pittman said. "I couldn't fathom someone asking me to do a traffic study and not doing it."
Indianapolis-based A&F Engineering did conduct a preliminary traffic review of the site for the developer, but Ochs said the firm suggested postponing a complete analysis until after the town finalized its improvement plans for the area.
Town officials have been contemplatingchanges along Sycamore Street between Second and Main streets to improve traffic flow, but no decisions have been made and there is no timelineto do so.
Ochs said the development is projected to be assessed a $217,000 road-impact fee.
"If developed, it actually generates a significant amount of money that the town can use," he said.
Royalty said residents would likely support a commercial development near the Second and Sycamore intersection and single-family homes with a smaller footprint adjacent to that.
"We all bought here knowing we were two blocks away from commercial," Royalty said, pointing out that he can see Dairy Queen on First Street from his house. "That's fine."•
Please enable JavaScript to view this content.