Should Indiana continue expanding its private school voucher and charter school options for students?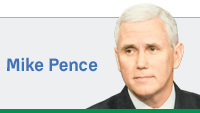 As the 2015-2016 school year comes to a close, let me begin by congratulating Hoosier students, teachers and educators for another successful year of academic growth in Hoosier classrooms. By just about every measure, outstanding work is taking place across Indiana. Our state's high school graduation rate rose to seventh-best in the nation. Our children ranked among the best on the "nation's report card." That's what I call great work, with even better things yet to come.

This is a time when the attention of many recent high school graduates and their parents turns from pomp and circumstance to move-in day for college. Students and parents often spend many years evaluating college options, make multiple campus visits, and ultimately select the school that meets the student's needs and plans for the future.

No one questions the right of parents and students to choose a college that best suits the student. In Indiana, we extend that opportunity to elementary and high schools as well.

I have always believed giving parents more choices and teachers more freedom to teach makes our education system even stronger. That is why, in addition to record increases in funding for traditional K-12 schools, Indiana is now home to one of the largest voucher programs in America, with more than 30,000 students attending the school their families selected as the best fit for them. We also renewed our state's commitment to career and technical education for students who choose to enter the workforce straight out of high school. Again, it's about choice.

As a father and someone who has been married to a teacher for 30 years, I appreciate the tremendous influence excellent teachers and schools play in a child's life.
Indiana is home to many outstanding school options, including traditional public, public charter, private, and home school. The simple fact is, different students might have differing educational needs and some students might be better served in one school versus another. In the not-so-distant-past, those needs could be met only by parents who could afford to send their child to a private school or a parent with the ability to move near a school that might better fit their child's needs. I'm thankful that is no longer the case in Indiana.

I believe a child's education should not be limited by household income or the ZIP code where the child lives. It should not matter where a child receives a great education; our focus should be to ensure every child has the opportunity to receive a great education. It is a basic issue of fairness and equality for all Hoosier children.

Indiana has high-quality schools and teachers. I support school choice because I trust Hoosier parents to evaluate their options and make the best choice to meet the needs and aspirations of their child. School choice is not about favoring one type of school over another; it is about providing high-quality schools that meet the individual needs of every Hoosier child.•

__________

Pence, a Republican, was elected governor of Indiana in 2012 and is seeking a second term. He also served as Indiana's 6th District congressman from 2000-2012. Send comments to ibjedit@ibj.com.