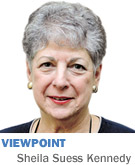 The media—both traditional and social—is overflowing with commentary on this year's unprecedented presidential politics. In November, the first woman to be nominated by a major political party will face a candidate who is a reproach to everything the party that nominated him used to stand for, while the Libertarians—usually an afterthought (if that) on the political horizon—will actually offer candidates with far more government experience and gravitas than The Donald.

Understandably, the national conversation has focused on the presidential primaries and these results. That's partly because it has been such a bizarre contest in so many ways, of course, but it is also because Americans tend to believe that winning the presidency is the be-all and end-all.

It isn't.

Don't get me wrong; who occupies the White House is extremely important. This year, it will be critical—the thought of a loose cannon with no understanding of the Constitution, federalism, separation of powers or anything remotely resembling policy occupying the Oval Office is really terrifying. But if we have learned anything from the astonishing dysfunction of Congress the past several years, it is that we need to pay much more attention to those we elect to legislative and other offices.

For example, I'd like to see a little less attention to The Donald's most recent Twitter rants, and a bit more to Todd Rokita's efforts to deny poor children school lunches.

I'd also like to see much more attention paid to state-level races.

This November, Indiana will either re-elect Gov. Mike Pence or replace him with Democrat John Gregg. If The Donald's candidacy is causing heartburn for many long-term Republicans, the prospect of four more years of Pence is experienced as equally unnerving.

Indiana's governor has been more focused on waging culture war than on the admittedly less exciting business of governing.

First, of course, there was RFRA, a clumsy bit of homophobia that cost the Indiana economy millions and made "Hoosier Hospitality" a punch line.

Pence and his legislative super-majority have also waged a sustained attack on Planned Parenthood, which provides essential health care to poor women. (That war on Planned Parenthood—which shut down the only testing clinic in Scott County—was primarily responsible for the epidemic of HIV/AIDS in southern Indiana.)

Scarce tax dollars have been diverted to "pro-life" organizations offering propaganda in lieu of services. And throughout his term, Pence has directed Indiana's attorney general to spend time and tax dollars on a number of lost-cause, culture-war cases, both local and national: anti-LGBT efforts, resistance to environmental regulations, asserting a right to reject Syrian refugees.

Pence has also done everything in his power to obstruct a superintendent of public instruction elected with more votes than he received. He has diverted desperately needed public education resources to the most extensive voucher program in the country, despite research showing poor results. (In a recent study, Indiana's voucher students substantially underperformed public school students.) And there was his refusal—which he is now trying to walk back—to accept a federal grant that would have expanded preschool for at-risk children.

Indiana's economy lags that of the nation and our neighboring states. Our jobs pay less. The Hoosier state "boasts" dangerous bridges, pot-hole-filled roads and poorly maintained infrastructure.

The bottom line: In America's federalist system, the people we elect to run state and local government have as much of an effect on our well-being as those we install in more exalted offices.

Vote carefully.•

__________

Kennedy is a professor of law and public policy at the School of Public and Environmental Affairs at IUPUI. She can be reached at skennedy@ibj.com.