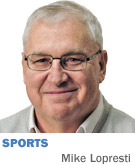 They lined up early at Victory Field the other night to get old Cub Billy Williams' autograph. Men and women in blue shirts, kids in blue caps. Get that many Cubs fans in one place, and it's always a good time to check for any neurosis. It's like the waiting room at a crisis counselor.

Is Indy a Cubs town? "Reds No. 1, Cubs No. 2, White Sox No. 3," offered Howard Kellman, who has called the Indians games forever and knows something about the baseball hearts in this area code. But he added there are always swing voters looking for the hot team.

"It's almost like an election. The moderates can go either way."

So at this giddy moment, a bunch of Cubs fans are out there. And since the Indianapolis Motor Speedway was still farmland the last time the Cubs won the World Series in 1908, they all usually pretty much share the same dread of history.

But now that the Cubs have turned into the 1927 Yankees, what's the mood? The past week began with a 43-18 record, their best since 1918. The run differential for the season was plus-162. The next-best in Major League Baseball was plus-85.

Who could be nervous in the face of such glorious dominance? Well, Cubs fans might. But let's work the autograph line at Victory Field and find out.

Start with the Cotterman guys from Indianapolis. So what's the feeling?

Joe: "The same as it is every year." (Note possible sarcasm.)

Jeff: "It's got to be it. They've got all the pieces in place and they've got the right manager. Is there a curse? I haven't heard of it." (Note more sarcasm.)

The specter of a World Series is mentioned.

Jeff: "I've never seen it in my lifetime. Everybody out here the same."

Jarred: "I'll probably cry."

On down the line, pals Scott Masters of Marion and Mike St. John of Martinsville are talking curses.

Masters: "We're not afraid of the black cat or the goat or anything like that."

St. John: "Murphy [the goat] must die."

These two old friends hadn't seen each other in 45 years. The Cubs—and Facebook—brought them back together.

"I always wondered how I became a Cubs fan," St. John said. "And now I know."

Here are Scott and Keith Dunblazier of Indianapolis, asked to imagine a Cubs October.

Scott: "I think they would shut down the city of Chicago for a few days."

Keith: "You figure people like myself that have been Cubs fans for all of our lives, and many people, family members, have passed on without ever seeing that happen."

Keith has been a Cubs fan, by his count, 60 years. Lots of ups and downs in that time.

"Mostly downs."

Here's Kevin Watson of Indianapolis:

"Last year, they got over the Cardinal hump, and they believed. Now they've got a taste of it. And Joe Maddon is the trump card.

"I'm not thinking about goats. I'm not thinking about their past. I'm just thinking about now. Everything's lined up. If they win the World Series, I think half the world would go to the parade, just to make sure it happened."

One more Victory Field visitor to check on. For the seventh-inning stretch, Dan Dakich helped croon "Take Me Out to the Ballgame." He's a northwestern Indiana product, which means pure Cubs blood. No need to ask if any other baseball teams get mentioned much on his radio talk show.

"I get two senses. The young fans think we're going to win the World Series. But people like me, it ain't happening until it happens. I ain't buying it. My age, we've got to see it to believe it. Younger guys, 'Hell yes, this is our year.' That's what I get."

Dakich brought up 1984, when the Cubs made the postseason for the first time in four decades. He was playing basketball for Indiana University then. Game 1 of the National League playoffs against San Diego was in the afternoon and Dakich did the unthinkable—asked Bob Knight if he could be late for practice to watch the game.

Knight, a baseball fan himself, gave the OK. The Cubs won a 13-0 laugher, so Dakich was able to pull away early and get to practice on time. They lost the series in the end, of course.

"Other than Michigan basketball [where his son plays], it's the only team I love," Dakich said. His current thoughts? "I'm waiting for the next injury."

Finally, a phone call to Fat Dan's Deli on College Avenue, noted local Cubs fans headquarters. The menu online is in the shape of the Wrigley Field scoreboard. Cubs games on TV draw a crowd.

"People are chomping at the bit, talking about the squad and how good they're playing—and obviously that which should not be spoken about," owner Dan Jarman said.

Which is?

"Getting to the World Series."

He has noticed a new mind-set from his customers.

"I'm not hearing a lot, nor am I thinking a lot about, 'Is there going to be another Bartman episode?' or if someone is going to get injured to make everything fall apart. That ship is running too well right now. I'm not hearing a lot of people talk about that stuff."

Not till the first losing streak, anyway.

So be kind to the Cubs fans among us, in all their current hopefulness. And understand if they occasionally look nervously over their shoulder, to see if anyone is gaining.•

__________

Lopresti is a lifelong resident of Richmond and a graduate of Ball State University. He was a columnist for USA Today and Gannett newspapers for 31 years; he covered 34 Final Fours, 30 Super Bowls, 32 World Series and 16 Olympics. His column appears weekly. He can be reached at mlopresti@ibj.com.