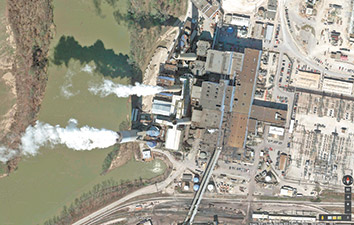 It's the largest power station in Indianapolis Power & Light Co.'s fleet, cranking out enough juice to light up factories, homes and shopping centers across central Indiana.
But the coal-fired Petersburg Generating Station, which went online nearly a half-century ago, is also one of the dirtiest power plants in Indiana. It's been repeatedly cited for exceeding emissions standards and spews carbon dioxide, nitrous oxide and sulfur dioxide that critics say are harmful to Hoosiers' health.
Now, IPL wants to keep burning coal at Petersburg for years to come, even though the company stopped using coal earlier this year at two other plants—Harding Street in Indianapolis and Eagle Valley in Martinsville—in favor of natural gas.
IPL recently filed petitions with the Indiana Utility Regulatory Commission to install $100 million worth of pollution controls at Petersburg, a move it says will allow it to keep burning coal and meet strict environmental regulations for sulfur dioxide and coal ash.
If state regulators agree, that could raise a typical residential customer's monthly bill 20 cents next year. That amount would climb in subsequent years to $1.40 a month by 2021, according to IPL estimates.
The company's request is raising the ire of some consumer and environmental groups, which say the Petersburg plant is old and inefficient, and will likely require millions of dollars in upgrades every few years to meet a series of stricter environmental regulations.
IPL has already invested $450 million in pollution controls in Petersburg in recent years.

Washburn
"IPL continues to throw good money after bad," said Jennifer Washburn, an attorney at utility watchdog Citizens Action Coalition of Indiana. "Petersburg is a bad investment and should be shuttered."
The Sierra Club calls the Petersburg plant a "dinosaur that IPL needs to retire as soon as possible."
"IPL would rather spend a hundred million dollars here, a couple hundred million dollars there, to keep burning coal," said Jodi Perras, head of the Sierra Club's Beyond Coal Campaign in Indiana. "It's yesterday's technology."

Perras
IPL said it studied a wide number of options for Petersburg, including converting the four generating units to natural gas, and retiring them and replacing them with other resources. In the end, coal was the best option to keep rates affordable, IPL spokeswoman Brandi Davis-Handy said.
"We evaluated various options to determine the most economic plans for customers," she said.
The plant, however, is facing challenges that go beyond complying with increasingly stringent environmental regulations. Other power plants in the region, using cheaper fuel sources, are producing electricity at lower cost. IPL officials recently testified to state regulators that its coal units are "experiencing periods of economic shutdown" due to lower-price electricity on the power market.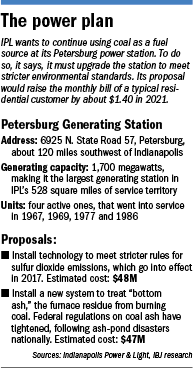 Petersburg operated at less than 60 percent of capacity last year—down from nearly 80 percent in 2010, according to SNL Energy, an energy research firm.
In the meantime, IPL has built up a huge excess of coal inventory. Nicholas Grimmer, IPL's director of fuel supply, told regulators the company was in discussions with coal suppliers to allow deferral of upcoming deliveries.
To cope with the huge amounts of unused coal on its hands, IPL has increased the footprint of its coal pile at Petersburg, expanding on-site storage capacity by 200,000 to 250,000 tons. The company also is talking to suppliers about the possibility of buying out certain contract obligations or potentially selling excess coal, according to IURC documents.
"The plant is not competitive on the marketplace," said Washburn of Citizens Action.
Last year, IPL paid $49.18 a ton for coal—up a whopping 66 percent from the 2009 price, according to SNL Energy.
The plant still burns through a huge amount of coal—nearly 4.2 million tons last year. That's more than twice the amount the Harding Street Station burned a year before it was converted to natural gas this spring.

It has also racked up more than a dozen environmental violations in the past five years. It has emitted excess sulfur dioxide, nitrous oxide particulate matter and sulfuric mist. All four units at the power station have run afoul of regulations.
The U.S. Environmental Protection Agency has sent IPL a series of violation letters, warning that the utility could face civil or criminal actions.
Facing such pressures on financial and environmental fronts, some utilities are quitting coal altogether.
Detroit-based DTE Energy Co. recently said it will retire eight coal-fired generators in Michigan within seven years, and build one of the largest utility-owned solar arrays east of the Mississippi River.
"We're seeing utilities from all around the country say these plants are no longer economical," said Perras of the Sierra Club.
Indeed, Indiana's use of coal to make electricity has dropped in recent years. In 2010, the state had 26 active coal-burning power plants. By the end of this year, it will have just 13. Most are closing because the owners decided it wasn't economical to retrofit them to meet clean air and clean water rules.
The Indiana Coal Council disputes that the state's coal is dirty and harmful. The amount of coal burned a year to produce electricity here has climbed 150 percent over the past 30 years, the council said, while the amount of sulfur, nitrous oxide and particulates has been cut more than 80 percent.
Still, Indiana power plants, traditionally heavy coal users, have been major polluters.
Indiana ranks third nationally for nitrogen oxide emissions, fourth for sulfur dioxide emissions, and fifth for carbon dioxide emissions.•
 
Please enable JavaScript to view this content.