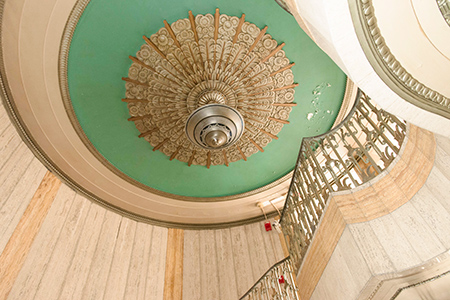 The stately campus of art deco buildings adorned in terra cotta along Massachusetts Avenue east of College Avenue once churned out 2.3 million Coca-Cola bottles a week as the largest bottling facility in the world.
Today, the plant designed by Rubish & Hunter and built starting in 1931 represents one of the city's trickiest preservation challenges.
It has been maintained with few alterations since the late 1960s by Indianapolis Public Schools, which used it as a warehouse, bus garage and central kitchen. But the property's purchaser, Wisconsin-based developer Hendricks Commercial Properties, wants to turn the 11-acre site into a $260 million development with apartments, offices, retail space, a hotel and a movie theater—all while incorporating as much of the historic character as possible.
Hendricks, which beat out five other bidders hoping to tackle the site, has enlisted a local engineering firm and a general contractor to design a preservation plan. The developer expects to spend $1 million on preservation alone.
It's a familiar challenge for the family-owned company, which has its headquarters in a sprawling 100-year-old warehouse in Beloit, Wisconsin.
"We come from a small manufacturing town and have really embraced that the historic core of America has a lot to offer," said Isaac Bamgbose, Hendricks' asset manager. "In working on projects like this, we're trying to set an example. The old isn't all just old and bad. It's old and reusable. And it's cool."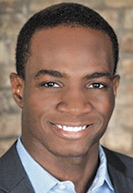 Bamgbose
Hendricks is moving quickly: It has just one year to close on its $12 million purchase of the property, and spent just a few hours inside the buildings before bidding to redevelop the site, Bamgbose said.
The company hired Fishers-based Arsee Engineers Inc.—a specialist in terra cotta and façade preservation known for its work on Circle Centre mall's integrated façades—to assess the integrity of the structures and design a menu of options that could range from on-site reinforcement and preservation to off-site storage and eventual reconstruction. The Hagerman Group, also based in Fishers, will formulate cost estimates for the various scenarios.
Part of the challenge is making sure to avoid damage to the existing structures during site work for utility infrastructure, Bamgbose said.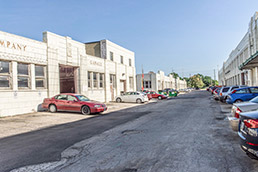 Hendricks Commercial Properties plans to convert the 11-acre property into apartments, offices, retail, a hotel and a movie theater. It plans to spend $1 million on preservation. (IBJ file photo)
"We don't want to make promises we can't keep," he said.
Renderings suggest Hendricks intends to save a large portion of the 285,000-square-foot main bottling building, including façades along Carrollton Avenue, Bellefontaine Street and Massachusetts Avenue. That would give the southeastern section of the project a low-rise character, with taller buildings planned for the other three quadrants.
The plan does not appear to incorporate much of the facility's ancillary buildings that Coca-Cola once used for warehousing and distribution, unlike rival proposals that called for nearly complete preservation.
Bamgbose said it's too early to say exactly what parts of the historic structures will remain or be reincorporated into the final project.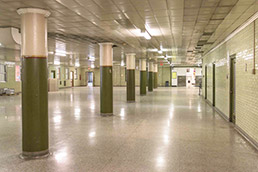 The main bottling building is 285,000 square feet. Renderings suggest the developer plans to save a large portion of that structure while demolishing ancillary structures. (IBJ file photo)
Most of the terra cotta on the former Coca-Cola plant is in good shape, including unique friezes of Coke fountains above doorways, said Fritz Herget, president of Arsee Engineering.
He expects the project will incorporate some combination of reused materials and full façades, adding that there's no one-size-fits-all solution.
"I don't see this to be a deconstruct/put it in a pile/build it back project," said Herget, who has worked on more than 50 terra cotta projects. "I think we'll find a way to keep the façade generally in place and repair as necessary. How we're going to do it is the question."
One challenge will be finding a way to gracefully integrate—both structurally and from a design standpoint—the sprawling Coca-Cola campus with the much more dense development that would surround it.
Another question: How to replace broken terra cotta? Only three manufacturers in the world make new terra cotta, Herget said. But alternative materials, including glass-fiber reinforced concrete (used on Indy's Tyndall Armory building), can blend in quite well.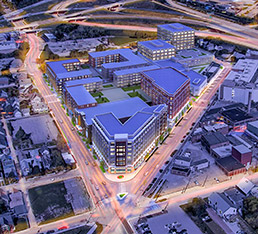 The $260 million redevelopment proposal from Hendricks Commercial Properties was the costliest submitted by the five bidders. (Rendering courtesy of Hendricks Commercial Properties)
The magic of terra cotta, and the big reason it was used so widely from the late 1800s through the 1930s, is that a single mold can be replicated multiple times, creating a high-end finish at a lower cost, Herget said.
It's also versatile and can replicate all kinds of materials, adding a signature accent. Some of Indy's most recognizable examples include the Goodman Building on Washington Street downtown, where terra cotta resembles limestone; the Indiana School for the Blind, where it resembles pink granite; and downtown's Illinois Building, where it tops the building with an ornate gold crown.
Though specific details could take months to nail down, Herget noted his clients at Hendricks are "very interested in saving as much as they can, and they're not just blowing smoke."
To proceed, Hendricks' plan for the site would need to win approval from the Department of Metropolitan Development and the Indianapolis Historic Preservation Commission.
City planners reviewing the proposal will focus on "balance" between preservation and the need for a project that will be productive for another 100 years, said Emily Mack, director of the Department of Metropolitan Development.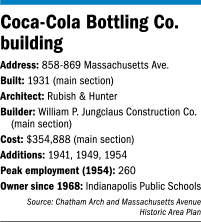 "It's one of the most significant architectural gems in the city of Indianapolis," Mack said. "This is a very important site."
Hendricks relishes the challenge and expects to deliver a project that creates value for itself and the community, Bamgbose said.
"There's undoubtedly intangible value here that we want to make tangible," he said. "It's not just another cookie-cutter lifestyle center, cookie-cutter office building or cookie-cutter apartment building. It's got a lot of interesting elements to it that you gain appreciation for over time."•
Please enable JavaScript to view this content.