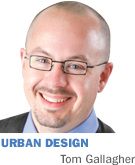 We have in Indianapolis some fabulously cool urban districts. Earlier this year, John Birdsall of Bon Appetit quipped that he found in Indy "something way cooler" than Brooklyn. Cushman & Wakefield's recently released "Cool Streets" annual report on the hottest urban retail markets in North America gives us another reason to take notice of the vibe surging through the city. The trends described in the report indicate a phenomenon that, while not unique to our city, might bring out the best Indy has to offer.
After a decades-long shift away from traditional Main Streets, Americans are naturally gravitating back to urban retail. It turns out that real places are essential to how we choose to spend our time, if not as much of our money. More of us are seeking out people, places and things that are relentlessly local, authentic and as meaningful as they are entertaining. We want to know the people who make the stuff and we want to know that they know the people who supplied them the raw materials. According to Cushman & Wakefield, this is happening not in the long-established shopping districts but on the "cool streets," the grittier and bohemian places like Mass Ave and Fountain Square.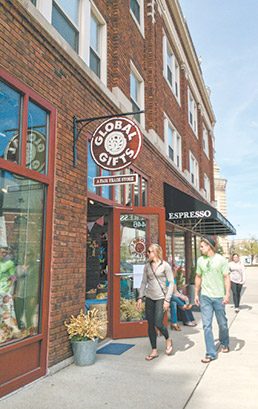 The Cushman & Wakefield report said "cool streets," like Massachusetts Avenue, are in old quarters of cities and have a dense arrangement of turn-of-the-century, intact storefronts. (IBJ file photo)
Setting aside any attempt to define what is cool, I think something deeper is to be gleaned from understanding these places. Why do the cool people go there? Just looking at the top 15 cool streets on the Cushman & Wakefield list, not to mention those in our city, it is easy to see what they have in common. With little exception, they are in old quarters of cities where a dense arrangement of turn-of-the century storefronts remains intact. Is the draw, then, history, nostalgia, patina? I argue there is something more: the fine-grained urban fabric.
At their best, cities are like mosaics: The big picture is a result of the arrangement of lots of smaller pieces—grains, if you will. That overall image could be coarse, like the pixelization of an '80s video game or fine-grained like that of today's HD technologies. Walmart or Meijer—coarse-grained; Mass Ave and Fountain Square—fine-grained. There is something special about fine-grained places that seems to get our attention.
Some of this is intrinsic to being human. Psychologists suggest we are drawn to things that are complex but not complicated. We, generally, like a little mystery, maybe even some risk, without tipping over to scary; too simple and we lose attention. Disney understands this perfectly. When you walk down "Main Street USA," though you know it's not part of a real town, the tight rhythm of storefronts is comforting and inviting.
On the more tangible side, fine-grained places feed the entrepreneurial spirit. They provide the framework for more incremental development at more manageable levels of investment. And it's more forgiving of mistakes, of both the business and architectural variety. Hopefully, it means pioneering and resourceful proprietors are spending time and dollars doing what they love. In turn, we get the benefit of better stuff—it's the kind of commerce that literally built our cities in the first place.
No doubt, these places gentrify over time, "go from edgy to mainstream" as Cushman and Wakefield says. Because of the slower pace and smaller scale of change, though, there is at least a greater possibility to reveal the authentic culture and personality of the district, and chances are better for a broader spectrum of people to prosper.
The report suggests that "cool streets are serving as an incubator of sorts for what will likely be the hottest new retail concepts of tomorrow." As our city faces significant but confounding opportunities—the former GM site and areas all along 38th Street, to name a couple—it is my hope that fine-grained places also teach us something about urban design. Their form is enticing and comfortable while the composition facilitates a grass-roots economy. Together, they create a genuine identity. This is the real promise of urban places, and that's cool.•
__________
Gallagher is an urban designer with Ratio.
 
Please enable JavaScript to view this content.