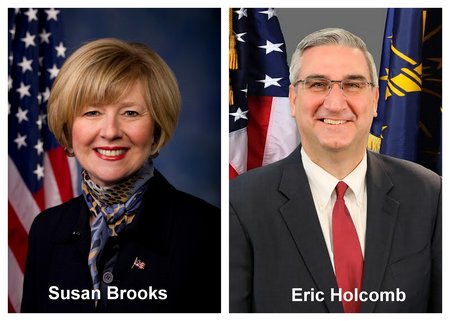 Lt. Gov. Eric Holcomb and U.S. Rep. Susan Brooks have emerged as top contenders to fill Mike Pence's place on the gubernatorial ballot, although other prominent Republicans are expected to consider seeking the GOP nomination as well.
Several members of the Indiana Republican Party's central committee—the group that will make the decision—said they've already heard from Brooks as well as U.S. Rep. Todd Rokita about the opening, which would occur when Donald Trump officially makes incumbent Gov. Mike Pence his running mate.
And while committee members said Holcomb—a former state party chairman—has yet to directly reach out, he appears to have significant support among the group.
"Eric is at a significant advantage over anyone because he worked on the state committee with most of us," said Jamey Noel, who serves on the 22-member group. "We are familiar with him, we know him inside and out, and we can trust Eric."
Committee members said House Speaker Brian Bosma could contend for the ballot spot as well. And observers say there are additional dark horse possibilities, including Evansville Mayor Lloyd Winnecke and former Indianapolis Mayor Greg Ballard.
(Gov. Mitch Daniels would have appeared high on that list—and he probably would have cleared the field if he ran—but he told IBJ and other media outlets Thursday morning that he was not interested in the job.)
The committee has 30 days after Pence officially drops off the ballot—a move expected to happen before noon Friday—to pick a new candidate. But it likely would make the decision sooner. Republicans want a new nominee to have as much time as possible to campaign against Democrat John Gregg, who narrowly lost to Pence four years ago.
Deb Fleming, who is on the committee, said early Thursday afternoon there's no timeline yet for when the committee would meet to make the decision. Barbara Krisher, another committee member, said members might not meet until after next week because many are attending the Republican National Convention in Cleveland. But notification of a caucus date could come as early as Friday. 
Republican strategist Mike Murphy said any of the Republicans that will be considered can be competitive. 
"Any of them could beat John Gregg," Murphy said. "It's going to be a big Republican year in Indiana. For anybody who is critical or disappointed in the Mike Pence social agenda, no one has to own it. They can all say that was Mike Pence's agenda, not mine."
Committee member Nick Barbknecht said he believes it is an "open question" who would have the best chance of beating Gregg. He said he is keeping an open mind until the committee meets.
Here's IBJ's rundown of the strengths and weaknesses of the most likely candidates:
Lt Gov. Eric Holcomb
This might be the most obvious and natural pick of the group. He's a former Mitch Daniels adviser and he serves with Pence now, so he could be seen as a bridge between those two political circles—and palatable to both crowds.
"It could be the emotional choice but also the logical choice," Murphy said. "Many, if not most, of the Republican committee members were there when Eric Holcomb was either deputy chief of staff for Daniels and state Republican chairman."
But Holcomb has some strong drawbacks: He's never been elected to statewide office. He lost a race for state representative. And he was trailing the field in the race to be the GOP nominee in the U.S. Senate race when Pence appointed him to be his lieutenant governor.
If he's chosen and eventually elected, he would go from all but finishing last in a Republican Senate primary race to being governor in less than a year. That would be quite a coup.
U.S. Rep. Susan Brooks
Brooks, who represents the state's 5th District in the House, would be the first female governor in Indiana. That's a huge draw to Republicans, who would be eager to claim that accomplishment.
A former U.S. attorney, Brooks is from Hamilton County and could help Republicans recapture votes from an area of central Indiana that helped secure the gubernatorial race for Pence back in 2012 but has seemed to cool to him since. Suburban women are seen to be a key voting bloc in the November election.
"My own opinion is that Susan Brooks is the toughest for them to beat," said former Angie's List CEO Bill Oesterle, who ran Daniels' first gubernatorial campaign.
Former State Republican Chairman Murray Clark said he respects and admires all the candidates but that he thinks Brooks is the "best bet."
"She has achieved greatly, for starters," Clark said. "She has an impressive resume. She's a very substantive person. She's extremely popular in areas of the state where we as a party need to do very well, like a good part of her district."
U.S. Rep. Todd Rokita
Rokita, who represents the state's 4th District in the House, could be the candidate that the more conservative members of the state committee push for. He's taken some hard-line stances on divisive social issues during his time in Congress—he's ardently anti-abortion, for instance—but he also recently worked with Democrats on a federal education policy overhaul.
Most recently, Rokita made waves by proposing to make it harder for schools with higher numbers of poor children to qualify for federal free lunch programs. He also proposed to limit fresh fruit and vegetables and caught flak when it was discovered that he has received thousands in campaign cash from the food processing industries.
But the former two-term secretary of state is good at winning elections. And he wants the job.
"This is very attractive to him," said Ed Feigenbaum, a longtime Statehouse observer who is founder of INGroup, which publishes several public policy newsletters. "He's won a couple of difficult statewide races against good opponents. And the guy can raise money like you won't believe."
House Speaker Brian Bosma
Bosma is a well-known quantity in central Indiana, and is arguably the most powerful state lawmaker, but he's less well-known in other parts of the state.
Plus, he has been known to want the job in the past. It was thought that he would run for governor in 2020.
"You can't count out Bosma," Murphy said. "He's been a speaker and in the Legislature for almost 30 years. He probably has the most money available in various accounts to apply to the race."
But he also could have the most vulnerabilities in a race against Gregg. The Democrat has been hammering Pence hard for his support of the Religious Freedom Restoration Act last year, which was criticized as being discriminatory against gay and lesbian people.
Gregg could easily tie Bosma to that issue, given that Bosma voted for it and helped steer it through the General Assembly.
"Anybody that's associated with the Pence administration, they can continue on their strategy and essentially run against Mike Pence," Oesterle said, though he didn't specifically mention Bosma.
If Bosma is chosen, it could result in interesting legislative leadership shakeups. Rep. Tim Brown, chairman of the House Ways and Means Committee, would probably become House Speaker, Feigenbaum said.
And here are some less likely, but still interesting candidates:
State Auditor Suzanne Crouch
Here's another potential opportunity for Indiana to elect its first female governor.
Crouch, from Evansville, served in the Legislature from 2005 to 2014. Her name has been floated by a few politicos as possibly interested in the job. But a call to her spokesman was not immediately returned.
Evansville Mayor Lloyd Winnecke
A staffer for the mayor told news media that Winnecke "received phone calls over the weekend encouraging him to step forward."
But his name was not mentioned as a favorite among Republican politicos.
Former Indianapolis Mayor Greg Ballard
Ballard left office as Indianapolis mayor in January with a high approval rating. He also has eight years of experience as a chief executive, leading the state's largest city.
But he seems unlikely to run. When he left office, he signaled that he would need time to rest and regroup after a busy two terms in office. And he definitely wouldn't satisfy committee members who were committed to a more conservative candidate who would step out on social issues.
A representative for the former mayor did not immediately respond to IBJ's request about the mayor's interest.
"Ballard is an outstanding administrator, but not well known statewide," Murphy said. "I don't know how much money he has. He's a very capable guy and you could see him resurfacing at any time, but I think he's resting."
Please enable JavaScript to view this content.