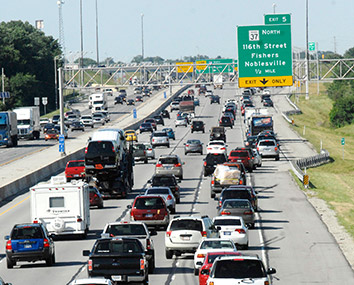 Fishers is planning to restrict additional retail development near two key intersections of Interstate 69 in an effort to streamline and improve the commercial landscape.
City officials have been discussing for several months what kind of new developments they would prefer to see near the 106th Street and 116th Street interchanges of I-69. A zoning ordinance is expected to be introduced to the Fishers City Council later this month.
In May, the council approved a temporary ordinance to require council oversight of any new project in those areas—regardless of whether it met existing zoning standards—to give the city time to create a long-term vision.
The land along the corridor currently is zoned commercial, with several planned-unit development standards that allow a variety of architectural styles and building heights. Mayor Scott Fadness has described it as "hodgepodge" and "fruit salad" zoning.
At an informal meeting Tuesday morning, several City Council members and a representative from Navient Corp., which has offices at 11100 USA Parkway and is trying to sell excess land in the area, heard from city staff about the potential zoning changes.
The updated zoning would allow office buildings with or without retail uses and standalone restaurants without drive-thrus. Any standalone retail use would require special zoning and permission from the City Council.
"We're not closing the door on retail, but there might be one extra step that retail has to go through," Fadness said.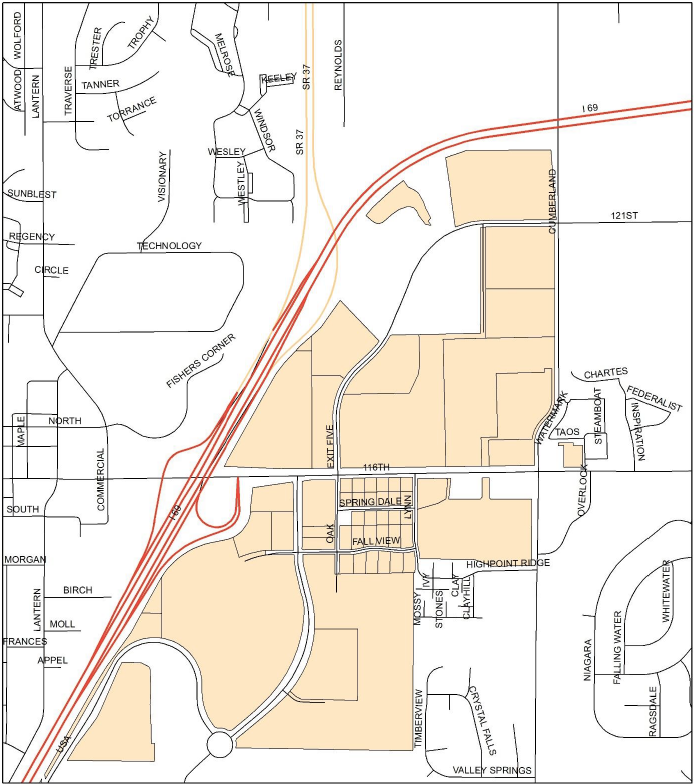 The 116th Street area under consideration (pictured to the right in beige) includes property to the east of I-69, along both sides of Exit Five Parkway and USA Parkway. Swedish furniture giant Ikea is already set to construct a 296,000-square-foot store on 35 acres southeast of the intersection of 116th Street and I-69. Construction is expected to start in the fall.
Offices incorporating retail use would be limited in how much of a building could be retail, with larger buildings capped at 30 percent retail space and smaller buildings maxed out at 15 percent, according to Tony Bagato, director of planning and zoning for Fishers.
Bagato did not specify square footages for what would be considered a large or small building.
The zoning would exclude multifamily housing but allow hotels. Valparaiso-based Good Hospitality Services LLC has already proposed constructing a 99-room Fairfield Inn & Suites on the southwest corner of 106th Street and Crosspoint Boulevard.
The 106th Street area includes property in all four quadrants of the intersection with I-69 (see second image.)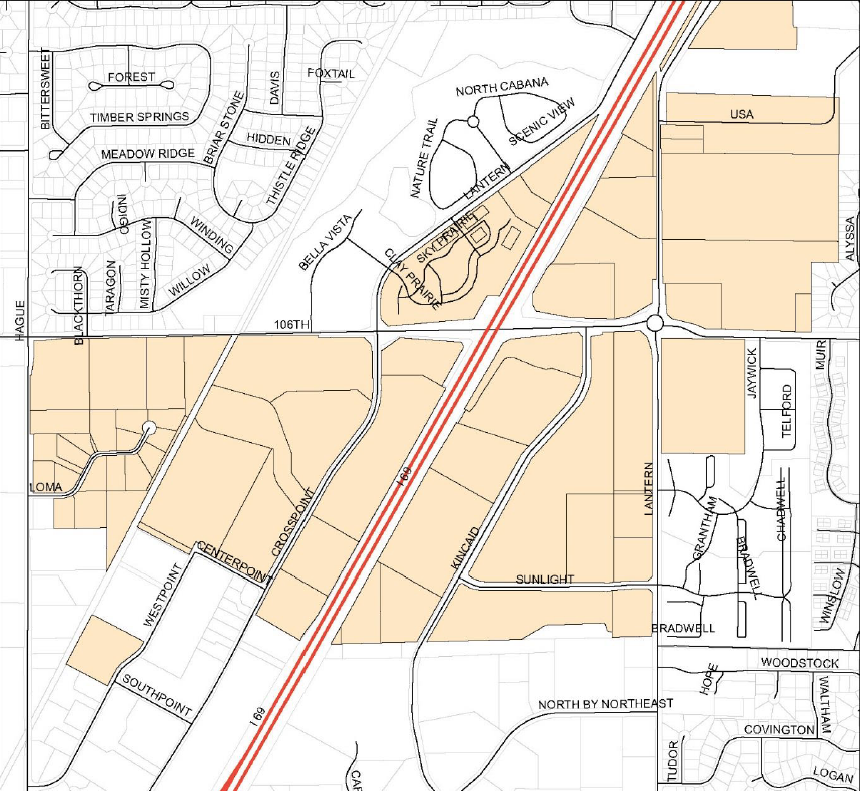 Fadness said the city wants the zoning language to be specific enough to prohibit unfavorable projects, but flexible enough to allow for non-traditional uses like entertainment venue Topgolf, for example.
Topgolf—which offers competitive golfing games for a variety of ages and skill levels, along with food, alcoholic drinks and other entertainment—is planning to open a three-level, 65,000-square-foot location along 116th Street and Cumberland Road by the spring of 2017.
Jeff Wilmington, senior director of facilities planning for Navient, said the company would like the city to finalize the new zoning as soon as possible. Navient has about 18 acres near 106th Street it's trying to sell, and Wilmington said one potential deal already fell through.
"Our goal is to sell the land. We don't need the land. We're not land developers," Wilmington said. "It seems like we're hamstrung by a lot of moving parts."
Navient isn't particular about what kind of development would be preferred. Wilmington said there's a cafeteria and fitness center on site, so employees aren't in need to nearby services.
"We are kind of self-contained," Wilmington said.
Fadness said the city will keep referring parties to Navient that might be interested in buying its land. A majority of the vacant land near those two interchanges is owned by Navient and Sunbeam Development Corp.
"There are a lot of corporations looking around right now," Fadness said. "We push them to all the dirt around there. You will find us to be your best friend."
City Council member Eric Moeller said he doesn't support allowing more retail in the area, so he likes the idea of the council having additional oversight if a retail project is proposed.
"Let's start our foot on the brake and have the ability to lift it," Moeller said.
But council member Richard Block said he's concerned potential developers would be turned off by vague guidelines.
Fadness said he thinks the city is already compromising by not completely restricting retail, and favors keeping the wording less specific because it's hard to predict what kinds of project could be proposed. For example, Fadness said he wouldn't have expected Ikea or Topgolf.
"I don't think a developer is going to be scared off by it," Fadness said.
The council's temporary ordinance is set to expire in mid-September. New zoning guidelines are expected to be introduced to the council Aug. 15 and voted on in September.
Please enable JavaScript to view this content.