Developers that stripped a high-profile parcel on the north side of its trees and other foliage months ago to prepare the site for a $13 million senior living center did so without receiving proper permitting.

St. Louis-based Stonecrest Senior Living and suburban Kansas City-based Northpoint Development gained approval in November from the Metropolitan Development Commission to construct the 85-unit facility at the southeast corner of West 86th and North Meridian streets.

Stonecrest in March cleared the 4.8 acres of wooded wetlands, however, before getting proper city and state permitting—leaving the site along the heavily traveled intersection barren until developers can address the deficiencies and receive the OK to start construction.

The company might have removed more trees than government officials would have allowed. A November staff report from the Department of Metropolitan Development says a detailed tree-preservation and landscaping plan was to have been submitted for approval before on-site activity began.

To neighbors, many of whom opposed the project from the start, the unauthorized clearing of the site adds insult to injury.

"Every time I go in and out of my house, I'm reminded of it," Ruth Hayes told IBJ. "It makes all of us heartsick."

Hayes, president of the Nora Northside Community Council, has lived in her home on Pennsylvania Street (just east of the site) for 50 years and is among those who fought the development.

The site was rezoned from residential use to allow for a planned-unit development. Neighbors would have preferred a residential development that would have been more compatible with the condominiums and town homes on the other three corners of the intersection.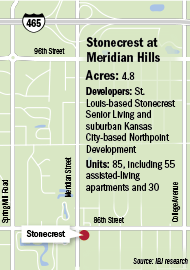 Stonecrest at Meridian Hills, as the project is called, would contain 55 assisted-living apartments and 30 memory-care units.

Developers are primed to start construction as soon as they receive the permitting but assumed they could begin to move forward without it, said Mark Pomerenke, Northpoint Development's vice president of operations.

"When we cleared the trees, at that point in time, we believed we were in our right to do that," said Pomerenke, who declined to be more specific. "We do plan to come back and replace a lot of those trees. The sooner we get started, the sooner they can get replaced."

In addition to failing to submit a tree-preservation plan, Stonecrest and Northpoint should have gotten a stormwater construction permit from the city. Developers also need to obtain an "isolated wetlands" permit from the Indiana Department of Environmental Management covering their plans to replace destroyed wetlands.

Neither the city nor state has fined the developers for their conduct.

"It was a violation," DMD spokeswoman Madelyn Gregory said. "They accepted their violation and submitted the tree-mitigation plan pretty quickly."

Their mitigation plan shows a total of 389 trees and shrubs would be planted to offset the loss of foliage.

Because the site was heavily wooded, workers were going to have to remove scores of trees, anyway, to make way for the development.

But Hayes contends they further violated their commitments by cutting into a 20-foot-deep buffer strip that was supposed to remain to separate the development from the adjacent homes on the west side of Pennsylvania Street.

City planners are reviewing the mitigation plan and can either recommend approval, deny it or suggest improvements.

IDEM is reviewing the developers' request for an isolated wetland permit and expects to issue a decision in the coming weeks, IDEM spokeswoman Courtney Arango said in an email.

The developers originally had requested an exemption under the state's isolated wetland law, which would have excused them from replacing destroyed wetlands. But IDEM denied the request, Arango said, "after sending to the site stormwater and wetland inspectors who deemed the wetland was larger in size than what was initially reported to IDEM."

Even in dry periods, the land is typically swampy from past rains, and building on the site could dump stormwater runoff into the residences to the south, unless drainage is built properly. That's why the developers need a stormwater construction permit before building can commence.

Neighbors are dissatisfied with how the entire approval process has unfolded.

"The trees, we're sad about," Hayes said. "But it doesn't change the basic problems that we saw."

The city's comprehensive plan considers the intersection a gateway to the city and important enough to deem it a "critical area," which means it either exhibits an unusual characteristic or is an important enough location to warrant stiff scrutiny.

DMD staff supported the rezoning of the property, even though a senior living center would not be consistent with the comprehensive plan, which recommends residential development, staff said in its report.

Brad Beaubien, administrator of DMD's long-range planning department, was acting director of DMD when the commission approved the development.

He said he got involved in very few zoning cases.

"We tried to make them as non-political as possible," he said. "Staff does its review, and then it's up to the hearing."

The developers paid about $3 million for the land, real estate sources said. The acreage is part of 11 lots the developers bought from three landowners--Los Angeles-based Davidson Trust Realty LLC; Lillian F. Fox of Northbrook, Ill.; and a local group consisting of Aristea Pappas, Angelo Kokenakis and Kay Govostis, city records show.

Both Stonecrest and Northpoint are newcomers to senior-living development.

Stonecrest has five senior-living developments in the works, including the one in Indianapolis, according to its website. The others are in Missouri and Michigan.

Northpoint is mostly a developer of industrial and multifamily projects.

Stonecrest's website says its Indianapolis development will open in 2017.

"Northpoint is extremely excited to bring the senior living center to Indianapolis," Pomerenke said. "We have financing in place for the project; we are ready to start as soon as the permits are released."•