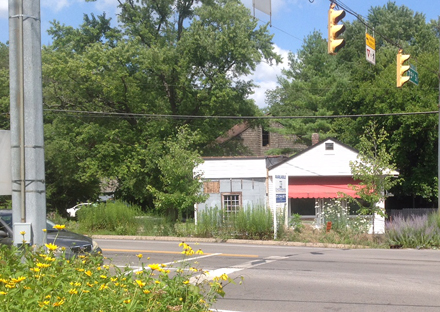 A small building at a high-profile intersection on the north side of Indianapolis has been razed to make way for a new structure that will house a local custom cabinetry shop.
Nate Slabaugh, owner of the locally based Nathan Alan Design Inc., bought the one-story, 1,100-square-foot building at 7501 N. Westfield Blvd. in 2015 and finished tearing it down late last month.
Built in 1949, the building was originally constructed as a gas station and most recently was occupied by Gardener's Market. Sitting at the northeast corner of 75th Street and Westfield in Meridian Hills, where the Monon Trail runs into Broad Ripple, the structure was highly visible to motorists driving through the intersection.
The prominent location is one of the big factors that drew Slabaugh to the property.
"I think it will be a new landmark for that area," he said of his building. "It's just kind of a cool location. It gets passed by a lot."
Slabaugh plans to spend about $400,000, including the purchase price, on the project. If all goes well, he hopes to begin construction soon and finish by the end of the year.
His plans call for a two-story building totaling about 2,200 square feet. Though not an architect, Slabaugh is designing the building himself. He also designed his  home, at 6856 N. Keystone Ave., across from Sullivan's Hardware.
The house sports a distinctive red and gray exterior, which Slabaugh said "a lot of people talk about." But the small structure only allows enough space for a design studio without any room for him to conduct business.
Slabaugh grew up in the cabinetry business, learning the trade from his uncle Lyle Yoder, owner of Yoder Kitchen Corp., which is still in business in Nappanee in the heart of Indiana Amish country.
Slabaugh followed in his uncle's footsteps, using various Mennonite- and Amish-based companies to build the cabinets he designs.
He founded his cabinetry company in 2008 and designs cabinetry mostly for custom home builders and remodelers, such as locally based companies Custom Living and Gradison Design Build. His work also can be found in Broad Ripple's Cake Bake Shop on Carrollton Avenue.
Slabaugh had been eying the vacant property on Westfield Boulevard for about three years but initially wasn't in a position to purchase it. Once the price dropped, he jumped at the opportunity.
Luckily for him, no other buyer stepped forward.
"It sat on the market for so long because of the odd corner it sits on," Slabaugh said. "And a lot of people didn't want to do what I'm doing, which is starting from scratch. It's perfect for me."
 
Please enable JavaScript to view this content.