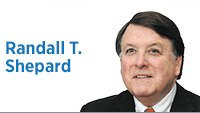 Conversations about Indiana's economic future still tend to feature a theme about where we're falling behind, as the state's tendency toward an inferiority complex sticks with us. People often lament Indiana's "dependence on manufacturing."

You've heard these lamentations: "We were a powerhouse back when tens of thousands worked in the steel mills and more than that were doing vehicle assembly. Those jobs have gone away in the modern economy, and Indiana should move on from those comfortable days."

In preparing to moderate the recent gubernatorial forum sponsored by Indiana University's Public Policy Institute, I spent some time looking at data to see if it bears out these assertions.

The modern reality is that Indiana continues to lead the nation in the percentage of our workforce employed in manufacturing. And the level of employment in such jobs has risen continually since the Great Recession began.

Of Indiana's 3.2 million jobs, manufacturing employs 516,000 people, led only by the number of people working in the closely allied fields of trade, transportation and utilities, at 600,000. This places us well ahead of states thought to be bustling scenes, like New York, Washington or Georgia.

More important, we've been advancing quickly in the number of people working in what the labor statisticians call "advanced manufacturing." This term describes operations like high-performance computing, advanced robotics, sustainable and green processes and products, and new industrial platforms. These are America's jobs of the future.

Our growing share of these industries is one reason the actual buying power of typical wages in Indiana has advanced over the last two decades. That is far more important to the typical family than where we stand when salaries are compared just in nominal dollars. Would you rather earn $50,000 in South Bend or $50,000 in San Francisco?

Conexus and Ball State University's Center for Business and Economic Research have recently reported on the state of our manufacturing prowess. Almost 53 percent of Indiana's manufacturing jobs are in advanced manufacturing. It reflects our position as the leading state in the nation in such employment—and our lead is growing.

Is Indiana's economy "dependent" on manufacturing? Yes, indeed, and I say, "Hallelujah!" Plenty of states aspire to be where we are.

Our continued success in manufacturing depends in part on decisions to be made in state and local government and in secondary and higher education.

The recent Regional Cities initiative is a prime example of recognizing the power of collective action and ingenuity in the regional economies shared by urban counties and their surrounding suburban and rural areas. Leaders in the three regions chosen to receive state financial assistance in this project believe they have the capacity to lift the arc of progress in those areas. There are surely other regional economies that could benefit from similar initiatives by state government during the nextgubernatorial administration.

Leadership with the moxie to launch those sorts of inventive actions can also build Indiana's attractiveness to the talented millennials who will carry us through the century.

If our progress toward a stronger, new economy is to continue, it can happen only if we renew our determination to foster the best secondary schools we can and to advance the proportion of Indiana residents who earn college degrees or recognized certificates.

There's reason for optimism that this state can do that.•

__________

Shepard, formerly Indiana chief justice, now serves as senior judge and teaches law. Send comments on this column to ibjedit@ibj.com.