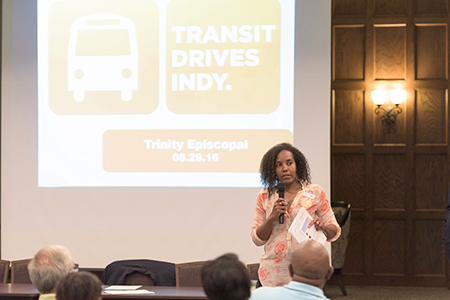 The pitch might come in the form of a phone call or a knock on your door or just a few words whispered at church. But it's coming.
Advocates and opponents of a Nov. 8 referendum that would let the City-County Council increase taxes to pay for a mass transit plan are gearing up to vie for your vote.
On the "pro" side stand a number of business groups and not-for-profits willing to spend money to deliver this message: Local transit needs improvement and voting "yes" on the transit referendum is the way to make it happen.
On the "anti" side are community activists who question whether the tax would really accomplish what supporters claim, and who plan some grass-roots politicking to spread the word.
Then there are the public entities—the Indianapolis Metropolitan Planning Organization and others—who say their goal is to educate voters without advocating for either side.
Indianapolis Mayor Joe Hogsett has placed himself in that camp.
"He is going to advocate for voters to educate themselves on the Marion County Transit Plan and let their voices be heard on Nov. 8," said Taylor Schaffer, the mayor's spokeswoman.
Whatever the message of public voices, their appeal to voters is heating up as Election Day draws near.
If the transit referendum passes, it would give the council permission to raise the IndyGo tax rate 0.25 percentage point. That's 25 cents per $100 of annual income, or $125 a year for a resident with taxable income of $50,000.
The money would fund the Marion County Transit Plan, which aims to provide more frequent bus service and extend hours of operation. IndyGo says it would also fund operational costs for three bus rapid-transit lines, which feature buses that run more often and make fewer stops.
But a tax increase would be no slam-dunk; the council might not pass one.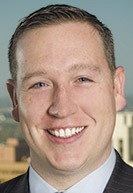 Fisher
"The voters get a chance to weigh in, but it's only advisory. If we're successful, the council has to come back and enact the tax," said Mark Fisher, vice president of government relations and policy development at the Indy Chamber, which supports the referendum.
For that reason, Fisher said, referendum supporters want to see the measure pass by a wide margin.
"We have to win in a convincing manner that the City-County Council would push this through," Fisher said. "Any time that you ask an elected official to pass a tax increase, they need to know that they have broad support amongst their voters."
Opponents are skeptical the tax hike would be enough. The referendum is "promising something that it's not going to be able to deliver," activist Erin Tuttle said.
Tuttle
Vote yes
Among the advocates for more transit funding is the Indianapolis Congregation Action Network, known as IndyCAN, which has 40 member churches. The group's overall goal, said Executive Director Shoshanna Spector, is to create racial and economic inclusion by building "a religious voting bloc" among local congregations.
IndyCAN sees transit improvements as a social-equality issue. In mid-August, it launched a phone bank operating five nights a week with 1,500 to 2,000 volunteers from participating congregations.
The goal is to contact 20,000 voters and have four phone or in-person conversations with each of them before the election.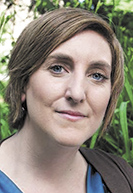 Spector
"We're talking to people who are bypassed and ignored by traditional political campaigns," Spector said.
The group hired Washington, D.C., firm Catalyst to survey voters about the transit issue, which helped the firm build what Spector calls a "voter universe" that told IndyCAN which voters to target in its outreach.
"We're using sophisticated voter engagement tools," she said.
IndyCAN has also developed a 19-page "Congregational Toolkit" that gives members ideas for engaging their congregations and bus riders.
IndyCAN's budget for the campaign is about $250,000, Spector said, mostly for supplies, training and coordination activities. The group is still working to raise that total; contributions have come from both member congregations and outside donors.
"It really is a people's effort," she said.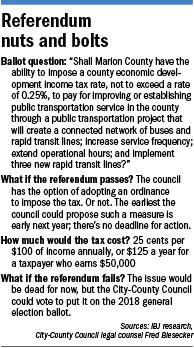 Other groups are spending money, too. The Indy Chamber and the MIBOR Realtor Association commissioned a poll by American Strategies Inc. that found a strong majority of voters support the referendum. However, the groups declined to provide IBJ with all the questions they asked respondents, which makes the poll's efficacy hard to evaluate.
The chamber is part of a larger pro-referendum coalition called Transit Drives Indy, which has been working on transit issues since 2004. It currently has at least eight members, including AARP Indiana, the Indiana Restaurant and Lodging Association and the United Way of Central Indiana.
"We've put in significant financial and staff resources over the past decade to pass this. Now that we're at the five-yard line, we're going to make sure that we're successful in the fall," Fisher said.
Each Transit Drives Indy member group will plan its own outreach, with a heavy emphasis on person-to-person contact.
"Right now, we see the best way to get our message out is to work through our partners to get in front of as many people, as many organizations, as many community groups as possible, to get individual neighbors talking to neighbors," Fisher said.
The effort will also include what Fisher called "traditional campaign activities" such as direct mail, advertising and phone banks, although he said the group is still developing its strategy.
To help fund the effort, the Indy Chamber and MIBOR formed a political action committee in late June called Keep Indy Moving Forward. It has not yet filed financial reports; Fisher declined to disclose the committee's budget.
"We don't fully know right now," Fisher said. "We are working to secure the resources to make sure that we are effective in getting our message across."
Vote no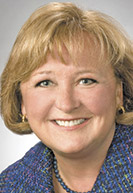 Scales
City-County Councilor Christine Scales was one of only six councilors who opposed putting the transit referendum on the ballot. But the measure passed 18-6.
Scales said the referendum debate is "an unlevel playing field" because supporters have so many more resources at their disposal than do opponents.
"Individuals who oppose the referendum don't possess loyal membership rolls from which to seek assistance," Scales said. "They can't compete with the million-dollar spend on media buys and glossy mailers."
And she said it's unrealistic to think many transit-referendum opponents would speak out in an organized way. Still, some do have action plans.
One of those is Tuttle, the activist who described herself as part of "a connected group of citizens-activists" who oppose the referendum. Tuttle is also involved with a group called Stop the Red Line, which opposes the Red Line Bus Rapid Transit route. It's in the design stages and will be built regardless of the outcome of this referendum.
However, the proposed tax increase would help cover the Red Line's estimated annual $6 million in operational costs. About $75 million from a federal grant is expected to pay for most of the line's $96 million construction. Future rapid-transit routes—named the Blue Line and Purple Line—are dependent on whether the transit referendum passes, IndyGo says.
Tuttle and others have attended public meetings to raise questions and concerns, which include whether the tax increase will generate enough revenue to accomplish everything that's promised. They also worry that bus fares will go up.
But Tuttle said the informational meetings held by public agencies like the Indianapolis Metropolitan Planning Organization are slanted toward a pro-referendum viewpoint.
As the election approaches, Tuttle said, referendum opponents also plan to mail fliers, post yard signs and knock on doors. The efforts will mostly be funded by the volunteers organizing each activity, she said.
"The Chamber has the money, but the majority of people view raising taxes to expand an underutilized bus system as nonsense," Tuttle said. "It will take every cent they have to convince people otherwise."
Educational outreach
Publicly funded entities such as IndyGo and the Indianapolis MPO are not allowed to advocate for the referendum. But they can conduct educational outreach.
Walking this line can be challenging, said Sean Northup, Indianapolis MPO assistant director.
"We don't tell anybody how to vote or anything like that. We're not advocates; we're transit planners," Northup said. "We really try to maintain that balance of benefits and costs."
The MPO, IndyGo and the Central Indiana Regional Transportation Authority have held "literally hundreds of public meetings" about the Marion County transit plan over the past several years, Northup said.
In May, the MPO commissioned a phone survey to gauge the effectiveness of its efforts. Strategic Marketing and Research Insights LLC contacted more than 500 Marion County residents plus 200 residents of Hamilton and Johnson counties (where tax increases will not be on the ballot).
About 80 percent of respondents said they were familiar with IndyGo, but only 22 percent were familiar with the Marion County Transit Plan.
So, in August, the MPO retrenched, using analytics software from Environmental Systems Research Institute Inc.—often referred to as Esri—to help. The MPO already has an Esri subscription, Northup said, and MPO staffers did the analysis in-house.
Esri breaks people into demographic groups with names like "Hardscrabble Road" (low-income families) and "Young and Restless" (well-educated millennials). MPO identified the 20 largest Esri categories in Marion County, which in all represent 80 percent of residents. Esri had insights about how best to approach the groups and where they get their news.
The outreach is funded with a $500,000 grant from the U.S. Department of Transportation awarded in the 2011 fiscal year. The grant, which expires at the end of this year, has paid for public notices and advertising, media relations, equipment, room rental for meetings, website maintenance, printing and other expenses.•
Please enable JavaScript to view this content.