In its first year, the Red Bull Air Race at the Indianapolis Motor Speedway is already projected to be one of the most highly attended events on the eight-race circuit.

Officials for the series and Speedway think the crowd could eclipse 50,000 for the two-day event Oct. 1-2, with 35,000 of those on the day of the race.

"If we held the race this afternoon, we'd have about 25,000," IMS President Doug Boles told IBJ on Sept. 13. "We're still two weeks out, and ticket sales are getting stronger every day. If we have good weather and significant walk-up ticket sales on race day, we could do really well."

Ticket sales are being supercharged by a $2 million, multi-media marketing campaign paid for jointly by the Speedway and Red Bull, which owns the air race series. Red Bull intends to boost interest by offering rides in its two-seat race planes, and the Speedway will hold several events downtown to ratchet up excitement in the week leading up to the race.

"We're definitely coming to the U.S. to create awareness around our series," said Pavel Turek, commercial director for the Red Bull Air Race World Championship, as the series is known. "The Indianapolis Motor Speedway is an iconic venue with a tremendous motorsports heritage and we think it's going to be a phenomenal backdrop to showcase our air race series."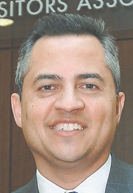 Hoops
While Red Bull Air Race officials are projecting an economic impact in the $30 million range, Visit Indy CEO Leonard Hoops isn't sure what to expect.

"There's a lot of intrigue surrounding this event, but we've never held it before, so it's difficult to tell how it will go," Hoops told IBJ. "We're really looking forward to it and anticipate a significant impact."

Two weeks before the race, Hoops said "there are a lot of hotel rooms available downtown that weekend. There are some good deals available, lots of $99 and $109 rooms."

"For an event like this, with a big curiosity factor, weather will have a huge impact," Hoops added. "If the weather looks favorable, we've seen a big, late influx of people traveling in for events like this."

Financial winner for Speedway

Boles said the Speedway is selling tickets to air racing fans in more than a dozen states. Las Vegas is the only other U.S. city to host a race in the unique series.

Race day tickets start at $30 for general admission and $45 for reserved seats, with two-day tickets starting at $60. There are also high-roller packages for as much as $635 per person. Tickets in the Sky Lounge, one of two suite areas for the air race, sold out Sept 15.

Ticket sales would have to multiply quickly for the local race to top attendance in Chiba, Japan, a Tokyo suburb that draws as many as 120,000 for its two-day event.

"This is the first year for Indianapolis, and already we can clearly see ticket sales are very strong," Turek said. "We expect the following for this event to increase with each passing year."

The Speedway earlier this year signed a three-year deal to host the race, and Boles and his staff are working to sign national sponsorship deals for year two and three.

Turek said Red Bull Air Race events have the demographics to draw in a wide range of sponsors. The series' fans are 62 percent male with an average age of 38, Turek said. About 64 percent are middle to upper class and 87 percent have a high school degree or higher.

The local event is already looking like a financial winner for the Speedway.

"We're already close to what we had in our proforma in terms of ticket sales to make this make sense financially for the Speedway," Boles said. "We should easily exceed that."

In some respects, the Red Bull Air Race works a lot like an auto or motorcycle race at the track. The track pays the series a sanctioning fee to hold the race and the track recoups its money through ticket, concession and parking revenue. Unlike an auto race, however, series officials—not the track—will will take care of the specialized race course.

'Like nothing I'd ever seen'

Seven of the Red Bull Air Race planes can—and do—ride in the belly of a commercial cargo airliner. Two cargo planes transport the race planes from site to site.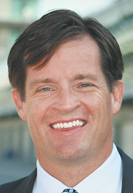 Boles
The propeller-driven planes—a little more than 20 feet long with a wing span of 24.4 feet— are designed to be as light as possible and reach top speeds of 276 miles an hour. They race one at a time in a time-trial format, completing three laps on the course in about one minute.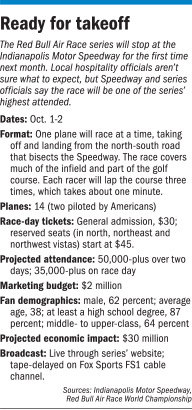 "This is like nothing I'd ever seen," said Eddie Gossage, president of Texas Motor Speedway, which hosted a Red Bull Air Race in 2014 and 2015. "It's not an air show, it's a fully timed, full-on race with planes going more than 200 miles an hour 60 feet off the ground. I don't think this is like anything many people have ever seen."

The Speedway and the area surrounding the course will become a designated Federal Aviation Administration-controlled airfield Sept. 28-Oct. 2.

The north-south road which bisects the track's 2.5-mile oval will serve as the takeoff and landing strip for the race. The large parking lot in the center of the infield immediately west of the temporary air strip will be turned into the race airport. The course will be an oddly shaped oval starting near turn four. Planes must make a steep banked maneuver while practically inverted to complete the loop.

The pilots tilt the wings of the race planes one direction and then jerk them back quickly to tilt them the other way to make it through a series of weave poles and gates. It's not uncommon for a plane to clip one of the 82-foot-high pylons, which are made of a special material—spinnaker fabric—that is designed to stay still in all types of weather conditions but rip apart instantly on contact without impacting the pilot or plane. If contact happens, Turek said, Red Bull crews can get a new pylon in place within 90 seconds.

Seating for the event will be limited to bleachers outside turns 3 and 4, the short shoot between those turns and a handful of other suite areas.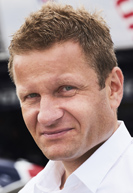 Turek
The race will air live on the series' web site and be shown tape delayed on Fox Sports FS1 cable channel.

The Red Bull Race Air Race series took flight in 2003 but ceased after the 2010 season. It relaunched in 2014 with an amped up global marketing and commercialization plan and improved safety, Turek said.

Despite the seemingly death-defying aerial acrobatics that are the series' hallmark, there have been few serious accidents. The most serious came in 2010, when during a training run, Brazilian pilot Adilson Kindlemann crashed his plane into the Swan River in Perth in western Australia. He was rushed to the hospital and made a full recovery but the accident caused Red Bull officials to re-examine their safety protocols.

F1 still long shot

The Speedway's willingness to host an airplane race is one more sign that the mammoth track—situated about three miles west of downtown—is open to adding events. Recently, the track has hosted concerts, receptions, and small sports events, including bicycle rides, races and Indiana Sports Corp. Corporate Challenge.

Boles said the Speedway is on the lookout for new ways to draw people to the facility.

"We're trying to do lots of things to give people reason to come to the Indianapolis Motor Speedway. There are a handful of opportunities out there," Boles said, "but it has to be an event that feels like it should be at the Speedway."

Despite a change in ownership in the Formula One series, Boles said there are no discussions now to bring the series back to the IMS. Sources close to the Speedway said the track had a difficult time covering its sanctioning fee and other race-day operations with just revenue from tickets, concessions, parking and other ancillary sales. F1 has traditionally kept a chunk of the merchandise income and all of the broadcast revenue, and it's not clear how the ownership change will affect those arrangements—if at all.•