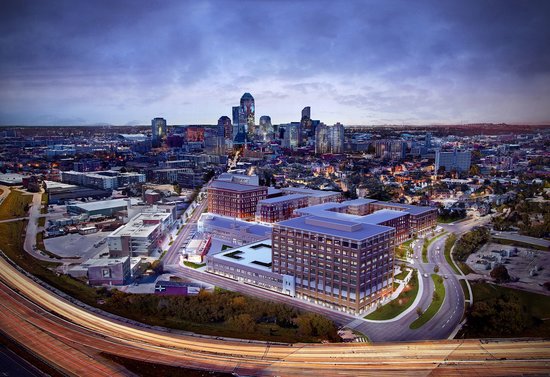 The Wisconsin-based firm that has agreed to purchase the former Coca-Cola site along Massachusetts and College avenues plans to preserve much of the historic bottling plant within the wider confines of its massive redevelopment scheme.
Hendricks Commercial Properties beat out five other bidders and has until next summer to close on its $12 million purchase as part of its grand plan to transform the 11-acre site into a $260 million mixed-use project. Plans call for apartments, offices, retail space, a hotel and a movie theater—all while incorporating as much of the historic character as possible.
Rob Gerbitz, CEO of Hendricks, said Friday morning the company plans to preserve two garages and most of the plant's main building and terra cotta façade that runs along Carrolton Avenue through the center of the property. His comments came during IBJ's annual Commercial Real Estate and Construction Power Breakfast at the Marriott Indianapolis downtown.
"The back part has been added onto years and years later; it's kind of obsolete," Gerbitz said. "But the main portion along Carrolton is hugely important to the character, the brand, everything we're trying to create there for the site."
The plant was designed by Rubish & Hunter and built beginning in 1931. At its peak, it churned out 2.3 million Coke bottles a week and has been maintained since the late 1960s by Indianapolis Public Schools, which used it as a warehouse, bus garage and central kitchen.
For a gallery of photos focusing on the plant's art deco features, click here.
Since winning the bid from IPS in late May, Hendricks has undertaken site planning and environmental studies to prepare the site for redevelopment. Construction could start soon after closing on the purchase, Gerbitz said.
"There are 15 buildings to this project," he said. "We may break ground on two or three or we may break ground on one. Tenant demand is going to be a big part of this, certainly from the retail component; the apartment side, I'm really confident in that."
Downtown Indianapolis continues to add apartment units at a rapid rate. Not-for-profit advocacy group Downtown Indy is tracking more than 2,700 market-rate units, counting those geared toward IUPUI students, that are either either planned or under construction, to add to the 10,000 units that already exist.
Gerbitz, however, remains bullish on the downtown market, saying the amount of units coming online illustrates the continued demand.
Hendricks' project at the Coke site totals 1.5 million square feet, including 1,500 parking spaces, and will feature 200,000 square feet of retail and another 200,000 square feet of office space, in addition to 400 residential units. Hendricks is still deciding how many of those will be apartments and how many will be condominiums, Gerbitz said.
Hendricks is purchasing the property from IPS but entered into a project agreement with the city. Under the arrangement, if Hendricks can't complete the purchase within one year, the city will buy the property for $12 million.
Hendricks entered the market in 2012 to build its $30 million Ironworks apartment and retail development on the southwest corner of East 86th Street and Keystone Avenue.    
Since Ironworks' completion in May 2014, Hendricks has bought the Century and Massala buildings downtown and is constructing a $20 million, 120-room hotel next to Ironworks.  
 
Please enable JavaScript to view this content.