While Indianapolis pursues major sporting events and massive conventions—gatherings that attract tens of thousands of people and score tens of millions of dollars in economic impact—many neighboring counties are chasing small and midsize corporate confabs, weddings and senior-citizen bus tours.

Hamilton County even cooked up an attraction in 2013 paying homage to the pork tenderloin sandwich. Employees for Visit Hendricks County—including its executive director—have been known to serve local holiday-themed cuisine to groups that come through in motor coaches.

"When you don't have space like the Indiana Convention Center or Lucas Oil Stadium and attractions like the Indianapolis Zoo and Children's Museum to sell and benefit from, you have to get creative," said Carrie Lambert, executive director of the Indiana Tourism Association, which represents dozens of county visitors' bureaus. "Tourism and convention business for the doughnut and outlying counties might not be to the magnitude of a Super Bowl, Final Four or Gen Con, but it's still a market. And a good one."

According to Smith Travel Research and Rockport Analytics, convention and tourism business represents 5 percent to 10 percent of the economy for most Indiana counties. For tourism magnets such as Brown and Orange counties, that's much higher.

And the percentages are growing around the state—although not as fast as in Marion County.

Indianapolis' visitor spending is growing at an annual 4.4 percent clip, according to Rockport Analytics, while the state's is growing at 3.3 percent. A handful of counties have been able to grow faster than their big brother by carving out unique brands and markets.

Hospitality experts estimate that group business—including corporate gatherings and conventions—accounts for 25 percent to 45 percent of Indiana counties' tourism income. That's a significant number in Hamilton and Hendricks counties, whose annual tourism spending is $640 million and $239 million, respectively, according to Rockport Analytics.

Hamilton County is growing visitor spending nearly 5 percent annually. Of course, Grand Park Sports Campus, north of Westfield, has helped make it a youth-sports hub, but the county has also made itself a destination for weddings, reunions and corporate shindigs by highlighting spaces like The Ritz Charles event center and Booth Tarkington Civic Theatre, both in Carmel.

Meeting space shortage

Some of Hamilton County's neighbors would kill for its 3,400 hotel rooms and 132,000 square feet of meeting space.

"Our lack of meeting space has been a real issue for us," said Jeri Day, Boone County Convention and Visitors Bureau executive director. "It's really kept us from going after a lot of groups."

Outside the county fairgrounds, Boone County has only a few thousand square feet of meeting space. The Boone County Welcome Center seats about 350, but its utility for meetings is limited because it's attached to Lebanon High School, so it can't serve alcohol.

"So many groups want the all-inclusive package," Day said. "They want the hotel rooms, meeting space, and food and beverage options all in one self-contained location."

That dearth of inventory hasn't stopped counties from making hay where they can.

Hendricks and Boone have even pitched barns as meeting venues.

"We have to utilize what we have," said Jaime Bohler Smith, Visit Hendricks County executive director. "Over the last few years, holding events in barns has become very popular. And we can boast of some very nice barn venues here. They create a very unique atmosphere."

Outlying counties also have to think creatively about which groups to pursue.

While Visit Indy hosts the National FFA Convention & Expo and a global gathering of fire department instructors, Hendricks County is courting a quilt show and Boone County is pursuing a gathering of rabbit enthusiasts.

"Hey, we're not making any apologies," Day said. "Those rabbit shows sell out every hotel room in our county."

That's about 480 rooms spread across five hotels. And Day knows what those hotel room nights mean. When a Holiday Inn in Lebanon closed in 2008, Boone County CVB's budget was sliced in half.

Convention and visitors bureau budgets are usually tied to taxes the local hospitality industry generates; the biggest check comes from hotel taxes. That can create a chicken-or-egg scenario: Fewer hotel-room stays mean less money for tourism marketing. But it's difficult to raise more money for marketing without more meeting space and hotel rooms to sell. And convincing hotel developers to invest on speculation is tough.

Boone County CVB's budget has rebounded a bit since it cratered in 2008, to $325,000. The operation is run by Day—who works part time—and a contractor who helps with marketing. A volunteer board of eight also pitches in.

Visit Hendricks County has eight full-time employees and one part-timer, and a budget of $1.4 million; Visit Hamilton County has 20 employees and a $3.7 million budget.

In contrast, Visit Indy has a $14.1 million budget and 60 employees, including 19 salespeople and five sales administrative assistants.

Do your own thing

Not only do convention and visitors bureaus have to contend with Visit Indy, they also have to compete with many Indianapolis hotels that court gatherings big and small to fill their own—often considerable—meeting space.

Amy Vaughn, an IUPUI tourism instructor who has served as state tourism director and head of Visit Hamilton County, warned counties not to get caught up competing with neighbors.

"There are lots of places in Indiana with tremendous assets and real natural beauty to sell," Vaughn said. "That's where [county visitors bureaus'] focus should be. Trying to compete with bigger counties or cities is a big mistake and can be a real waste of the resources you have."

"These [outlying] counties are smaller, for sure," said Lambert of the Indiana Tourism Association. "But that doesn't mean they don't have anything to offer. These communities offer a whole different opportunity and experience than Visit Indy can in Indianapolis."

The Indiana PGA was one group looking for that different experience.

"Our group is not a downtown group," said Mike David, executive director of the Indiana Section of the PGA. "Our members didn't want to deal with downtown parking and congestion. We wanted a more intimate atmosphere."

So this year, the Indiana Golf Association show—which had 275 attendees—landed at Muncie's new Horizon Convention Center, which has two ballrooms.

"We used one ballroom for our [35-40] vendors and one for our meeting, and there was a restaurant right there," David said.

The three-day event in Muncie cost the group $35,000, he said.

"There's a good market for meetings that want professional services, but a small-town feel," Lambert said. "A lot of organizations find their money goes a little further in a smaller county."

Only a handful of Indiana cities—Bloomington, Elkhart, Evansville, Fort Wayne, Indianapolis, Muncie, South Bend and West Lafayette—have convention centers or sizeable visitor centers.

"We tell our partners all the time, 'You have to do your research,'" Lambert said. "You have to look at what your amenities are, look at your location and see what's realistic. It's kind of like chili. Everybody makes it differently."

Don't mimic

And just because one county succeeds with a particular niche doesn't mean other counties should jump in. Lambert warned that even success stories can include a cautionary tale.

For instance, youth sports have paid off big for Hamilton and Bartholomew counties. But that success has come with side effects.

The national events drawn to Hamilton County's Grand Park, in particular, take up so many hotel rooms, it's difficult to bring in other groups. During much of the summer, the county's hotel meeting space often goes unused, making some hospitality officials wonder if it's wise to build more hotels with sizable meeting space.

Officials in Seymour and the rest of Jackson County have largely steered clear of courting youth sporting events for two reasons: With Columbus' success in neighboring Bartholomew County, they feel the market is saturated. And, Seymour hotels sell a lot of hotel rooms to people coming to Columbus for youth sports.

"They want to be careful not to cannibalize that business," Lambert said.

Many rural counties sell their 4-H fairgrounds the way Visit Indy sells the Indiana Convention Center.

"We have one of the best, most beautiful fairgrounds in the state, and we put that site front and center in our advertising," said Boone County's Day. "We can host all kinds of groups and meetings there."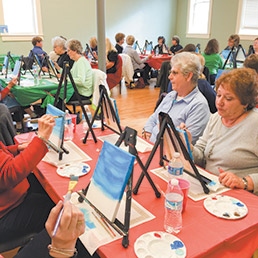 The Crawley Business Center at Visit Hendricks County plays host to a motor coach tour participating in a painting class. (Photo courtesy of Visit Hendricks County)
Visit Hendricks County markets its fairgrounds as a "customizable" venue for groups of 50 to more than 500 "that are looking for a combination of indoor and outdoor space," Smith said.

Hendricks County recently disassembled the 182-year-old Cartlidge Barn, then rebuilt it at the fairgrounds.

"We opened it up at the fairgrounds in 2014 and we've attracted everything there from weddings to corporate meetings," Smith said.

Boone and Hendricks counties have both found success attracting to their fairgrounds re-enactment and period-enthusiast groups, such as National Pow Wow, an event celebrating Native American culture. The Society of Creative Anachronisms, a seven-day event to celebrate pre-17th-century European culture and customs, drew nearly 5,000 people to Hendricks County this year.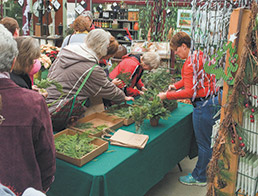 A motor coach group takes part in a wreath workshop at Frazee Gardens in Brownsburg as part of a holiday tour. (Photo courtesy of Visit Hendricks County)
Making the sale

The ways outlying counties market themselves vary widely based on manpower and budget. Some, like Hamilton and Hendricks counties, pick target markets, go to trade shows and advertise in trade publications.

Boone County CVB uses its limited budget to reach a wider audience through digital billboards along Interstate 65. It also awards grants to organizations dedicated to drawing people and events to the county. Johnson County relies almost entirely on its Journey Johnson County website.

While many events attracted to Indianapolis ring the cash register for city hoteliers, Smith said outlying counties often have to "create reasons for people to spend the night." Those hotel room nights are key, because they can make up half or more of tourism spending.

Visit Hendricks County has invented everything from Christmas and St. Patrick Day's events to tours of the county's landfill and natural-gas plant. Even a compost workshop has proven to be a draw, Smith said.

"We have a great St. Patrick's Day program," she said. "Our local vendors come in with themed meals and desserts; we pay a guy to sing and dance in traditional Irish garb." She and her staff serve cake and pie.

Hamilton County is among the most aggressive marketers outside of Indianapolis.

In 2008, Visit Hamilton County began an arts initiative that culminated in buying two houses in downtown Noblesville in 2011 to house Nickel Plate Arts, a place for artists to meet, work, hold classes and perform.

Visit Hamilton County officials over the last five years have also aggressively marketed the county as a destination for weddings, family reunions, and corporate and leisure gatherings. Three years ago, they even created a map and a self-guided tour connecting 52 local eateries that serve pork tenderloins. They call it the Tenderloin Trail, and local officials said it's drawn dozens of groups.

More recently, the group has begun working with a local agricultural business, Beck's Hybrids, to attract agricultural life sciences gatherings.

"Sports is our largest niche, and we think that's a smart niche, because it's somewhat recession-proof," said William Knox, Visit Hamilton County director of business development and sales. "If your son or daughter qualifies for a regional or national tournament, you're probably not going to tell them they can't go. But we also feel it's important to diversify our base.

"It protects you in case of an economic downturn to one sector," he added, "and it also increases your exposure to a wider audience, and that's going to push your growth forward."•