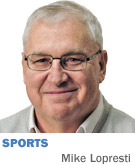 Call it Colts rage. The unhappy noise out there would tell us the masses are mad at the owner. Mad at the offensive line, the defense, Andrew Luck. Mad at the general manager and the coach. Really mad at the general manager and the coach.

Know who nobody's mad at?

The 43-year-old kicker, bless his ageless right leg.

It's seldom good news when the best thing that can be said about an NFL team after four games is that the field-goal attempts have been going straight, but don't blame Adam Vinatieri for that. Coming out of London, he had made 33 in a row, booming them in regularly from 50 yards-plus, kicking as well as he ever has in a glorious game-winning career.

And remember, he is the OPITG. Oldest Player In The Game.

"Have been for a couple of years," he mentioned at the Colts complex the other day. "Some of the guys like to poke fun at my age; I'm older than some of our coaches. I could be a father to a lot of our players. Personally, it's a badge of honor for me. You don't get to be the oldest player in the league unless you've played a long time."

It's a pretty exclusive club, when you think about it. Four major professional sports in this country, four OPITGs. Let's pull up four rocking chairs for them and see how they're all doing.

MLB …

New York Mets pitcher Bartolo Colon, five months younger than Vinatieri and about 80 pounds heavier, listed at 285 (more or less). OK, so he might be as large as some ZIP codes, and his fastball looks like Aroldis Chapman's changeup. But he was named to the National League All-Star team this season, didn't miss a start, and won 15 games. And his nickname is Big Sexy. Nobody calls Vinatieri Big Sexy.

Speaking of the weights of our old guys, what was Vinatieri's number back in his high school wrestling days? "It depended, 155 to 160. My football weight was about 185 pounds, and then I cut 20 pounds to get to a competitive weight. I liked to punish people when I didn't get to eat all week long."

NBA …

Vince Carter of the Memphis Grizzlies, at 39. An eight-time All-Star known for his high-flying dunks—Air Canada was a nickname in the early years in Toronto—he now spends more time closer to Earth coming off the bench for the Grizzlies, averaging 6.6 points last season in a relief role. He might not have Vinatieri-like accuracy with his field goals, but he has 8,142 more of them. And it's pretty safe to say he has a much better vertical jump.

Speaking of dunks by our old guys, has Vinatieri ever had one? "Uh, no. I'd probably hurt myself now. Back in the day, I think I could have about dunked a tennis ball or softball I could palm. I could never palm a basketball. I'm smart enough not to even try, and embarrass myself."

NHL …

Jaromir Jagr, for the Florida Panthers at 44. He led the team in scoring at 43. Funny thing: Once upon a time, when he was 18 playing for the Pittsburgh Penguins, he was the YPITG. Youngest Player In The Game. Jagr always felt deeply the story of the 1968 uprising in his native Czechoslovakia that was put down by Soviet tanks. Hence, he's always worn No. 68.

Speaking of numbers of our old guys, why No. 4 for Vinatieri? "I signed with the New England Patriots and the first day in training camp, No. 4 was in my locker and I was too damned afraid to say I didn't want it. So 4 picked me, I didn't pick 4. I was just happy to have a helmet and a number and a locker. I'm pretty fond of it now. All my kids wear No. 4 in all their respective sports so I guess it's caught on."

So here they are, the AARP Quartet.

Colon grew up in the Dominican Republic with no electricity or running water. Jagr was the flag bearer for the Czech Republic in the 2010 Olympics. Carter played on Dean Smith's last Final Four team at North Carolina.

Vinatieri? He has played for only two franchises all this time. Colon and Jagr have been through eight, Carter six. Vinatieri has four championship rings, Jagr two, Colon and Carter none. Vinatieri is last in pay, at roughly $3.25 million this season. Colon is tops at $7.25 million; Jagr, $5.5 million; and Carter, $4.2 million.

Vinatieri feels kinship to them all. "I respect a guy that can play well into his latter years and still play at a high level," Vinatieri said. "It takes a commitment."

Morten Andersen, who retired at 48, once told Vinatieri he was aiming for 50. "I'm 43 and I really don't have the same aspirations," Vinatieri said. "It's a challenge when you get older. You wake up with aches and pains that shouldn't be there. I don't necessarily have a time limit or an aspiration. I would like to play a couple of more years for sure, and we'll see where it goes from there."

Judging by his kicking, he'll be around awhile, still a member of the OPITG club. Four men with one thing in common: Time hasn't beaten them. Not yet, anyway.•

__________

Lopresti is a lifelong resident of Richmond and a graduate of Ball State University. He was a columnist for USA Today and Gannett newspapers for 31 years; he covered 34 Final Fours, 30 Super Bowls, 32 World Series and 16 Olympics. His column appears weekly. He can be reached at mlopresti@ibj.com.