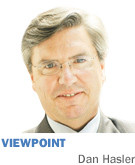 On the floor of the Farnborough International Airshow this summer, it was clear to international industry leaders that Indiana is propelling the future of aerospace and aviation.

From the unveiling of a new flight technology to the top companies exhibiting at the air show, everything seemed to keep coming back to Indiana. When the new F-35 took the runway at the air show to showcase its vehicle liftoff for the first time, Hoosiers were center stage, having built the plane's propulsion system at Rolls-Royce in Indianapolis.

I joined a group of 25 Hoosier business leaders and a delegation from the state last summer in Farnborough, England, where Indiana hosted a booth to showcase the many aerospace innovations developing throughout the state.

We met with top executives from companies like Rolls-Royce, GE Aviation, Alcoa, Raytheon and Praxair, which together have announced plans to invest more than $900 million in Indiana and create more than 1,200 Hoosier jobs. Rolls-Royce just celebrated 100 years in Indiana, after announcing that it is investing nearly $600 million in its Indiana research and operations. That's while GE Aviation is opening a $100 million jet engine assembly plant in Lafayette, where it will produce the new LEAP engine.

But perhaps what impressed me most was the number of smaller aerospace companies also taking flight across Indiana.

Take Key Electronics, a manufacturer of electronic circuit card assembly, product integration, and testing and repair of electronics that's thriving in Jeffersonville. The company's president and CEO, Tom Hardy, says Indiana has grown into the ideal place for him to build his aerospace business.

"The concentration of aerospace businesses in Indiana is just right," Hardy said. "We're in close proximity to the companies that we need to supply and have access to top engineers and technicians from the state's top universities."

Or look at Indianapolis-based Aerotronic, which announced the launch of its unmanned, electric helicopter that has the ability to carry multiple sensors in a fully enclosed bay.

"Right now at Aerotronic, we're pioneering a new health management system amid other aerospace technologies to the drone space, and we're doing it largely because of the environment for the industry here in Indiana," said Neerav Shah, CEO at Aerotronic.

Companies like Key Electronics and Aerotonic are helping propel Indiana's economy to new heights. Indiana is now ranked as the most attractive state in the nation for aerospace manufacturing by global professional services firm PricewaterhouseCoopers. Meanwhile, the state's aircraft and spacecraft exports have increased at an average annual rate of nearly 30 percent since 2002, and are lifting Hoosier employment to peak levels.

At the Purdue Research Foundation, we're proud to be part of the statewide network that's supporting the incredible growth we're seeing today across Indiana. This year, we officially opened the Purdue Research Park Aerospace District, which provides greater opportunities for aerospace entrepreneurs and businesses to collaborate with Purdue students and researchers on R&D projects.

The Aerospace Industries Association announced that it plans to bring its Supplier Management Council conference to Indiana, where more than 300 of the nation's top aerospace and defense manufacturers will come together to discuss the future of the industry.

Today, Indiana is engineering the future of flight, developing technologies that will power the world into the 21st century. Its wheels-up for the aerospace industry in Indiana. We're now boarding.•

__________

Dan Hasler is president of the Purdue Research Foundation.