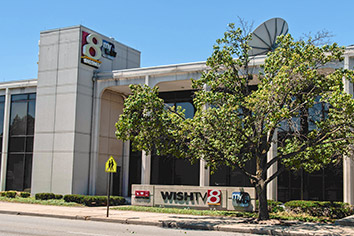 WISH-TV Channel 8 sports anchor Chris Widlic is leaving the station to take a job with WTTV-TV Channel 4.
Widlic will join WTTV this month, said Kerri Cavanaugh, vice president of news for WTTV and its sister station, WXIN-TV Channel 59. His starting date is Dec. 20.
Cavanaugh declined to comment further, but a source familiar with the move said Widlic will be WTTV's sports director, although he will be unable to appear on air for WTTV for one year due to a non-compete clause in his contract with WISH.
Widlic will be able to work behind the scenes and appear at events for WTTV as long as he is not on the air, the source said.

Chris Widlic
After his non-compete agreement with WISH expires, the source said Widlic will likely be WTTV's primary weekday evening sports anchor.
At WTTV, Widlic will likely take a higher-profile on-air position than he did at WISH, where he shared the limelight with sports director Anthony Calhoun.
Though WTTV officials declined to comment, multiple sources told IBJ that WTTV will expand its sports programming, including special segments, when Widlic comes on board.
WTTV currently only has one full-time on-air sports person: Tricia Whitaker, a 2012 Indiana University graduate who has been with the station for less than two years.
WTTV lost its other sports anchor, Mike Berman, in July, when he left to take a job at the NBC affiliate in Chicago.
WTTV also gets some help from the WXIN sports staff, including veteran sports anchor Chris Hagan.
Since snagging the CBS affiliate from WISH and starting its own local newscasts in January 2015, WTTV has had difficulty gaining traction with viewers, often ranking fourth or fifth of five local stations producing TV news.
Widlic should bring the WTTV sports staff some much-needed experience.
Widlic joined WISH's sports staff in December 2003. He has covered the Indiana Pacers, Indianapolis Colts and IndyCar Series, as well as area high school and college sports extensively. 
He began his broadcasting career at WVVA-TV in Bluefield, West Virginia, where he worked as a photographer. Widlic anchored the weekend sports before being named sports director for that station.
Widlic then became the sports director for WCIA-TV, the CBS affiliate in Champaign, Illinois, before landing at WISH. 
Originally from Arlington Heights, Illinois, Chris graduated from the University of Texas in Austin with a degree in broadcast journalism.
Widlic and WISH officials did not return calls seeking comment.
Widlic's departure at WISH comes on the heels of the announced departures of nighttime news anchor Lori Wilson and meteorologist Eboni Deon.
Widlic will be join fellow WISH alum Debby Knox at WTTV. Knox retired from WISH in November, 2013, but came out of retirement to join WTTV when it launched its local news in January 2015. 
Please enable JavaScript to view this content.