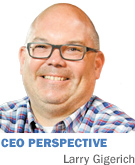 Indiana has several important opportunities and challenges as 2017 is set to begin. None is larger than the development of talent to meet the needs of businesses throughout the state. Indiana is fortunate to have a strong economic base to build on for the future, but in order to continue the forward momentum, we must do more to build our human capital.
The state's population lags most of the nation when it comes to educational attainment, ongoing training for adults already in the workforce, and employees holding industry-recognized certifications. Public-policy leaders in Indiana need to dream big when it comes to human capital because incrementalism will not get the job done for the citizens of our state.
House Speaker Brian Bosma put his finger on an important issue affecting how we develop human capital in Indiana when he recently pointed to the need to streamline workforce development programs and their delivery to residents statewide. While we have many good, hard-working people and organizations focused on talent development, we are not delivering the approximately $1 billion of state and federal funding in the best manner to leverage world-class results.
So, what should public-policy leaders consider about this important issue and whom should they seek input from in the process? As former Gov. Mitch Daniels used to say, "Hoosiers from all walks of life need jobs and we need to prepare them for those jobs." While there are no easy solutions to the development of human capital, some instructive examples can help guide Indiana forward. Here are my recommendations to Gov.-elect Eric Holcomb, Lt. Gov.-elect Suzanne Crouch and the Legislature for the upcoming legislative session.
Seek input from key constituent groups:
• Workforce development entities (Indiana Workforce Councils, Indiana Career Council, Indiana Department of Workforce Development, etc.)
• Economic development organizations (Indiana Economic Development Corp., Indiana Economic Development Association, regional economic development organizations, etc.)
• Higher education entities (public and private two- and four-year schools, Indiana Higher Education Commission, The Mind Trust, etc.)
• Private-sector business organizations (Indiana Chamber of Commerce, Indiana Manufacturers Association, TechPoint, etc.)
• Elected officials (mayors, county commissioners and councilors, town managers, etc.)
Investigate models from other states:
• Tennessee: The state implemented the Tennessee Promise program to ensure that every Tennessee resident can attend a two-year college at no cost. Through state lottery revenue, Tennessee Promise provides students funding not covered by federal financial aid. The program also incorporates mentoring and community service.
• Georgia: The state conducted a study to identify the fastest-growing jobs in Georgia. State leaders then worked with private industry and the community college system to develop industry-recognized certification programs for eight to 10 types of jobs. Georgia agreed to use lottery funds to provide adults in the state with the ability to earn the certification at no cost. Most employers require that the job applicant possess a certification when he or she applies for employment, thus creating pressure on both the supply and demand side.
• Florida: The state provides matching grant funds to private employers to help reimburse companies for the costs associated with training new employees during a 12-month period. The program is flexible in allowing companies to conduct their own training using employees as instructors, bring in outside instructors, or partner with higher education entities to deliver training. Florida gives funding priority to projects in rural communities and distressed urban cores, for jobs that pay 125 percent of a county's average hourly wage or higher and in support of technology company training.
• South Carolina: The state developed an apprenticeship focus as part of its technical college system, having residents enroll in apprentice programs that support the state's manufacturing, construction, logistics and engineering industries. The program does a great job of marrying the needs of the private sector with the desire of prospective employees to have transferable skills.
It is vitally important for public-policy leaders in Indiana to redouble their efforts to support the development of top talent. The state cannot continue to rank in the bottom 20 percent when it comes to educational attainment and industry-recognized credentials.
In an era where talent drives innovation and economic growth, Indiana must act aggressively to improve its human capital. Let's get to work!•
__________
Larry Gigerich is executive managing director of Fishers-based Ginovus and a member of the Site Selectors Guild.
Please enable JavaScript to view this content.