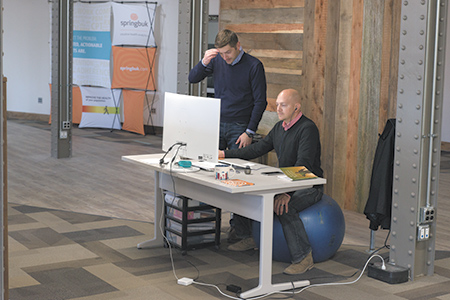 The short-term-leasing trend is picking up steam in Indianapolis.
Certain companies, especially high-growth tech firms, don't like committing to the usual five-year-or-longer leases, because they're not comfortable predicting how much space they'll need that far in the future. So real estate operators are increasingly offering lease terms that are as short as a few months.
The Bureau—a for-profit business co-founded by Deylen Realty partner Todd Von Deylen—was one of the first short-term lease operators in town, launching in Fletcher Place in 2013. The Speak Easy has operated a not-for-profit coworking space near Broad Ripple since 2012, but this October it opened a second location downtown that offered monthly leases.
And in late November, a group of investors launched a for-profit called The Union, which offers one-, two- and three-year leases to companies with at least 20 employees, a bigger clientele than The Bureau or The Speak Easy targets.
"We've developed a space for that scale-up company to easily plug and play and not have to have a five-year lease," The Union co-founder John Hurley told IBJ. "There's nothing like what we're doing anywhere that I've seen in the country—certainly not in the city—at the scale we're doing it."
In some ways, the Deylen Realty principals fell into the business of short-term leasing.
About a decade ago, economic forces left Deylen Realty with more headquarters space than it needed, so officials leased their extra space to other companies on a short-term basis. The move went so well that Von Deylen started The Bureau, which took up space at Deylen Realty's The Hinge apartment complex in Fletcher Place.
The Hinge Bureau, as it came to be called, offers coworking space and monthly leases on dedicated office space, and it's been effectively full since inception. In July, Van Deylen opened a second location nearby called The Pin Bureau, which offers only monthly space.
"I think it just shows what people are starting to lean to," said Shelley Veazie, Deylen Realty director of marketing. "People want simplicity and something that doesn't tie them down or give them that anxiety, like, 'This is a three-year decision.'"
The Speak Easy opened its downtown location after hearing about the real estate struggles of some of its graduating companies. These firms typically started using its coworking space when they had just a few employees, but as they grew needed dedicated space.
Still, they weren't mature enough to be able to accurately predict their headcount—or even whether they'd be around—several years out.
Besides the flexible lease terms, these short-term-lease operations include such amenities as utilities, furniture, high-speed internet and more.
The idea, many of the principals said, is to allow growing companies to focus on their business, not office-space management.
"The real estate side of your business should not be where you should spend your time and energy," Speak Easy co-founder Jeb Banner said. "It should be your customers and your employees."•
Here's a sampling of companies taking advantage of the flexible leases: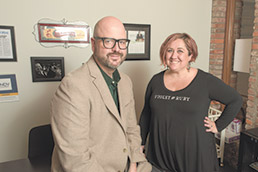 Stephen and Erin Edds moved from The Speak Easy's Broad Ripple location when the downtown branch opened, because it offered dedicated space. (IBJ photo/Eric Learned)
Garden Party Botanical (at The Speak Easy downtown)
Founded: November 2015
Product: premium, all-natural hard sodas
Employees: two
Background: Former Hoosier Momma LLC partner Erin Edds and her husband, Stephen Edds, got the idea for Garden Party last fall after seeing the rise of hard sodas. They felt the industry lacked top-shelf offerings, so they debuted their two flavors of hard soda—lavender-and-blackberry-infused lemon and pomegranate-and-hibiscus-infused ginger—this fall. Each drink has 8 percent alcohol by volume.
"Most hard sodas and craft beers are in the 4.2 percent to 6 percent range," Stephen Edds said.
Real estate story: Garden Party had operated out of the couple's home, just as some of Erin Edds' past businesses had. The couple got a membership to The Speak Easy in Broad Ripple but didn't have dedicated office space. When The Speak Easy downtown opened with dedicated space in October, they jumped at the opportunity.
"When they announced the downtown location, I believe we were the second tenant to sign up," Stephen Edds said.
Horizon: Garden Party started selling its drinks Nov. 1 in retail locations, including Crown Liquors and Marsh. It has reeled in $367,000 in revenue in just over a month.
Driven Data Consulting LLC (at The Speak Easy downtown)
Founded: August 2013
Product: business intelligence software for car dealerships
Employees: 10 full time, five part time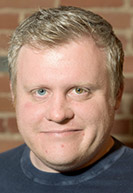 Berna
Background: CEO Jon Berna co-founded Driven as a consulting firm for helping car dealerships manage different aspects of their businesses. His company built software for internal use, but in 2015 figured he could sell that software to the dealerships directly. It essentially gives users a single view of disparate business metrics, including accounting, social media, and customer-relationship-management data.
Real estate story: Berna ran Driven from his home until this summer, when he assumed space in The Speak Easy in Broad Ripple. When the company started beefing up employment, Berna began looking at options for dedicated office space. It chose the downtown Speak Easy because of the flexibility of month-to-month leases.
"I probably looked at 30-some-odd spaces," Berna said, "and it just wasn't going to work given the amount of time it was going to take to get the space right, the five-year commitment to lease, and the general unknowing of where our needs were going to be."
Horizon: The company closed a $400,000 capital fundraising round in September and plans to continue growing its workforce. It declined to disclose revenue but said employee salaries range from $55,000 to $100,000.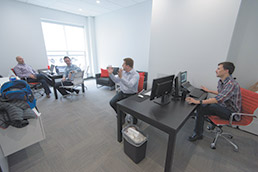 To accommodate its growing workforce, Levementum moved from The Hinge Bureau in Fletcher Place to the nearby Pin Bureau. (IBJ photo/Eric Learned)
Levementum (at The Pin Bureau)
Founded: 2006 in Phoenix, but opened Indianapolis-based practice in April
Service: helps companies integrate Salesforce.com software
Employees: 15 at Indianapolis practice, though some are remote
Background: The Arizona-based company announced its expansion here on the heels of Salesforce's announcing its own expansion of 800 jobs by 2021. Levementum officials said they wanted to get closer to Salesforce.com operations, and business has grown faster than anticipated.
Real estate story: Michael Burton, vice president of Levementum's Salesforce practice, was one of two employees when the company launched the operation here in April. They initially worked out of coffee shops and the like, but in May moved into The Hinge Bureau, a coworking/short-term-lease space in Fountain Square. When its sister location, The Pin Bureau, opened in July, Levementum moved there for more space.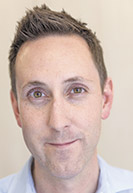 Burton
"For us, we appreciate the fact that it's so flexible. As we've added people on month after month, it's very easy for them to accommodate us," Burton said.
Horizon: The local Levementum practice offers services for only one Salesforce product, but it's getting ready to expand to other products. As such, the company expects to add about 35 employees next year.
Springbuk (at The Union)
Founded: January 2015
Product: enterprise software for managing and analyzing employee health data
Employees: 32
Background: Springbuk came into being after Healthiest Employers, a corporate wellness award company, reorganized and started selling software. The software helps large corporations aggregate and manage employee and medical and health data.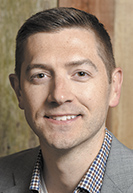 Daniels
Real estate story: Founded in 2009, Healthiest Employers had been operating in an office park near Keystone at the Crossing. When it reorganized as Springbuk and started adding employees, it leased more space—but the space was disjointed. In an effort to bring everyone together and assume a modern office with an open-space layout, it began shopping for new digs. But the lease terms on most of its options were unfavorable.
"We were frustrated just looking at downtown options in Indy where [landlords] were forcing entrepreneurs to sign four- to seven-year leases when just trying to forecast our headcount and space needs next year is hard enough," said Springbuk co-founder Phil Daniels. A few months ago, it heard about The Union, which offers short-term leases for larger companies, and signed on.
Horizon: Springbuk raised $3 million in venture capital in May. It plans to double employment by this time next year and expand its national footprint.
Please enable JavaScript to view this content.