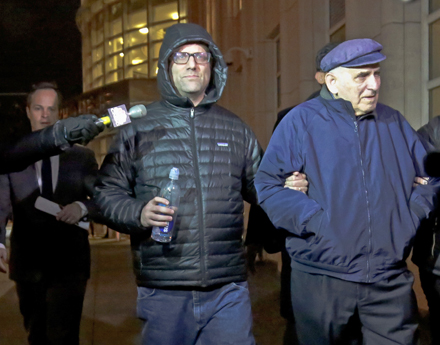 Prosecutors on Monday lowered the boom on the New York-based hedge fund Platinum Partners, alleging it carried out a $1 billion fraud that left hundreds of victims—including CNO Financial Group.
The Carmel-based insurer took a $75 million pretax loss in the third quarter stemming from its Platinum exposure, which stemmed from a deal CNO cut in February 2014 with a company that at the time appeared to have no connection to the hedge fund.
Under the deal, CNO offloaded responsibility for a $550 million block of long-term care insurance to Beechwood Re Ltd. Unbeknownst to CNO, that New York-based startup was owned partly by Platinum principals and was created as a ploy to draw new cash into Platinum at a time it was teetering, according to a lawsuit CNO filed in September and a lawsuit the Securities and Exchange Commission filed Monday.
Concurrent with the filing of the SEC suit, prosecutors filed a criminal indictment alleging Platinum Partners founder Mark Nordlicht and others operated perhaps the largest fraud since Bernard Madoff's Ponzi scheme. Nordlicht was arrested Monday, along with five others—all of whom entered initial pleas of not guilty.
Among the Platinum executives arrested Monday was David Levy, who also worked for Beechwood. The SEC alleged that Platinum used Beechwood "essentially to steal investor money."
CNO said essentially the same thing in its suit, charging that Nordlicht and Platinum part-owner Murray Huberfeld treated Beechwood as its "piggybank"—drawing its cash to fund Platinum's exotic financial bets as well as to pay off the growing number of Platinum investors who were seeking to redeem their holdings.
CNO said it began noticing Platinum-related investments in reports it was getting from Beechwood as early as 2014. But when it raised concerns they were unsuitably risky for an insurer, Beechwood reassured the company that they were appropriate and were accurately valued—assertions CNO says proved to be false.
CNO's concern turned to alarm over the summer after federal agents raided Platinum's offices, and Huberfeld was charged in an alleged scheme to bribe a union official into investing $20 million into Platinum.
According to CNO's suit, "Beechwood's massive and risky investments with Platinum … was the goal of the fraudulent scheme hatched by the Defendants and others to bamboozle institutional investors like Plaintiffs out of their money by tricking them into indirectly investing with Platinum."
CNO filed the suit in New York on Sept. 29, the same day it announced it was unwinding the risk-shifting agreement and evaluating its losses.
The company said insurance regulators in Indiana and New York had deemed many of the Beechwood-managed assets to be out of compliance with insurance-investment standards. CNO said it would pump $200 million in capital into its insurance subsidiaries as a safeguard and would suspend its share repurchase program for the rest of the year to conserve capital.
CNO contends in its suit that Platinum and Beechwood insiders went to great lengths to conceal that the companies were connected.
The Carmel company says it now knows that Beechwood's $100 million in initial capital came from Platinum principals and their families. But when CNO asked about the source of the funds while negotiating the deal, Beechwood refused to say, citing "confidentiality agreements."
In addition, CNO says it now knows that four of five employees identified at a November 2013 meeting between the two companies as Beechwood employees actually were employees of Platinum. 
"Defendants were aware of this misrepresentation at the time it was made, directed it and intentionally concealed it," the suit says.
Please enable JavaScript to view this content.