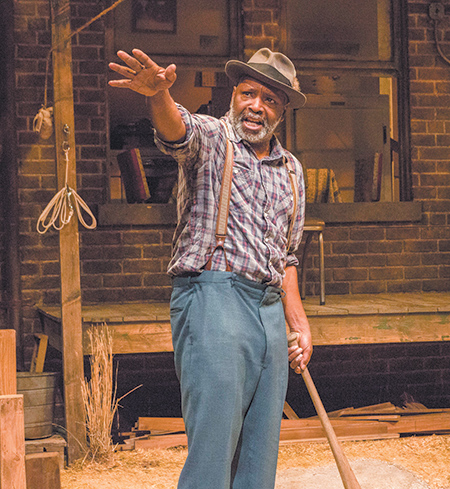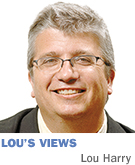 On stages, in galleries and in concert halls, there was plenty to enjoy in 2016. Here are just some of the standouts I had the honor of experiencing:
"Fences" at the Indiana Repertory Theatre. Yes, the movie version with Denzel Washington is hitting theaters, and it's quite good. But it doesn't match the experience of seeing David Alan Anderson and an outstanding cast and design team deliver August Wilson's play live. This might be the finest overall production I've seen in 20-plus years of IRT-going.
"Discovering Japanese Bamboo Art" at Herron Galleries. Bamboo's creative uses go beyond baskets, as demonstrated in this handsomely presented show, drawn from the Rusty and Ann Harrison Collection. Highlights included the dramatic waterfall effect of Honma Hideaki's "Torrent," the triangular tangle of Nakatomi Hajime's "Prism," and Yako Hodo's Death-Star-like "My UFO." Almost as impressive: the exhibition catalog, created primarily by Herron students, alumni and faculty.
"The Grand Canyon" at the Eitel-jorg Museum. More than just an art museum, the Eiteljorg is at its best when it combines art, artifacts and history in an accessible but not dumbed-down package. For this show, it told the story of the Grand Canyon, both then and now, going back to 505-million-year-old fossils, covering the exploration and commercialization of the landmark, and showing it to us through the eyes of visual artists, adding up to an experience both deep and wide.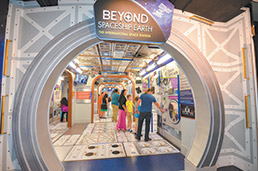 "Beyond Spaceship Earth" at the Children's Museum takes visitors inside the International Space Station. (Photo courtesy of The Children's Museum of Indianapolis)
Children's Museum's "Beyond Spaceship Earth." Science matters. And the Children's Museum managed to prove the point—while also showing visitors a good time—in its new permanent exhibit celebrating not just space, but also how we got there and what the future might hold. A smart reimagining of the previously underused planetarium adds to the achievement.
"Indiana in 200 Objects" at the Indiana State Museum. Chuck Taylor's Chuck Taylors, an electric chair, Ernie Pyle's typewriter and Johnny Appleseed's drinking glass share space in this what's-going-to-show-up-next? celebration of Indiana's 200-year history. Other bicentennial exhibits have had more meat, but none offered as much simple pleasure.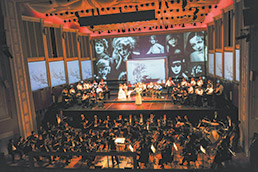 The Hilbert Circle Theatre was transformed for "Carmen." It featured multi-media magic and the ISO, the Indianapolis Symphonic Choir and Indianapolis Children's Choir. (Photo courtesy of Indianapolis Symphony Orchestra)
Indianapolis Symphony Orchestra's "Carmen." The 2015/2016 ISO Hilbert Circle Theatre season went out with a bang in June with its presentation of the operatic staple. Far from conventional, this version included a stage built on top of the regular one, impressive projections, silent-movie video, period-hopping costumes and a directorial conceit that staged each act in a different style. More important, it had the ISO itself, abetted by the Indianapolis Symphonic Choir and the Indianapolis Children's Choir, creating a one-of-a-kind experience.
"Acid Dolphin Experiment" at the Phoenix Theatre. An unconventional play about an unconventional scientist, Tom Horan's look into the mind of Dr. John C. Lilly proved not only the trippiest play of the season, but also one of the most fully realized. The achievement was all the more remarkable because the Phoenix's production was the show's world premiere.
Indianapolis City Ballet "Evening with the Stars." Truly world-class dance talent converged on Indianapolis for a can-you-top-this? show that, once again, raised the bar. Particularly joyful: the pairing of New York City Ballet's Tiler Peck with Memphis jooker Ron "Prime Tyme" Myles.
National tour of "Once." Not all stage musicals based on a hit movie are created equal. And Broadway in Indianapolis brought one of the better ones to town, presenting this tender story about Dublin musicians, broken hearts and inspiration.
Indianapolis Opera's "Happy Birthday, Wanda June." An ambitious project paid off with the world premiere of Richard Auldon Clark's operatic adaptation of Kurt Vonnegut's play. It will be interesting to see if this one has a life on stages beyond our borders.
Thanks to all the artists who made these and other works possible in 2016. And here's to an artful 2017.•
__________
This column appears weekly. Send information on upcoming arts and entertainment events to lharry@ibj.com.
Please enable JavaScript to view this content.