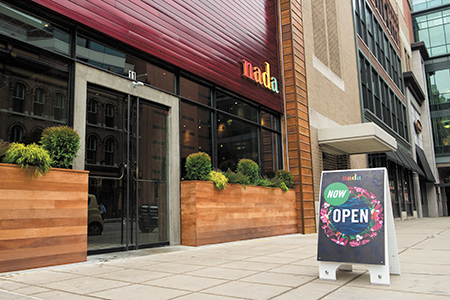 Remember when a new restaurant or two might have been all that separated one central Indiana dining year from another?
Well, those days are gone.
With new eatery options popping up seemingly every week, it's a challenge even for those of us tasked with reviewing them to keep up.
Here are just some of the 2016 shifts:
Salvaging ground level at Circle Centre. What happens on the exterior of Circle Centre can be just as important as what happens inside. This year, three out-of-towners spruced up the facade and increased downtown dining options. Nada brought cool design in addition to Mexican fare. Punch Bowl Social fronted a group-focused bowling and games arena with a creative diner. And while I'm not convinced that piling fries on a burger is wise, I'm glad Primanti Bros. occupies the former California Pizza Kitchen spot.
The Cunningham campaign continues. While continuing to expand into other markets, locally based Cunningham Restaurant Group remained creative here at home with Vida Restaurant and its signature herb wall and Livery, which offers modern dining with a Latin accent.
College (Avenue) freshmen. On College Avenue, the long-awaited Open Society Public House carved out a niche as a creative neighborhood drinkery with a variable, impressive menu. Farther south on College, SotSot transitioned from a wheeled meal food truck to a brick-and-mortar building.
Underserved neighborhoods spawn more options. Late in the year, LongBranch—a friendly bar with a smart, Asian-influenced menu—and Festiva—the latest from Peter George and Tom Main, creators of Tinker Street—helped further grow choices in long-ignored neighborhoods.
Speedway shifts into fast lane. The addition of Big Woods and the 1911 Grill (attached to Speedway Indoor Karting) continue to shape Main Street in Speedway into a place to visit even when cars aren't spinning around the Indianapolis Motor Speedway.
Coming home to Roost. Rooster's Kitchen quickly filled in the space vacated by popular Mass Ave pioneer R Bistro. That's not to be confused with Fat Rooster Diner, which took over the space in the downtown Hyatt formerly known as One South.
More ch-ch-ch-changes. Both Georgia Reese's shut down, with the downtown edition transforming into CharBlue, with a steak- and seafood-focused palate. The space just off Monument Circle that housed the ill-conceived Bacon, Legs & Turntables remains relatively high-concept with The Boiling and its seafood-in-a-bag. In the shadow of Eli Lilly and Co.'s headquarters, the space occupied by the short-lived (and sadly missed) Nourish didn't stay vacant for long, with Mr. Tequila's Cantina & Grill taking over in the spring.•
Please enable JavaScript to view this content.