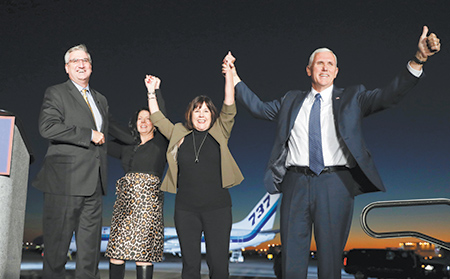 2016 was a whirlwind and unpredictable year in Indiana politics—with the state, its voters and leaders frequently the focus of the national political landscape.
It all started in March with Gov. Mike Pence's decision to gear up for his re-election campaign by switching up the ticket, leading to the surprise resignation of Lt. Gov. Sue Ellspermann, who was later named to head the state's community college system.
Pence chose seasoned Republican political leader Eric Holcomb to replace her. Holcomb had just pulled out of a rough U.S. Senate Republican primary where he was coming in third place.
In May, the national spotlight settled on Indiana as the state essentially became the last stand for Republicans who wanted to stop Donald Trump from securing the party's presidential nomination.
Days before the primary, Pence endorsed Ted Cruz, stating he'd vote for Cruz because he's "a principled conservative who has dedicated his career to advocating for the [Ronald] Reagan agenda."
But he also gave a glowing review of Trump, who he said "has given voice to the frustration of millions of working Americans."
"I'm particularly grateful that Donald Trump has taken a strong stand for Hoosier jobs," Pence said.
Trump went on to easily win Indiana's primary—essentially securing him the delegates necessary to become the GOP presidential nominee.
Pence became a serious contender to become Trump's vice presidential pick as he later encouraged all Republicans to get behind Trump, and said at a Westfield rally that "Donald Trump knows that the boundless potential of the American people awaits and we can 'Make America Great Again.'"
That culminated in July in a maelstrom of political activity—much of it taking place at the Conrad Indianapolis downtown after a problem with Trump's plane grounded him in the city—as the "veepstakes" reached a boiling point ahead of the Republican National Convention. Trump, who spent time at the Indiana governor's residence and dined with the Pence family, finally picked Pence for the job.
That triggered a process to replace Pence on the Republican gubernatorial ticket. Pence was facing a shaky re-election campaign against Democrat John Gregg, whom he had narrowly defeated four years ago.
After a closed-door meeting, members of the Indiana Republican Party's Central Committee chose Holcomb—over U.S. Reps. Susan Brooks and Todd Rokita.
Also shaking up the political landscape in July was former Democratic U.S. Sen. Evan Bayh, who decided to jump into the U.S. Senate race again, tagging out Democratic candidate Baron Hill who was expected to lose badly to Republican candidate and U.S. Rep. Todd Young.
Democrats entered election night confident—because of polling results—that they'd win the governor's race and hopeful they'd pull off a win in the U.S. Senate race.
Gregg seemed to be far ahead of Holcomb, who had a blank slate but relatively low name identification. Bayh was hobbled by attacks from Republicans and Young about his residency and his work with a lobbying firm.
But in a stunner, Gregg and Bayh both lost, swept aside by Trump's 18-point margin of victory in Indiana. Democratic State Superintendent of Public Instruction Glenda Ritz was also unseated by Republican Jennifer McCormick.
The political drama continued even after Election Day, when President-elect Trump announced on Thanksgiving that he had been talking to executives at Carrier Corp. about retaining in Indiana jobs destined for Mexico.
Carrier announced in February that it would move 1,400 jobs to Mexico, a decision that gained national attention after a worker recorded the announcement and posted it on social media. Trump then used the controversy as an example of what's wrong with American trade policy. He made keeping manufacturing jobs in the United States a key campaign theme.
Trump returned to Indiana to announce he saved 1,100 jobs—an inflated figure later determined to be about 800 jobs, given that about 300 jobs were already to be kept in Indiana. In return, the company will receive $7 million in tax breaks and other incentives.
Shortly after the announcement, United Steelworkers Local 1999 President Chuck Jones said Trump "lied his ass off" about the job numbers.
Trump responded by attacking Jones on Twitter by name, saying he "has done a terrible job representing workers. No wonder companies flee country!"
Democrats and Trump critics rallied across the country in support of Jones.
Pence, meanwhile, has taken the lead on Trump's transition team and has been receiving most of his security briefings. The pair will be sworn in Jan. 20.•
Please enable JavaScript to view this content.