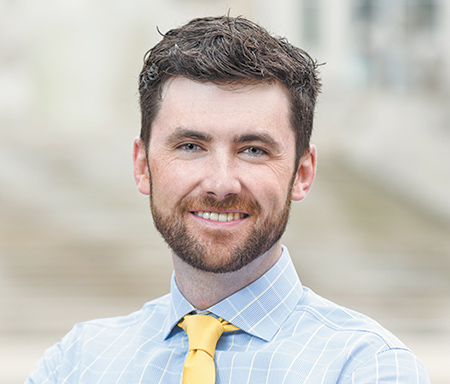 2016 was the year TechPoint bolstered its identity, as new programs took shape and initiatives gained traction. The not-for-profit, which aims to strengthen Indiana's tech sector, created three talent-cultivation programs outside its flagship Xtern Program, and ramped up efforts to help fast-growing tech firms.
CEO Mike Langellier, who took the helm four years ago, said 2016 was also the year local people outside the tech industry realized the impact of the sector and its intersection with other industries. He spoke with IBJ about TechPoint's evolution, his interest in the internet of things and why elected officials are increasingly paying attention to tech. The following are edited excerpts from that talk.
IBJ: You recently passed the four-year mark here. What did you come in hoping to do and what are you proud of?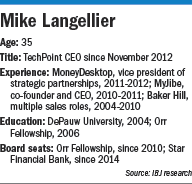 LANGELLIER: This past year was the year where the vision became reality. Four years ago, the vision was, "Let's create a growth engine for the tech ecosystem here." And it all came together this year. We are doing actual, tangible stuff that delivers resources to companies and helps them grow.
What was TechPoint before you arrived?
It was primarily the association of tech companies. It was largely an events function, convening the tech community and helping to shine a spotlight on this young industry that people didn't really know that much about.
What are TechPoint's key initiatives and how have they evolved over the years?
We really started with the question, "If the mission is growth, how do we engineer growth?"
Talent is critical. So we looked at creating a world-class solution for recruiting, delivering and skilling up talent for tech companies.
We just started prioritizing and said, "OK. We're going to start with tech talent, people who can build the product." And now we have a full suite of [tech-focused] programs: the Xtern Bootcamp Program for early college students, which feeds the actual Xtern Program, a 10-week internship experience. For this summer's 150 Xtern spots, we had over 1,300 applicants. They came from 40 hometowns and 78 universities. They're from all over the country.
We now have a two-year post-grad program in the Indy Tech Fellowship Program. And so we can literally look at people's names and say, "You are here because of what we did."
But we created the job board as well. It's the top search result if you search for "Indianapolis tech jobs," and we have a hundred-plus job postings a month to that site.
Any other programs under the talent pillar?
Yes … the next-highest priority was sales. And the Sales Bootcamp Program, that's new. We just launched it this summer. We had 17 people in the first-ever Sales Bootcamp program. All 17 got job offers.
All of them were new grads that didn't know what they were going to do next or they were individuals who were bartenders or in some other job where they wanted to get over into tech and this was their on-ramp.
What's behind your focus on "scale-up" companies?
So we ask, "Where does growth come from?" again and, "What kinds of companies do they come from?" It turns out, it's from scale-up companies—those companies that are past that initial startup stage and are in high-growth mode. They have the potential to be and want to be a big company. They are only 2 percent of the companies in the U.S. economy, but between 2009 and 2012, they created 35 percent of the jobs.
So what are you doing there?
We do an event called Winner's Circle where we brought in 20 venture capital firms from all over the country and selected 30 companies and we did structured speed dating to import more capital into the ecosystem. Kinney Group, which recently announced a fund-raise, met that venture capital firm at Winner's Circle.
We've also endeavored to help scale-up companies get more customers. The tech community and the large pillar employers have typically just lived in separate camps and there's not a whole lot of crossover. So we've endeavored to help open up the doors to some of those other large companies like Lilly, Roche, Wabash National, etc., that could be customers.
What were the highlights for this organization in 2016?
We ourselves kind of went from a startup company to a scale-up company. We hired a bunch of people and promoted leadership that's leading each of those initiatives now.
I hear that you're interested in the internet of things. What do you envision TechPoint's role being as it relates to IoT?
I've been asked on behalf of my colleagues at [the Central Indiana Corporate Partnership] to figure out what that opportunity is and what that kind of strategy should be. That's one of the interesting components about where we sit—alongside this federation of other industry initiatives like Conexus, BioCrossroads, [Energy Systems Network] and AgriNovus. So in 2017, we'll be spending a lot of time—to use the [Wayne] Gretzky analogy—identifying where the puck is going and where we should take it as Hoosiers.
What local trend stood out to you in 2016?
I think that this intersection of tech and other things was definitely a trend in 2016.
And I think that it's a trend, not only because of IoT—IoT is symbolic and it gives us vocabulary to talk about it—but machine learning, data science and artificial intelligence are all going to be big components of that as well.
Our tech ecosystem has largely grown up independent of our other industries. Most of these companies didn't start because they spun out of Lilly or because somebody left Anthem to start one. They were rugged entrepreneurs who started their own companies here and they happened to lead them to success. But I think the big opportunity and real staying power for all of our industries is going to be being a leader where tech intersects these other industries.
In 2016, we also saw government and lobbying entities express more interest in tech—from Gov. Mike Pence creating a chief innovation officer position to the Indiana Chamber launching a Tech & Innovation Council. What are your thoughts about those developments and what might they mean?
I think that, in the last couple years, we hit that inflection point where the broader audience that before couldn't wrap their head around tech—didn't know what to think about it, didn't know how big of a deal it was—got it. In the last year, we crossed the $6.5 billion mark over the last decade for acquisitions and IPOs in the tech community. You get enough of those and it's no longer a one-off, right? It's not just ExactTarget. It's also Interactive Intelligence, it's also Appirio, it's also Apparatus, it's also Aprimo.
The other thing that was significant is … the jobs announcements that happened in the last two years. From 2015 to the middle of 2016, if memory serves me correctly, almost three quarters of the jobs announced by the [Indiana Economic Development Corp.] were announced by tech companies.
When three quarters of the new jobs announced are coming from tech companies and they're paying twice as much as the median, people start to notice.
What can people expect your relationship to look like with the Governor's Office and with legislators? And have you met with Gov.-elect Eric Holcomb yet?
Not in a formal way. We're trying to get a briefing on the books right now so we can give him kind of a state-of-tech briefing. He and I have had just casual conversations in the run-up to the election. But I think there's a lot of opportunity. Being that it seems that the Governor's Office strategy is going to largely continue around the $1 billion [entrepreneurship and innovation] plan, obviously tech has the potential to be a big part of that. The other thing is that I believe that there is a large opportunity for Indiana to attract scale-up tech companies in ways that it hasn't before. We have the potential to go hunt these companies that historically have not really been targeted.
We have had a lot of acquisitions. We have a lot of companies that still have strong presences here but they're no longer headquartered here. That's natural for that to happen. We just need to keep refilling the pipe with high-growth, emerging companies so we can take advantage of the fact that they're significant job creators.
What size of company are you talking about? And does what you're saying line up with the old-school economic development of getting a car company to build a plant here?
Yeah it does, and that's the challenge. Because typically … you want companies that are going to come build a factory that then has a tax base attached to it. And tech companies don't fit that profile.
There are companies out there that are looking to expand. They want talent, they want capital, they want customers, and they want less-expensive office space. CBRE did a study of what it costs to run a tech company in the way of salary and rent. And please check my numbers here, but I think in San Francisco, it was like $54 million a year for a 500-person company, and in Indy it was like $34 million. You're talking about dropping $20 million to the bottom line just based on where you're located.
You were a successful entrepreneur before becoming TechPoint's head honcho. Do you ever think about going back into business?
Oh, definitely. Definitely. At every career step, there was some calling—something that I couldn't not do. I couldn't not do the Orr fellowship. I couldn't not leave and go start [MyJibe], solving this problem that caused me to leave the sweet corporate gig and start a company from scratch and sleep on a futon with a 2-year-old and a 2-month-old at home. That was the same for TechPoint: I felt the compulsion, the calling to go make a place impact—to grow a place, not just a company.
And I'm sure it'll happen again where there will be something that I can't not do. But I don't know what that is yet.•
Please enable JavaScript to view this content.