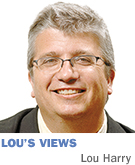 While some artists might experience spontaneous moments of creative energy, I'd speculate that most are in the obsessive camp, relentlessly trying to get things right (as if there's some universal "right") and beating themselves up when they don't reach that impossible goal.

That common artistic obsession adds a layer to Sarah Hobbs' art—on display at the Indianapolis Museum of Contemporary Art's City Way Gallery through June 24.

Hobbs' work doesn't just indicate perfectionism; it's about perfectionism and its cousins, obsessiveness and overcompensation.

In a series of large photographs of carefully composed domestic scenes, someone clearly has issues. We don't see any human figures in any of them, but Hobbs lets us imagine the anonymity-desiring person who crafted an outfit using the same pattern as the wallpaper. Or the stymied decision-maker whose room is nearly entirely covered in paint-color swatches.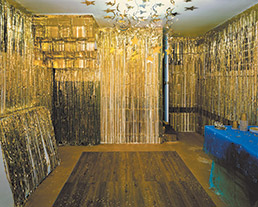 "Prom Forever (Basement)." (Photo courtesy of Indianapolis Museum of Contemporary Art)
Sometimes the imagery is a tad obvious. A dining room overrun with similarly wrapped blue packages with white ribbons doesn't seem eyebrow-raising. And there's the photo of a stack of Hershey candy bar wrappers, a hot pot filled with their former contents, and walls painted in chocolate. When I saw it, I wondered if Hobbs had seen Ken Russell's 1975 film "Tommy" with Ann-Margret writhing in a chocolate-filled room. And I've seen too many gold rooms from the super-rich to take much interest in the over-gilded "Prom Forever (Basement)."

But other photographs of these carefully constructed installations are striking in their quiet mystery and odd restraint. "Permanent Marker (Occupied Bedroom)" shows similarly defaced walls, but it also has the beginnings of a series of tightly packed lines drawn at one end of a heavy comforter and creating a visual crack in the headboard of an otherwise clean white bed. Markers are scattered on the white carpet as well. Did the culprit make a quick getaway? Think better of what he or she was doing? The image gives no answer, which is part of what makes it compelling.

"Alarmist (Motel 6)" fills a nondescript motel room with a survivalist's tent and safety supplies. "Germaphobe (Doubletree Inn)" offers a nicer room but equally odd details, with spray bottles and latex gloves on the night tables. And what writer can't relate to the room so dominated by crumpled-up pieces of paper that the desk and chair are barely noticeable?

Hobbs, whose home base is Atlanta, avoids showing actual people. But through exaggeration (I hope these are exaggerated), she reveals their inner workings in strangely intimate and personal ways. I was so pulled into her world that I had to look twice at the long table set up in the middle of the gallery, with its carefully placed flatware, dishes and information brochure.

After not finding a description of the piece, I took a closer look. Turns out it was set up for a meeting in the gallery—it was not an installation constructed by Hobbs.

See, art does make you see the world differently.•

__________

This column appears weekly. Send information on upcoming arts and entertainment events to lharry@ibj.com.