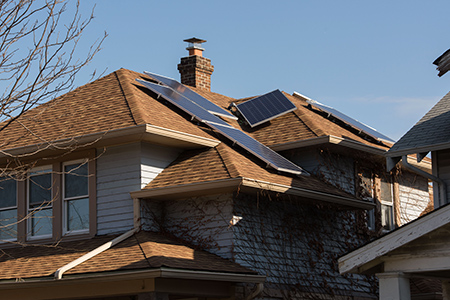 When Ryan Zaricki climbs a ladder to install rooftop solar panels on a customer's house, he sees more than shingles and gutters. He sees a fast-growing industry providing jobs to Hoosiers and nudging Indiana further into the clean-energy movement.
"Last year, we handled 40 projects, and in all honesty I'm expecting to double that this year," said Zaricki, president of Evansville-based Whole Sun Designs, which has four employees and plans to hire several more this year.
The growth has been fueled in part by a 12-year-old Indiana policy of allowing homeowners who generate their own electricity to ship any energy they don't use to the grid and get a dollar-for-dollar credit from their utility.
But now, a bill introduced in the Indiana General Assembly would discontinue that policy, known as net metering—effectively wiping out a key financial incentive for homeowners and businesses to install rooftop solar systems and windmills.
The measure, known as Senate Bill 309, is sure to renew a fight between solar advocates, who want to keep the current system in place, and utilities, who say it's unfair and should be changed.
Solar advocates say they are helping produce cleaner energy and supporting a growing industry. They argue state policy should encourage more people to do the same.
But utilities say customers with rooftop solar systems are basically getting a free ride, because they receive credits for producing their own energy yet still have access to the grid whenever they need it.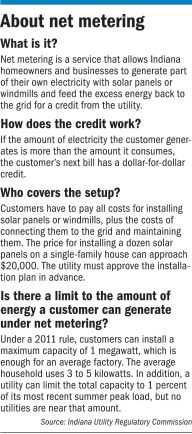 Utilities note that, when customers produce their own power, the cost of maintaining the grid doesn't go down; it shifts to the rest of the customer base.
The bill is complex and the timetable for changes uncertain. But the outcome of the fight could shape whether Hoosier consumers and businesses embrace clean-energy alternatives in the decades to come, or remain largely on the sidelines.
Under the current system, if you generate your own electricity, you consume what you need and send the excess to the grid. Net metering is a mechanism that measures that excess. You are credited at an equal rate—now about 11 cents a kilowatt-hour, or what household customers pay for electricity at the retail rate.
Under the proposed changes, you would not get to keep the energy you produce, but would have to sell it all to the utility at a lower, wholesale rate—now about 3 cents a kilowatt-hour. Then you would have to buy all of their energy from the utility at the higher retail rate. That system is known as "sell all, buy all."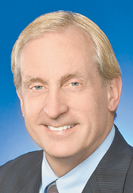 Maassel
The utility would keep the difference—now about 8 cents a kilowatt-hour—to maintain the grid and pay for other expenses.
Indiana electric utilities say the change is warranted.
"Net metering creates a situation where customers with solar panels are being paid by customers without solar panels," said Mark Maassel, president of the Indiana Energy Association, a trade group for electric power companies. "That's just not fair."
Sen. James Merritt, a Republican from Indianapolis and chairman of the Senate Utilities Committee, said he agrees.
"You shouldn't be paying for your neighbor's electrical bill," Merritt said.
The bill is sponsored by Republican Sen. Brandt Hershman, who didn't return calls from IBJ. The legislation is set for a hearing before Merritt's committee Feb. 2.
Wiping out incentive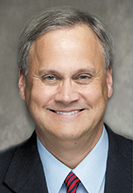 Merritt
Solar advocates strongly oppose the bill, arguing it would discourage consumers and businesses from taking on the cost of solar systems, where installation can run $20,000 for a typical house and more than $1 million for a factory.
"One of the fundamental reasons people put solar panels on their roofs is to reduce consumption from the grid—to be self-reliant, sustainable, efficient," said Kerwin Olson, executive director of Citizens Action Coalition, a grass-roots consumer group. "That should be encouraged to the highest degree."
Advocates also fear the measure would sap momentum from Indiana's fledgling solar industry. Indiana is home to more than 72 solar companies employing 1,567 people who design, engineer, install and repair solar panels, according to the Solar Energy Industries Association.
And jobs are springing up every year. Employment in the U.S. solar business last year grew 12 times faster than overall job creation, the International Renewable Energy Agency reported.
"Does this strengthen or weaken the emerging rooftop solar sector in the state?" said Jesse Kharbanda, executive director of the Hoosier Environmental Council. "I would say it weakens it."
Hershman's bill is just the latest effort to end net metering in Indiana. Two years ago, another bill supported by utilities would have ended net metering within six months. But the bill ran into trouble after solar and consumer advocates raised objections. Speaker Brian Bosma pulled it from the calendar before a floor vote, calling it "a little weighty."
The new bill also would bring net metering to an end, but it's unclear just how soon that could happen.
Language in the measure stipulates that net metering would end no later than July 2027—which supporters say gives the solar industry plenty of time to adjust.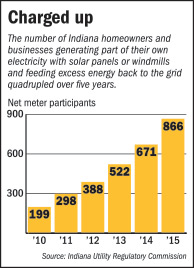 But it could happen sooner. According to current rules, a utility such as Indianapolis Power & Light Co. doesn't have to offer net metering to customers once it reaches a cap of providing net metering equal to 1 percent of its summer peak generation.
At IPL, only 101 customers are using net metering, accounting for only 0.06 percent of the utility's summer peak demand of 2,670 megawatts. That's less than one-tenth of the amount allowed under the cap, so there's still plenty of room for customers who want to buy rooftop solar systems and take advantage of net metering.
Other utilities are reporting low numbers, too: Duke Energy at 0.1 percent, NIPSCO at 0.08 percent, Vectren at 0.11 percent and Indiana Michigan Power at 0.02 percent, according to the Indiana Energy Association.
Overall in Indiana, only 866 customers were using net metering in 2015, according to the Indiana Utility Regulatory Commission.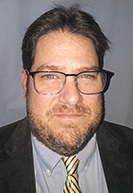 Olson
Still, the number of users has more than quadrupled since 2010.
And at its current growth rate, some solar companies say they expect some utilities to hit the 1 percent cap within a few years, ending net metering incentives much sooner than the 2027 cutoff date in the bill.
"This could all be over in the next three or four years," said Phil Teague, co-founder of Rectify Solar in Indianapolis, a four-employee operation.
On a tear
Around the country, solar power is booming. Solar installations surged 66 percent from 2014 to 2015, accounting for 30 percent of all new U.S. electric-generating capacity, according to a report from the Brookings Institution, a left-leaning think tank.
Bernstein Research analysts predict that solar will grow worldwide from 31 gigawatts of new installations in 2012 to more than 300 gigawatts a year by 2020.
Yet that growth could threaten utilities, which stand to lose customers and revenue, even as their fixed costs remain.
Five years ago, utility executives from around the country met in a Colorado resort to hear warnings about the growth of rooftop solar panels, according to the Washington Post. One presentation during the meeting warned of "declining retail sales" and "potential obsolescence," according to a copy of the PowerPoint.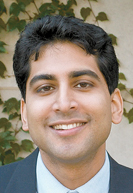 Kharbanda
Since then, the industry has been pushing for state laws to raise prices and cut subsidies for solar customers, reported the Post, under the headline, "Utilities wage campaign against rooftop solar."
Zaricki, president of the Evansville company, calls Hershman's bill just the latest pushback against the solar sector.
"This is the next flavor in the attack on solar," he said. "I think it's happening because solar is catching so much speed and we're making a lot of progress."
Not everyone in the industry is racked with anxiety. Eric Hersher, owner of Renewable Energy Systems, a 9-year-old solar engineering firm near Fort Wayne, said he believes the bill will be softened in coming weeks to be more palatable to solar supporters.
"I know a lot of people are very upset with the bill, and they have a right to be," Hersher said. "But I'm confident there's going to be some compromises and changes that would make it more balanced."•
Please enable JavaScript to view this content.