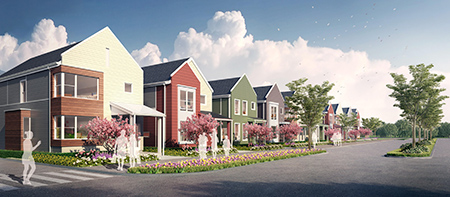 The numbers are daunting for a trio of developers wanting to build new homes on the former Central State Hospital site on West Washington Street—an area of the city sorely in need of investment.
Nearly 90 percent of the houses there are valued at less than $100,000, according to statistics from the Westside Community Development Corp. And 76 percent of the households have annual incomes lower than $50,000, with 33 percent living below the poverty level.
"Despite positive momentum, the current economic realities of the area have made private investment a challenge," said Phil Votaw, executive director of the Westside CDC.
But South Bend-based Holladay Properties is about to test the demand for new housing priced in the $200,000 range. It is teaming with Central State master developer Mike Higbee and Indianapolis-based Compendium Group Inc. to build market-rate, single-family housing in the area—the first to be constructed there in decades.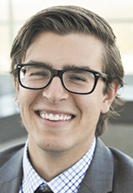 Naber
"This is pioneering, no question about it," acknowledged Derek Naber, a developer for Holladay.
The development team hopes this year to begin building The Villages at Central State, which would include 16 single-family homes, five town houses and one duplex on the property fronting West Washington between Tibbs and Warman avenues.
Just minutes from downtown, the area is plagued by abandoned houses, negligent landlords and vacant storefronts. Those that are occupied have helped to transform West Washington into a thriving Hispanic corridor.
Holladay is buying the land at Central State from the city and expects to close on the acquisition this spring, well before the September deadline, Naber said. Compendium is the builder on the project and Nottingham Realty Group, a local residential real estate agency, will market the lots.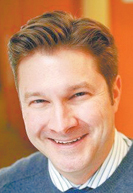 Bennett
"It's the first foray into market-rate, single-family homes in that neighborhood in maybe 40 years, at least for new construction," said Jeff Bennett, the city's deputy mayor of community development. "This is the site to try that."
It's taken years to get to this point. Central State Hospital closed in 1994, and the city bought the 150-acre property a decade later. Development only began in 2011, when Carmel-based Pedcor Cos. broke ground on the site's first project: a 144-unit affordable apartment complex called The Steeples. The project, built with the help of affordable housing tax credits, is fully leased.
Pedcor followed with The Retreat, a 62-unit senior-housing complex that also used tax credits. Retreat has been so successful that Pedcor has applied for additional credits to build a second phase consisting of 74 units.
Another developer, Indianapolis-based Reverie Estates, converted the hospital's administration building, constructed in 1938 and now called Central State Mansion, into a mix of micro-offices, creative studios and co-living spaces. Reverie developed the project along with the 1899 event center west of the mansion that originally housed the hospital faculty dining hall.
Naber at Holladay foresees the planned Christel House Academy West charter school, which would sit behind the homes, as a selling point for its residential project.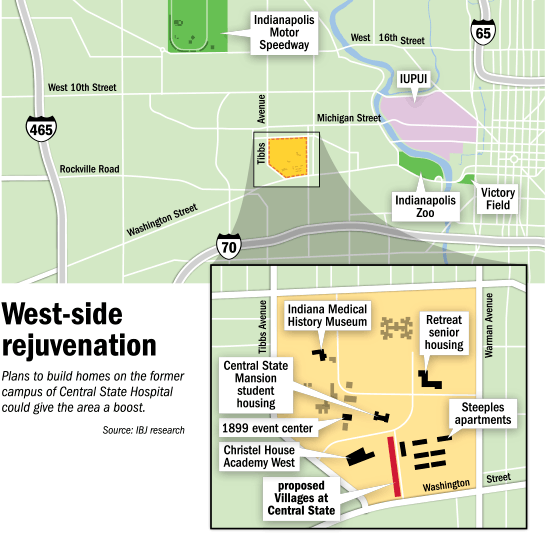 Other selling points include a nearby Blue Indy electric-car charging station, a view of the downtown skyline, and plans for the Blue Line rapid-transit bus line, which would run 24 miles between Cumberland and Indianapolis International Airport.
Though Central State might feel isolated from the urban core because of the blight surrounding West Washington Street, it's just minutes from the action. The aim is to capture the crowd who wants to live in the downtown area but doesn't want to pay the expensive prices attached to it, said Mark Nottingham, owner of Nottingham Realty.
He already is starting to presell the home lots, which will front Central Greens Boulevard starting near West Washington Street and stretching north to Steeples Boulevard.
Homes will range in size from 1,800 square feet to 2,100 square feet and will feature three bedrooms, two baths and a two-car detached garage.
If successful, Holladay could pursue a second phase, at the north end of the property, which would be much larger and possibly include 150 homes. The ultimate goal is to attract retail along West Washington at the front of the Central State property.
"What fascinated me is that there is not a site near downtown with this much grass that doesn't have environmental issues," Nottingham said.
Outside Central State, the west side is slowly showing signs of renewal. The Westside CDC used federal grants to build five homes on vacant lots just north of the site, on Warman and Holmes avenues. Targeting low- and moderate-income buyers, the homes are priced in the $90,000s.
All five are occupied, with one even preselling before it was built, Votaw said.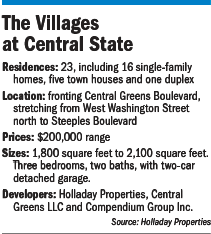 Meanwhile, the Local Initiatives Support Corp. is leading an effort to revive an area just east of that site, around the intersection of West Michigan Street and King Avenue, as part of its Great Places 2020 initiative. It is one of six Indianapolis neighborhoods the initiative will target for private investment.
"While that's maybe more symbolic for change," Votaw said, "it does show that the [west-side] neighborhood has become teed up as a place that could have new development."
Meanwhile, at Central State, Holladay Properties is exploring launching a $20 million apartment project with a multifamily developer that would bring a mix of 200 market-rate and affordable apartments by the end of the year.
The development would be built on seven acres between the Steeples and Retreat.
"We've gotten to a point where Central State has a story to tell," Naber said. "The last three years were spent building the bones. Now we're building the muscle."
Holladay's local developments include AmeriPlex, the 6.9-million-square-foot industrial park near Indianapolis International Airport that ranks as the Indianapolis-area's second-largest.
On Jan. 30, Holladay announced that it has agreed to buy the Milano Inn building and surrounding land with plans for a large redevelopment project that could include condominiums and a mix of retail and restaurant space.
The Italian restaurant at 231 S. College Ave. closed at the end of last year.•
Please enable JavaScript to view this content.