Twenty-five days after being named Indianapolis Motor Speedway CEO, Jeff Belskus stood at the VIP entrance to the IMS Pagoda trying to get in for the 16th running of the Brickyard 400 NASCAR race.

Unrecognized by security, he was denied access.

"This security guy was doing his job and wouldn't let me in," Belskus said with a laugh. "Finally, he says, 'Who are you?' I said, 'I'm Jeff Belskus.' He stood there for a minute, studying the situation, then he let me in. There's been a lot of that lately."

While Belskus, 49, has been with the Speedway since 1987, he has spent most of that time working behind the scenes as chief financial officer. Most of the big players in the world of motorsports know little about Belskus and are left guessing which direction the Terre Haute native and Zionsville resident will take the IMS and IRL.

"Jeff needs to be out there to answer the questions about what will be next," said Mike Hull, managing director for Target Chip Ganassi Racing. "He needs to be out there as a person who represents the teams and this series."

Belskus said he is in the process of shaping his leadership teams and forming plans for the Speedway and IRL. He plans to begin unveiling that blueprint in 2010.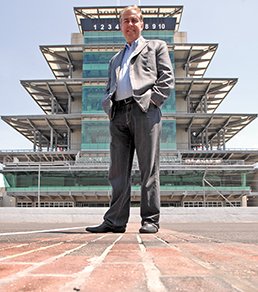 Jeff Belskus, new IMS CEO (IBJ Photo/Robin Jerstad)
Belskus' background as a number-crunching accountant has led some to speculate he will move to downsize the staff, possibly look to spin off or sell the IRL, and could even examine the sale of the Speedway itself.

Belskus insisted during a recent interview with IBJ that the Speedway and IRL are not for sale and major changes are not imminent. Industry insiders said there is uncertainty among many IMS and IRL employees about which way Belskus will head.

Making himself more recognizable is one of the primary tasks for the man who took over for the iconic Anton "Tony" George, but it's far from his only challenge.

Hull said it's clear the bottom line, especially of the IRL, must be bolstered to assure long-term sustainability. And Belskus admitted there is little off the table when it comes to contemplating how to bolster the fortunes of the league and of the Brickyard itself.

"We need to adapt to our environment and adapt to the world around us," he said.

Historically difficult time



Team owners, track operators and other IRL constituents said the change in leadership comes at a critical time for open-wheel racing.

"Jeff is probably taking over at the toughest time in the history of the Indianapolis Motor Speedway," said Dave Moroknek, who worked alongside Belskus as IMS senior director of marketing and consumer products from 1993 to 2002. "We're in the midst of a historic economic downturn, and he has a long list of very serious issues to confront."

Among those issues is fortifying attendance for the track's biggest moneymaker—the Indianapolis 500, reversing a more-than-20-percent attendance and revenue slide for the facility's second-biggest cash cow—the Brickyard 400, assuring the MotoGP race finds a fan following, and considering other uses of the massive physical plant at 16th Street and Georgetown Road.

Complicating matters is the departure of IMS Chief Operating Officer Joie Chitwood, who is leaving to manage a string of NASCAR-affiliated tracks. Chitwood said he is leaving to be closer to family in Florida, but some within open-wheel circles said he had become unhappy with the Speedway's direction.

Then there's the money-sucking IRL, which, according to sports business experts, has lost at least $260 million since its launch in 1996.

"He is now answering to a board of directors that has clearly become very uneasy with the situation they're facing," said Derek Daly, a former race car driver and longtime motorsports commentator. "You don't make a change like this at the very top of your organization for no reason. Clearly, the board wants something done differently, and it's up to Jeff Belskus to deliver. That's no easy task in the environment we're in."

His most immediate concern is assuring IMS and IRL partners that all is well.

"Right now, he's drinking from a fire hose," said Texas Motor Speedway President Eddie Gossage, who admits he's only met Belskus in passing. "I can tell you, there wasn't anyone who wasn't surprised by [George's departure and Belskus' hire]."



Many had surmised the IMS and IRL board might go after someone like the high-profile H.A. "Humpy" Wheeler, the former president of Lowe's Motor Speedway in North Carolina, or perhaps Gossage himself, to take charge.

The cloud of uncertainty hanging over IMS and IRL might make it difficult to do business.

"There are a lot of people with a lot of questions right now," said Eric De Bord, president and CEO of PROtential, a Woodridge, Ill.-based firm that represents such motorsports sponsors as Peak antifreeze and motor oil and Snap-On Tools.

"People want to hear the state of the nation," added De Bord, who has met Belskus once.

Right man for the job?

Belskus is well-suited for this difficult job, say those who know him best. He met Tony George while attending Terre Haute South High School, and their friendship deepened when they attended Indiana State University. Belskus graduated with honors in 1981 with an accounting degree.

"What many people don't realize is that Jeff has been in at the highest level of all decision-making for 20 years," said Ken Ungar, who served as Speedway chief of staff from 1996 to 2005. "That's a huge body of work."

Mike Miles, CEO of locally based Miles Capital Advisors, thinks Belskus is similar to former Indianapolis 500 and IRL chief steward Tom Binford. Miles was a former business partner of the late Binford and also served as his assistant when Binford was chief steward.

Like Binford, "he's a finance guy, but he's one of those rare finance guys with great vision," Miles said. "He isn't unduly influenced by special interests and always remains calm and cool."

Belskus became a CPA immediately after college and worked three years for the old accounting firm Coopers & Lybrand. He then spent three years at Ameritech, where he worked as a financial reporting manager and worked closely with the U.S. Securities and Exchange Commission.

Two years after taking a job alongside his old pal George at the IMS, Belskus was elevated to treasurer in 1989. Already functioning as chief financial officer, Belskus was promoted to vice president in 1991 and senior vice president in 1994.

Along the way, Belskus said, he gained the trust of the IMS and IRL board composed of George and his three sisters, and his mother, Mari Hulman-George. The board also includes IMS attorney Jack Snyder. Tony George maintains a seat on the board, and Belskus said the two have talked numerous times since Belskus was hired to replace George.

"We have a good working relationship," he said.

The business of the Speedway and IRL would get a big boost if that good working relationship were more apparent, said Larry DeGaris, director of academic sports marketing programs at the University of Indianapolis.

"It appears the operation is going through a tumultuous period of change," DeGaris said. "If Belskus, Tony George and the other board members are working in harmony, it behooves them to present that united front to the public. That will allay a lot of fears among sponsors and other corporate partners."•