Supporters of a proposal to raise income taxes to expand mass transit in Indianapolis have at least 11 of the 13 votes they need to implement the hike.

Only four city-county councilors have told IBJ or said publicly that they intend to vote no. Another four say they haven't made up their minds. And six didn't respond to IBJ's request for comment.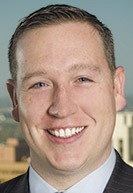 Fisher
Mark Fisher, vice president of government relations and policy development at Indy Chamber, which is pushing the tax increase, said he's feeling confident it will pass. That would enable the city's transit system to buy more buses, hire more drivers, increase the frequency of pickups, and expand planned rapid-transit routes.

"We feel good," Fisher said. But, he added, "We can't take anything for granted."

Councilors are considering a 0.25 percentage-point increase in the local income tax rate, which would cost a taxpayer with a $100,000 salary another $250 per year. The tax increase is projected to generate at least $54.4 million annually starting in 2018.

Already, Marion County voters have authorized the raise, but it won't go into effect without approval from the City-County Council.
Two key votes are coming up soon.

The council's eight-member Rules and Public Policy Committee will vote on the proposal Feb. 21. A simple majority is needed to send the proposal to the full council—something observers say they expect to happen.

If it does, a full council vote is scheduled to take place Feb. 27.

Some councilors say their constituents' wishes will be the key factor in how they'll vote. In November's election, 60 percent of Marion County voters said yes to giving the council the authority to impose the tax. But the vote varied by district.

Vop Osili's District 11, which sits west of downtown, voted 72 percent in favor of the tax referendum—the strongest support of any district.



That fact, Osili said, is pushing him to vote yes. "I want to see it happen, and I feel like, if that many individuals in my district want that, it's a direction I should strongly consider."

Osili said he intends to look closely at IndyGo's budget to make sure all the numbers add up and that the plan won't end up overcommitting the city financially. Unless he sees something he's not expecting, he intends to vote yes.

Councilors David Ray, Colleen Fanning, Blake Johnson, William Oliver and Marilyn Pfisterer also cited their constituents as a reason to vote for the tax. All live in districts where voters approved the referendum.

But Jason Holliday represents District 20 in the southwest corner of Marion County, where 60 percent of voters said no in November. Holliday said he hasn't seen anything to convince him to vote against his district's wishes.

"I've tried to maintain an open mind regarding the proposal, but have yet to be made aware of anything that should justify such a far-reaching tax hike that affects all but benefits so few nor warrant me opposing those I was elected to represent," Holliday wrote in an email to IBJ.

Susie Cordi of District 18 also said she'll follow her district's wishes by voting against the tax hike. In Cordi's district, 54 percent of voters rejected the tax. She said in an email she intends to "honor the way they voted."

Money matters

Several councilors say it's financial concerns that are giving them pause.

District 8's Monroe Gray Jr., who described his position as "still on the fence," said he has several big questions about the plan's financing.

One unknown: whether IndyGo will get a $75 million federal grant that would largely cover the cost of building the Red Line, the first of several planned rapid-transit routes. The Federal Transit Administration has recommended IndyGo for the funding, but the grant is held up in congressional and administrative transitions.

IndyGo says it can make system improvements without the grant, though that will require issuing a larger bond, delaying some improvements, and cutting back on others.

Gray is skeptical. He also questions whether the improvements will increase ridership as IndyGo predicts.

"It's not clear where that money's going to come from. There's too many 'if this happens, if that happens.' There's no definites," he said.

Gray said he'd like to postpone a vote until IndyGo knows whether it will receive the grant.

Scott Kreider of District 23 has similar concerns. His constituents voted narrowly against the tax in November and Kreider said he's still unsure how he'll vote.

"I am generally supportive of mass transit and believe that the plan has the potential to impact our community in a positive way," Kreider wrote in an email to IBJ.

But, he said, he worries the city will be burdened with extra debt if the federal grant falls through.

"I would much rather that they secure those [grant] funds before pushing this proposal through the council," Kreider wrote.

Councilors Stephen Clay and La Keisha Jackson also told IBJ they are undecided, though neither elaborated on their reasons.

Benefits drive yes votes

Supporters say they're voting yes because of the benefits of an expanded bus system.

Jeff Miller said improved transit will fight poverty by helping people get to work.

"This is our chance in connecting people to the workplace," Miller said at a Jan. 30 public hearing.

Blake Johnson of District 12, southeast of downtown, said supporting the tax is "a no-brainer" because his constituents support it and because improved transit will bring a host of positives, including better access to jobs and less traffic congestion.

"It's about what kind of city we want to be," Johnson said.

But other councilors say they can't support the tax because they don't see enough benefits.

Jeff Coats represents District 5 in the northeastern corner of Marion County, which voted 58 percent for the referendum. But Coats said he'll vote no.

"My council district does not currently have any IndyGo routes and that will not change with the proposed changes," he said in an email. "I can't vote to tax my constituents for a mass transit service that doesn't serve them."

Brian Mowery represents District 25 in Franklin Township, and he plans to vote with his constituents in rejecting the transit tax. Very little of IndyGo's network serves Franklin Township, Mowery said, and he thinks the city's "massive infrastructure deficit" should be a higher priority than IndyGo upgrades.

One person who hasn't weighed in publicly is Mayor Joe Hogsett. The mayor does not have a vote in council matters, but he can veto its ordinances.

Hogsett's spokeswoman, Taylor Schaffer, wrote in an email to IBJ that the mayor won't veto the tax increase if it passes but he also won't take a position on the proposal. Instead, he "has made clear to council leadership that they should listen to the message sent by their constituents," she said.

"Ultimately that decision is for the council, not him," Schaffer said. "We're going to allow the legislative process to play out."

Schaffer also said Hogsett has been working with U.S. Rep. Andre Carson's office and IndyGo to encourage the federal government to include the $75 million grant in an upcoming budget.

Meanwhile, supporters continue working to secure council support. The Indy Chamber's Fisher said supporters are using social media to get out their pro-transit tax message. The chamber is also reaching out to its membership and urging people to contact their councilors in support of the tax.

"The job is not done yet," he said.•