Should Indiana lawmakers increase the state's cigarette tax?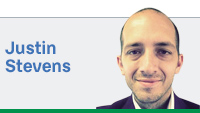 Indiana lawmakers have made many responsible fiscal decisions in recent years. From cutting taxes on personal income, corporate income, property, inheritance and more, Indiana's economy has rebounded strongly from the recession. Which is why it's disappointing to see them now want to reverse some of our progress.

To pay for an increase in state spending this year, legislators are proposing to nearly double the state cigarette tax, from 99 cents per pack to $1.99, as part of the state budget bill.

Setting aside one's views on smoking, raising cigarette taxes is a bad idea. Not only are they an unreliable revenue stream, but it would also disproportionately harm low-income Hoosiers and small-business owners living near the state's border.

Start with the concerns over reliability. Other states that have implemented new cigarette taxes or raised existing ones have found the move can actually decrease revenue. That was the case in Kansas, where a 2016 study found that a $1 excise tax would immediately decrease tax revenue. New York offers another example. The Empire State has the highest cigarette taxes in the country, charging more in taxes than the actual cost of the cigarettes. But from 2010 to 2015, its revenue from cigarette taxes actually dropped$400 million.

There are several common-sense reasons why this happens. For starters, people living near the state's borders will simply buy tobacco across state lines. At essentially $2 per pack, Indiana would be as high as or higher than the cigarette tax of a neighboring state. Not only does the state lose the tobacco tax, but it costs the state lost sales taxes as well.
Meanwhile, smokers living farther in-state often resort to smuggling. New York again offers an example—as of 2014, more than half the cigarettes sold there were illegally smuggled to avoid the state's high taxes. There's no reason to think the same wouldn't happen here.

Less discussed is who actually pays these higher taxes. The answer is the poorest among us, who overwhelmingly make up the state's smoking population. They're precisely the ones with the least stretch in their wallets and who can least afford this added cost.

This decision would also hurt Indiana's small businesses—think gas stations and convenience stores. We've already seen it happen in Illinois, where mom-and-pop shops close to the state border lost customers over higher cigarette taxes.

Lawmakers want this tax to finance increased spending on education, roads and other proposals. But the state has other options. Instead of raising taxes, legislators should take a look at existing revenue. When our state is running a record surplus with a massive$2.24 billion in cash reserves, it doesn't make sense to sign harmful tax increases into law.

State lawmakers should continue their fiscally responsible streak of recent years and keep tax cuts out of our budget. A cigarette tax won't produce the revenue lawmakers promise, and will only harm small businesses and the least advantaged. There's no sense in that.•

__________

Stevens is the Indiana state director of Americans for Prosperity. Send comments to ibjedit@ibj.com.