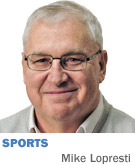 Let's face it, this has been a challenging first quarter of 2017 for sports fans around here, with unkind scoreboards, unhappy news, unexpected endings. Who could have guessed all this?

One guy apparently could. Consider the lines of Shakespeare. Sounds as if he saw the past three months in Indiana sports coming all along.

"Now is the winter of our discontent … "

Boy, that's saying a mouthful.

Colts. Missed the playoffs again, fired the general manager.

Indiana University basketball. Missed the NCAA Tournament, completing a swan dive from the top five in the rankings to sub-bubble status, fired the coach. That completed the double play, since the football coach went, too.

Pacers. Wheezing toward the finish line.

"Frailty, thy name is …"

The Pacers playoff chances lately. They've been losing bad games, good games, epics. It takes a lot to let go of a playoff spot in the Eastern Conference.

"The fault, dear Brutus, lies not within our stars, but in ourselves … "

Specifically, a star named Paul George. He can only be faster than a speeding bullet, more powerful than a locomotive, and leap OneAmerica Tower in a single bound. He can't do it all. One of these days, George is going to score 70 points and Indiana will still lose.

"We know what we are, but know not what we may be … "

At last check, the Pacers' playoffs were teetering, and this long, zigzagging season was in danger of one final zig over a cliff. Even if they slip in, will they last longer than Indiana in the NIT? Once upon a time, the Pacers and Miami Heat battled for supremacy in the Eastern Conference. Now, they fight for the eighth playoff spot. Is this progress, or what? Still, being in is better than being out.

"Misery acquaints a man with strange bedfellows … "

Yep, Lance Stephenson is back in town to save the day. Think about that for a minute. It's like using a flame thrower to light a fire. He's already ticked off the Toronto Raptors.

"I cannot tell what the dickens his name is … "

Archie. Archie Miller. New guy in Bloomington. Tough job ahead. "You have to walk in there wanting that challenge, kind of like wanting Kentucky," John Calipari said.

"We have seen better days … "

March 23 for Purdue, for instance. Coming off a perfectly commendable Big Ten championship season and Sweet 16 run, the Boilermakers took the floor against Kansas, hoping for even more glory. In case you've forgotten: 98-66.

"Beware the Ides of March … "

Tom Crean was ready to go on vacation that day. But there was a sense something might be up in the IU athletic director's office.

"Off with his head."

No explanation needed.

"Romeo, Romeo, wherefore art thou Romeo … "

Not in the state finals. Remember when Romeo Langford was going to make New Albany the next great Indiana prep dynasty? High school basketball is not that predictable. The defending state champion Bulldogs didn't get out of the regional.

"The lady doth protest too much, methinks … "

If that's referring to Lynn Marshall, wife of the Wichita State coach, apparently there were security folks at Bankers Life Fieldhouse who agreed.

"All the world's a stage … and one man in his time plays many parts … "

Pat McAfee decided it was time for a new part. It's not every day the retirement of a punter rocks a franchise and a town.

"Uneasy lies the head that wears the crown … "

Indianapolis is still the king of Final Four cities, but the fact is, the list of able competitors is growing. Phoenix won applause, not because of its downtown ambience, since the Final Four was spread all over the valley. But, ah, there was the sun and scenery. Indy can provide atmosphere and convenience, but it can't provide desert and mountains.

San Antonio, Minneapolis and Atlanta are all coming back on line, and there's talk of others. Indianapolis has to keep up its A game.

What was noticeable at this Final Four was the utter absence of anything to do with Indiana, including the rosters. The four teams listed 64 players from 18 states, plus France and Australia and Poland and Gabon and eight other nations. But not one single Hoosier.

About the only Indiana connection was the day someone brought up at a Gonzaga press conference the measure-the-basket scene from "Hoosiers." That got Coach Mark Few wondering which of his assistants would be in the Dennis Hopper role. "Shooter, was that his name?" Few asked. "Shooter was a good guy, man. I've got a warm spot for guys like Shooter."

One other ripple from the Final Four. Butler is no longer alone as the gold standard for the little program that learned how to roar into the tournament, and nearly cut down the nets. Gonzaga has crashed that list. But when North Carolina won, it meant Butler had been eliminated by the national champion four times in the past 11 years. So there's that.

"It is a tale told by an idiot, full of sound and fury, signifying nothing … "

The Bard must have read this column.•

__________

Lopresti is a lifelong resident of Richmond and a graduate of Ball State University. He was a columnist for USA Today and Gannett newspapers for 31 years; he covered 34 Final Fours, 30 Super Bowls, 32 World Series and 16 Olympics. His column appears weekly. He can be reached at mjl5853@aol.com.