Browning Investments is embarking on an office development in the North Meridian Street office corridor in Carmel that would rank among the largest in the Indianapolis area.
The Indianapolis-based company has filed plans for an office park with 14 buildings on a mostly vacant, 30-plus-acre site at the northeast corner of 111th and Pennsylvania streets. The site plan (see accompanying image, or click for larger view) shows 11 office buildings, a dual-branded hotel, a 10,000-square-foot standalone restaurant and four parking garages with more than 4,500 spaces.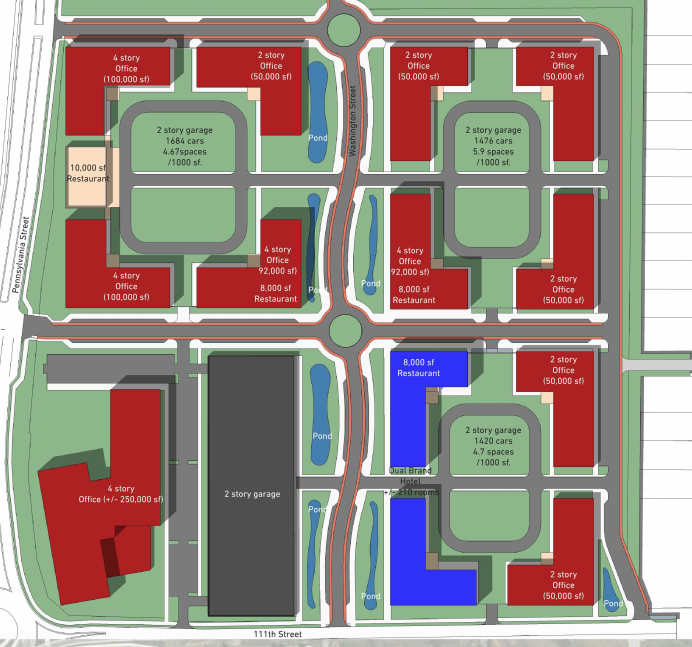 The office buildings would total 950,000 square feet, and several also would have space for restaurants and retail, according to Angie Wethington, vice president of asset management and development for Browning.
The square footage of the office buildings would rank the project as the seventh largest office park in the Indianapolis area, according to IBJ research.
The office structures would range in size from two to four stories and for the most part would be configured to wrap around the parking garages. The hotels would offer about 210 rooms.
"I think it will be a little different from what historically has been in the Keystone area or the North Meridian corridor," Wethington said. "We like to create communities, if you will. ... We envision this site as being more than just an office park—having some restaurants, some retail."
Wethington said she couldn't specify which hotel brand Browning was in discussions with. Browning is targeting restaurant and retail users like microbreweries and coffee shops, she said.
"It helps create that community setting," Wethington said.
Construction could start within the next eight to 12 months, but Browning is waiting to secure anchor tenants for the project.
"We are in pursuit of a couple different office build-to-suits that have expressed interest in this location," Wethington said. "They would be great kick-off projects."
She estimated that the project could take three to five years to complete.
"It's not something that's going to happen overnight," Wethington said.
She did not have a cost estimate for the project yet, but said Browning would request support from the city of Carmel. Carmel officials didn't immediately respond to IBJ's request for comment on Friday morning.
Browning has filed a request with the city to rezone the property from residential to commercial redevelopment, but the matter has not been scheduled for a hearing yet.

Browning has been one of central Indiana's most prominent developers of commercial real estate since the late 1970s, working on large-scale office projects, industrial buildings, and mixed-use developments. Its recent projects include The Coil, a $37 million apartment-and-retail development on the Central Canal in Broad Ripple, and a nearly 600,000-square-foot distribution center in the Plainfierld area.

In June, Purdue University announced that it was partnering with Browning on a $1.2 billion project on about 450 acres of land in West Lafatette to be called the Purdue Innovation District. Plans call for student and faculty housing, a hotel with a conference center, research facilities, parks and office and industrial space.