Let me be clear from the get-go on this: On my first visit, there was absolutely nothing wrong with the French Toast at Mile Square Bistro (443 N. Pennsylvania St., 239-314-4515), the eatery that has taken over the spot formerly occupied by City Cafe.

It was perfectly fine French Toast.

The service was friendly. The kitchen efficient. The breakfast just fine.

There was just nothing on my plate to make it seem worth $13 plus tax and tip. (The base price would have been $10 if I hadn't added berries.)

While I try not to make too many price-point value judgments in this column—we all have different ideas about what such terms as "cheap" and "expensive" mean—in this case, I could have rattled off a half-dozen places, many within walking distance, where I could have gotten just as good an order of French Toast for less.

Flash forward about a month.

This time, I returned to Mile Square Bistro for lunch and left with a different reaction.

This time, what lingered were the flavors and not the cost. And that's as it should be at any price point.

My guest and I shared a Beet Salad ($10) and I had to ask our waiter if a mistake had been made, since both plates he delivered felt full. He insisted the full salad had been halved.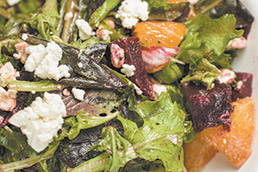 Beet Salad (IBJ photo/Eric Learned)
Both of us enjoyed our shares, with the addition of grapefruit proving a welcome counterpoint to the usual earthiness of roasted beets. Goat cheese and avocado were also in the mix, dressed with a lemon vinaigrette.

Breakfast items extend until the mid-afternoon closing time, which gave us lunch access to the Eggs Benedict ($14). Surprisingly flavorful, thanks to a dusting of smoked paprika, the pair of poached eggs with Canadian bacon on an English muffin was sided with well-seasoned fried potatoes sweetened with caramelized onions.

Craving meat, I went with a Bistro Burger ($12) that, in the menu description, didn't present as anything special—lettuce, tomato, onion, a choice of cheese and kettle chips. But the result was an exceptionally meaty burger, thick and moist without being a jaw-stretcher. I found myself taking even more time than usual with it, enjoying every bite. I also opted to replace the chips with Mashed Potatoes ($3), which were dense and, mercifully, not overly buttered. A little pepper was enough to make me pleased with my choice.

The presentation delivered mixed messages. When requested, ketchup arrived in a small cup, yet a soda was topped off out of a can, which was left on the table for us to refill. And while I'm a fan of Kyle Ragsdale's art, the work here combined with the gray decor give Mile Square Bistro a somber tone the food doesn't deserve.

But care is clearly being taken in the kitchen. I'm glad I revisited.•

—Lou Harry