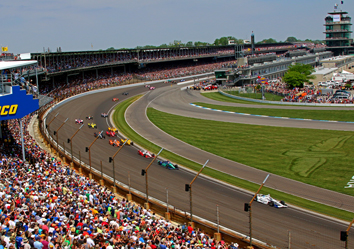 Beginning in October, most of the smoke spectators see and smell from the Indianapolis Motor Speedway grandstands will waft from exhaust pipes or screeching tires.
Speedway officials announced Wednesday that smoking will not be permitted in any of the venue's grandstands beginning with the 2017 Red Bull Air Race on Oct. 14-15. Prior to that race, the Speedway will offer select smoke-free grandstands during several events—but not this year's Indy 500.
"Our fans should be able to sit in their seats while enjoying a smoke-free experience," Mark Miles, president and CEO of Speedway owner Hulman and Co., said Wednesday in a media release. "Starting in the fall, we'll be able to provide this opportunity to all of our customers."
Beginning in October, fans wishing to smoke will be asked to do so 20 feet away from buildings and reserved seating entrances. Smoking will continue to be allowed in the IMS infield.
Speedway spectators consistently have asked in recent years for the venue to provide a smoke-free atmosphere in the grandstands, according to IMS President Doug Boles. "This is especially true among families bringing younger children to the track," he said.
The Speedway first offered smoke-free grandstands during Carb Day in 2016. Prior to October, smoke-free grandstands will be available for the IndyCar Grand Prix, May 12-13; Carb Day, May 26; and the Brickyard 400, July 23.
Speedway officials say more information on implementing the new policy will be available in coming months.
Indiana State Health Commissioner Dr. Jerome Adams endorsed the move to smoke-free grandstands.
"The Indianapolis Motor Speedway is one of the premier attractions in Indiana, and it's exciting to see it taking a public stand for smoke-free environments," Adams said in a media release. "I can't think of a more visible endorsement of better health for Hoosiers and those who visit our state."
 
Please enable JavaScript to view this content.