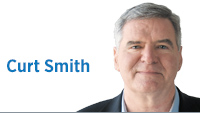 Let's say your children, or perhaps grandchildren or beloved nieces or nephews, ask you to help them get on top of their personal finances. You readily agree, complimenting them on taking an important step forward into adulthood.
The appointed time comes and you learn that, even though they are going to college, they are working full time and make $34,000 per year. That's the good news. The bad news? Year in, year out, they are spending $40,000 to $45,000.
You realize they have some tough decisions ahead. And then you learn the really bad news: The cumulative debt on their credit cards is $200,000. College, not to mention life, is expensive, after all.
As you absorb this news, you ask yourself: "Will Junior ever get out of debt?" The answer you quietly mutter is, "No."
Add eight zeros to each of the above numbers and you have the financial profile of the U.S. government. We will collect $3.4 trillion this year from all revenue sources, according to the nonpartisan Congressional Budget Office. But we'll spend $4 trillion, for another deficit budget year of perhaps $600 billion ($6,000 in the above illustration).
America's cumulative debt from the founding to today is $20 trillion. This includes fighting the Revolutionary War, World War II, President Johnson's Great Society initiative and the stimulus package and revenue contraction brought about by the Great Recession ($8 trillion in new debt in less than a decade).
Telling the story in the above fashion helps people grasp the financial problems facing America. But it fails to sugar-coat the reality of the problem. So when responsible legislators or leaders discuss the problem, we change the channel or tune them out.
They become what the late National Review columnist and TV pundit Kate O'Beirne called "eat your peas Republicans." That phrase brought a great laugh from the room when I first heard her use it during a Capitol Hill lunch in the mid-1990s. I was a Capitol Hill chief of staff and she was explaining why the Newt Gingrich-led revolution was fizzling out and the approval ratings of Congress were dropping.
"You're all just a bunch of eat your peas Republicans," she chortled, "telling the country to eat its vegetables."
It is hard to "message" responsibility. The Democrats offered free birth control, higher ag subsidies and student loan debt forgiveness. Republicans offered tax reform, spending restraint (not actual cuts) and better fiscal oversight in a contract with America.
We managed then, with the Congress in one party's hands and the White House held by the other, to restrain spending and actually log the nation's last surplus (making $40,000 per year and spending "only" $39,000 in our illustration). But it was short-lived.
We need a burst of statesmanship by "eat your peas" Republicans and Democrats to get our fiscal house in order. The last effort, the Simpson-Bowles Commission, was ignored by all, despite Herculean efforts by then-U.S. Sen. Dan Coats of Indiana and the Senate's bipartisan "Grand Bargain" team.
For such a burst of bipartisanship-budgeting to have any chance of occurring, let alone succeeding, we need a public with an appetite for change and greater financial frugality. That is central to the mission of the Andrew Smith Family Prosperity Center at the Indiana Family Institute. It is a tall order. But if we do not make these changes while we have a modicum of time, drastic economic forces will remake our economy for us.
If that happens, our diet might not even be as healthy but boring as peas. We will be force-fed an extremely thin gruel as retiring baby boomers bust all budgets.•
__________
Smith is president of the Indiana Family Institute and author of "Deicide: Why Eliminating The Deity is Destroying America." Send comments toibjedit@ibj.com.
Please enable JavaScript to view this content.