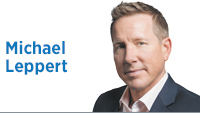 It seems every legislative session features an unexpected drama or two that is worthy of a look by Netflix. I am sure the entertainment monster is agonizing right now over all the potential cliffhanger series ideas that could document our new road-funding package or our biennial budget.

Casting for Sen. Luke Kenley and Rep. Tim Brown is really all that's left to nail down.

This year did not disappoint on the legitimate drama front, and nothing lends itself to theatrical value more than the oversight of our "sin" industries. This year, the General Assembly was ambushed by an alcohol drama, courtesy of enterprising convenience-store operator Jay Ricker. He found a way to provide his customers with cold beer at a couple of locations and comply with Indiana's archaic alcohol laws at the same time.

The "ambush," though, was not Ricker's new and legal venture. The ambush was the legislative response to it. The convenience stores in Columbus and Sheridan received permits from the Alcohol & Tobacco Commission in compliance with Indiana law. But legislative leaders cried foul because they didn't intend for the law to be used that way.

"Intent" is often a funny thing in the Statehouse. It also is often meaningless.

Leaders in both super-majority caucuses responded to the situation by legislating an end to the lawfully obtained permits just after next year's session. This should provide the body with motivation to finally address the silly way we regulate alcohol in Indiana. Next year. I'm skeptical it will get done. So, like a good TV series no one wants to see end, this is one that has real potential for multiple seasons.

I believe the Legislature created its own drama on alcohol by overreacting to Ricker. Conversely, it took another drama that has already had a couple of seasons and appropriately did what it could to end its three-year run.

Senate Bill 1 passed on the last day of the session, effectively ending the legislative portion of the e-liquid, or vaping, controversy. The local media has done an excellent job making sense of the scheme that was developed and sold to the Legislature during the 2015 and 2016 sessions. It clearly created a monopoly in an emerging market. But in dramatic fashion, it was brought to light that it was also designed to corner the marijuana market, if one were ever allowed to exist here.

I admit, I represent several clients who supported SB 1.

While lawmakers seemed to create a drama in alcohol, they ended one in e-liquids. And good for them. The offensive strategy that had been used to corner at least one market, while destroying a number of new small businesses, should have been obliterated. I'm thankful it was. Now the only question is, what else don't we know about all of this?

Ironically, many of the players in the shameful e-liquid and marijuana scheme are also active in the alcohol lobby. The spinoff drama of the alcohol rewrite scheduled for next year will have no shortage of people jockeying for screen time. It would be wise to put aside entertainment value in the Statehouse when addressing a long-anticipated legal modernization and work with only credible parties on it.

The Legislature did an excellent job of cleaning up a controversy, largely of its own making, by passing SB 1. Let's hope it will serve as a warm-up for the main event that has been brewing for far too long.•

__________

Leppert is a public and governmental affairs consultant in Indianapolis. He writes at Contrariana.com. Send comments to ibjedit@ibj.com.