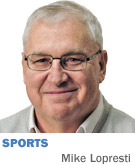 You say you're a Pacers fans, and it's been so long since the one NBA Finals (17 years) and last ABA title (44), they might as well have happened during the Civil War. Or you're an Indiana fan frustrated that the last bowl victory was 25 years ago and the last basketball national championship 30. Or you're a Purdue fan, and you have to ask your grandparents about the last Final Four spot, 37 years back.

Let this serve as a reminder that you have company—in some of the most hallowed places. This just in from the how-time-flies department: Big Names in Slumps.

The Los Angeles Dodgers have glamour, tradition and great hot dogs. But it's been 29 years since the last World Series in Dodger Stadium. It's been five years since the New York Yankees even won a postseason game, with all that money. Somewhere, George Steinbrenner can't be happy.

The Los Angeles Lakers advanced to the NBA postseason 60 of their first 65 years. But they haven't been the past four seasons. No wonder they want Paul George.

The Chicago Bulls haven't been to the NBA Finals—and have played in only one Eastern Conference finals—since Michael Jordan Retirement II 19 years ago.

The Dallas Cowboys might like to be called America's Team, but America's Team has only three playoff victories in the 21 years since its last Super Bowl, and all three were on wildcard weekend.

It has now been nine years since Tiger Woods' last victory in a major.

There are more than 150 million men in the United States. We haven't found one of them who could win a tennis grand-slam event the past 13 years.

Michigan has played in the same number of Big Ten football championship games as Indiana: none. This year's incoming freshmen were in kindergarten the last time the Big House was home to a league title.

The state of Illinois hasn't put a team in the Sweet 16 in 10 years. Bonus points: Name the last school to make it. That'd be Southern Illinois.

Houston went to three consecutive Final Fours in 1982-1984, twice playing in the national championship game. The Cougars haven't won an NCAA Tournament game in the 33 years since. Georgetown hasn't seen the Sweet 16 in a decade. That's Patrick Ewing's problem now.

Not that long ago, the Atlanta Braves won 14 consecutive division titles. But they haven't won a postseason series in 16 years.

Bad Boys, we hardly knew ye. With the Palace of Auburn Hills closing, the Detroit Pistons' last playoff victory in the building came against the Boston Celtics. That was nine years ago.

USC has produced more than 120 national championships in various sports, but hasn't advanced a men's basketball team to the Final Four in 63 years. You'd think in a state of 39 million people, they could find five good basketball players.

Shake down the thunder and wake up the echoes. Notre Dame's last victory in a top-tier bowl was 23 years ago. What would Knute think?

Miami, college football's dynasty in the 1980s and early 1990s, hasn't even played in one of the big bowls in 13 years.

While we're in the south Florida neighborhood, the Miami Dolphins were a perennial AFC power. Their last win in the playoffs was 16 years ago. In overtime. Against the Colts.

Remember Al Davis' mantra for the Oakland Raiders? Just win, baby. Well, baby, they haven't won a playoff game in 14 years.

The Washington Redskins, famed for Joe Gibbs and Joe Theismann and Doug Williams and the Hogs and three Super Bowl titles, have won two playoff games this century. Their last victory above the wild-card level was 25 years ago.

The Buffalo Bills yearn for the good old days when they were ridiculed for losing four consecutive Super Bowls. They haven't seen a playoff game in 17 years nor won one in 21.

Once upon a time, Cincinnati had the Big Red Machine. Yet the Reds haven't won a postseason home game in 21 seasons.

The Oakland A's had a movie made about their Moneyball strategy. They've won one postseason series in 26 years.

The Chicago White Sox rolled to a World Series sweep in 2005. They've won one game in the 11 postseasons since.

It's been eight years since the Celtics showed up in the NBA Finals, which wouldn't seem like a long time in most places, but it's an eternity in Boston. Zionsville's gift to coaching, Brad Stevens, is trying to do something about that.

Then there is Big Ten basketball. No national championships in 17 years, and counting. In that same stretch, the ACC has won seven.

In other words, it might feel like ages since, say, the Colts' last Super Bowl. Or the time the Pacers showed up in the NBA Finals. But we're hardly alone.•

__________

Lopresti was a columnist for USA Today and Gannett newspapers for 31 years His column appears weekly. He can be reached at mjl5853@aol.com.