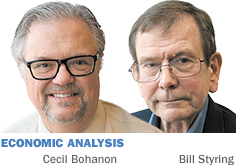 Is the federal government inexorably fated to expand?
In his celebrated work "Crisis and Leviathan," economic historian Robert Higgs explained why the size and scope of the federal behemoth has ballooned over the last century. A series of "crises," real or imagined, creates what he called the "ratchet effect." During each crisis, government grows in scope, power and budget. All recede somewhat after the crisis. But never to pre-crisis levels. In the words of Chicago Mayor Rahm Emmanuel to bigger-government advocates, "Never let a good crisis go to waste."
Consider the Federal Supplemental Nutrition Assistance Programs (SNAP, formerly known as food stamps). In 2007, SNAP spending was $38.4 billion. Some 26.7 million Americans received SNAP, 8.7 percent of the population. The Great Recession of 2008 dramatically expanded those eligible for SNAP under then-existing rules. In addition, eligibility criteria were relaxed and the size of SNAP benefits increased.
The crisis is over. Pre-crisis, the unemployment rate was 4.6 percent. In 2016, it stood at a comparable 4.9 percent. Is SNAP spending back to pre-crisis levels? Hardly. SNAP spending for 2016 was $70.9 billion (in constant dollars), up 84 percent from 2007 in real terms. In 2016, there were 44.2 million SNAP recipients, 13.8 percent of the population.
Enter the White House budget proposal. It suggests a SNAP cut of about 25 percent to 30 percent from 2016 levels (estimates vary). A 30 percent cut would place spending at $49 billion in constant dollars. That's 28 percent more than in 2007.
Both Democrats and Republicans declare this proposal heartless and dead on arrival. Bishops call for prayer, fasting and letter writing to forestall any SNAP reduction. No political observer believes SNAP cuts of this magnitude have a snowball's chance in Hades.
So let's see. In constant dollars, spend $38 billion in 2007. Crisis. Spending rises to $71 billion in 2016. Crisis over. Propose spending merely $49 billion and we're sending waifs and penniless widows to rummage in garbage cans for dinner. Wow, there must have been 15 million starving Americans back in the dark days of 2007.
In other words, Higgs' ratchet effect holds. Maybe a permanent expansion of SNAP benefits is in order. Nevertheless, it is hard to see how the country's long-run fiscal problems will ever be resolved as long as this ratchet holds for all federal spending categories. For those of us who look fondly on limited government and personal liberty, this should be food for thought.•
__________
Bohanon is a professor of economics at Ball State University. Styring is an economist and independent researcher. Both also blog at INforefront.com. Send comments to ibjedit@ibj.com.
Please enable JavaScript to view this content.