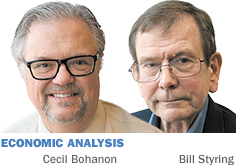 The workings of markets seem magical. No tweets from angry public officials. No squawking TV hosts. No government planning or mandates. Just millions of people peacefully buying and selling goods and services. Ever-changing prices and profits and losses do more to affect our economy than anything a government planner could ever do—and this is a good thing!
The key point to remember is that prices send signals. Low and falling prices say to buyers, "Use more of this!" Some new uses are adopted quickly; others take more time. Economists call this the short run and the long run.
Consider the case of natural gas. At the start of the 2000s, natural gas looked to be on its way out. Prices were spiking to the $10 to $13 range per million BTUs. Plans were afoot for liquefied-natural-gas import terminals to supplement domestic supplies.
Then came the marriage of fracking with horizontal drilling. It had long been known that vast quantities of natural gas are locked up in shale rock, and the United States is the Saudi Arabia of shale. The new technology allowed economical tapping of shale gas. Prices dove to $2.50 to $5 per million BTUs.
How did this boom affect natural gas use? The price of natural gas for home heating declined, but because consumers don't crank the thermostat up to 80 degrees when home heating bills drop, the short-run impact was limited.
However, cheaper natural gas also gave big utilities an incentive to switch out of coal and into natural gas. Once it became clear that natural gas prices were going to stay low for the long run, utilities began making capital investments to do just that. One example in downtown Indianapolis: Citizens Energy shifted its Perry K unit from coal to gas. Nationally, gas-generated electricity has jumped by two-thirds.
Gas-fired plants have the happy byproduct of emitting much less carbon per BTU than coal. Gas conversion (not solar and wind power) is a big reason U.S. carbon emissions have been trending downward. And those liquified-natural-gas import terminals? They're being re-engineered to export our cheap gas. A big contribution the United States will make toward cutting world CO2 emissions might come from coal-to-gas conversions. American firms might even teach the coal-using Chinese how to frack.
All this is happening without any Paris Accord or a single regulation from the U.S. Department of Energy! Markets seem magical.•
__________
Bohanon is a professor of economics at Ball State University. Styring is an economist and independent researcher. Both also blog at INforefront.com. Send comments to ibjedit@ibj.com.
Please enable JavaScript to view this content.